We imagine a world in which our data is part of every relevant transaction, service and process across the UK economy, reducing the cost of public services and enabling businesses to innovate. Our data supports:

Certainty of identity in financial transactions
Always digging up the right section of road
Enabling on-time deliveries
Accuracy for internet platforms
Financial institutions knowing they are dealing with the right piece of land and property.
Guardians of data
Excellent addressing and accurate street data has the power to transform people's lives. In Great Britain, GeoPlace LLP is the guardian and champion of that information on a national scale.
Co-ordinators of data
We act as a co-ordinator, supporting the nation's street and addressing data creators, making that information widely available through Ordnance Survey and our statutory partners.
Working in partnership
Working together with our partners, we maintain two of the nation's largest, most valuable shared assets – standardised address and street indexes that are trusted by the whole of the public sector, the private sector and beyond.
Datasets and identifiers
At the heart of those two indexes (the National Address Gazetteer and the National Street Gazetteer), data users find two powerful data identifiers: Unique Property Reference Numbers (UPRNs) and Unique Street Reference Numbers (USRNs).
These enable many different data sources to be connected with ease and with confidence. There is no duplication. No ambiguity. Accuracy is our watchword.
The use of this data leads to lower risks and costs; higher productivity and profitability, and it brings down many of the barriers to transformation and innovation across both the public and private sector.

Efficiency and effectiveness

From next-day deliveries of online shopping, to street works, meter readings, emergency services' planning and policy-making – our data helps people to understand location, better.
We help people to the right place, at the right time.
GeoPlace's work helps to keep public services running smoothly; our data can help to mitigate risk, join services together, and find new efficiencies in all kinds of ways. We bring location to life.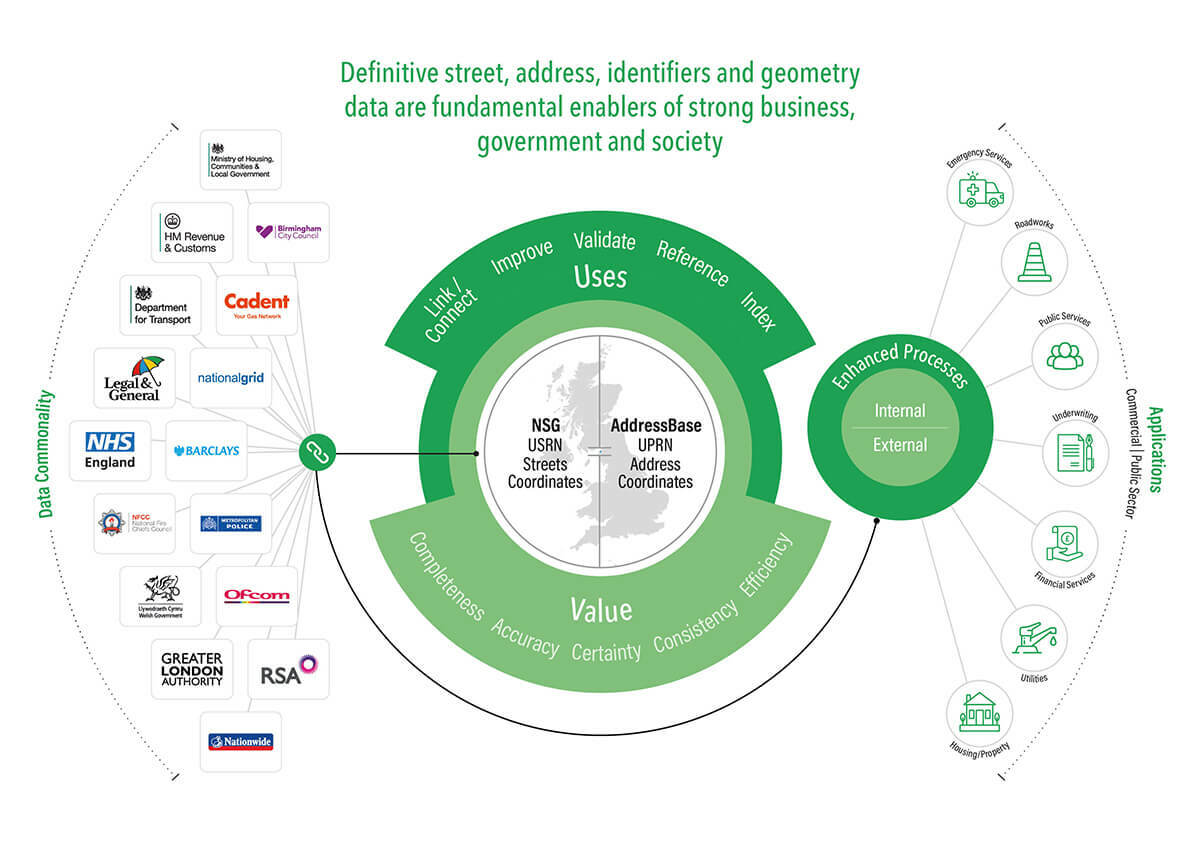 Download
GeoPlace annual statement
Read the GeoPlace annual statement for 2020-2021. Learn about our strategic direction, and our activities for this year.
Title
GeoPlace-annual-statement-2020-2021.pdf
Size
4.01 MB
Uploaded
22 July 2020
Download
Geo Place annual statement 2020 2021 - 4.01 MB
Bringing Location to Life
Addressing the UK
GeoPlace is recognised world-wide as an established expert in managing address data and its associated infrastructure. We do this to a standard and in a way that inspires innovation and transforms people's lives on a national scale.
Download our paper
View more