Usrn Power Of Ss 151140824 600X600Px
Usrn Power Of Ss 151140824 1200X680Px
What is a Unique Street Reference Number (USRN)?
The Unique Street Reference Number (USRN) is an 8 digit unique identifier for every street across Great Britain. There are over 1.4 million USRNs in England and Wales. And they can be found within the National Street Gazetteer (NSG) and OS MasterMap Highways Network. The NSG is the authoritative source of information about streets in England and Wales and is a compilation of data from 175 highway authorities' Local Street Gazetteers. This data is collected on a daily basis, validated and assured by GeoPlace.
The USRN is underpinned by legislation and statutory functions to name and number streets and maintain highways. USRN never changes and guarantees the identification of the street, providing confidence to those needing authoritative information about the road network.
USRNs are used by all 175 local highway authorities, Welsh Government, National Highways and Transport for London to coordinate 3m+ roadworks with over 500 utilities and their contractors across England and Wales. The data underpins the Department for Transport's Street Manager service to plan, manage and record these works.

USRNs are used similarly in Scotland. The process to provide information about Unique Street Reference Numbers (USRNs) in Scotland is managed by the Improvement Service, and in Northern Ireland by the Department for Infrastructure.
On 2nd April 2020, the Government announced that the Unique Property Reference Number (UPRN) and Unique Street Reference Number (USRN) will be released under an Open Government Licence (OGL). Additionally, the Government Digital Service has mandated that the UPRN and USRN are to be the public sector standard for referencing and sharing property and street information. See more information - new freedoms to share UPRNs and USRNs.

"Systems, services and applications that store or publish data sets containing property and street information must use the UPRN and USRN identifiers" Identifying property and street information, 2020
FindMyStreet
FindMyStreet shows every street in England and Wales that's held in the National Street Gazetteer. It will tell you where a street is, what its official name is, and the maintenance responsibility of that street. The data is created and maintained by local authorities, collected, and managed centrally by GeoPlace. Find out more about FindMyStreet here.
Who allocates Unique Street Reference Numbers (USRNs)?
Each local authority is provided a USRN range, that is centrally allocated and managed by GeoPlace.
Local authorities have a statutory responsibility which means they are the source of information for both street naming and numbering and managing the highways network. This means they are solely responsible for assigning USRNs and UPRNs for each street and address record in their area.
Why do we need Unique Street Reference Numbers (USRNs)?

Highways authorities and utility companies strive to provide the best possible service for everyone who uses our road networks and those working on them. This means collaboration before, during and after any works taking place on the highway is extremely important. The USRN is key to ensuring works on streets can be planned more effectively. For the public, this means less traffic congestion, increased safety and lower levels of disruption to road users.
What are the benefits of using the USRN?
Unique Street Reference Numbers (USRNs) uniquely identify and reference street and road objects within the United Kingdom. The advantage of USRNs lies in their ability to streamline and improve various aspects of public services and infrastructure management.
Here are some key benefits:
Efficient data management: USRNs provide a consistent and standardized reference for street data, making it easier to manage and maintain accurate records of street information. They enable better integration and sharing of data across different systems and organisations
Effective coordination of services: USRNs support better coordination and collaboration among different service providers, such as local authorities, contractors, utility companies and emergency services. They facilitate efficient planning, maintenance, and response to incidents by ensuring accurate identification of street locations
Data integration and analysis: USRNs support the integration and analysis of street-related data from various sources. They facilitate better insights into traffic patterns, infrastructure utilisation, planning, and development, leading to informed decision-making and resource allocation
Improved customer service: By logging defects such as potholes or broken street lights against a specific USRN, customers can track the progress of this report up to completions. All of this thanks to the use of the USRN across the highway authority's works system.
Directly connected with Address and Location data: USRNs contribute to the singular view of data which is managed solely by each local authority. From planning, to Street Naming and Numbering, and to the adoption and maintenance of streets, the USRN is a constant presence.
Improving efficiency and cost savings: With accurate and accessible street data through USRNs, organisations can streamline operations, reduce duplication of efforts, and optimize resource allocation. This can result in cost savings and improved efficiency across multiple sectors, including transportation, infrastructure management, and public services.
Enhanced navigation and address accuracy: USRNs help improve navigation systems, mapping applications, and address databases. With a unique identifier for each street, it becomes easier to locate and navigate to specific addresses, reducing errors and enhancing precision
Overall, Unique Street Reference Numbers provide a foundation for efficient data management, accurate addressing, improved coordination, and informed decision-making, leading to enhanced public services, better resource allocation, and cost-effective operations.
What can the Unique Street Reference Number (USRN) do?
links authoritative information about the street, and the requirement to provide this information is embedded in legislation

provides interoperability across systems and organisations at a local, regional and national level

provides a fundamental building block for address records in the AddressBase suite of products


enables the data needed for accurate planning; streetworks and reduces the costs of collaboration

provides an ideal evidence-base for performance measurement and efficiency

are open data with unique core referencing to facilitate onward use
The Unique Street Reference Number (USRN) underpins national Department for Transport (DfT) initiatives
USRNs are unique and stable national identifiers for street data and support interoperability across systems and organisations locally, regionally and nationally. They support the publication of open data with unique core referencing to facilitate onward use and help to create an evidence base for policy evaluation, performance measures and a mechanism for reporting. Use of the USRN in ongoing Department for Transport projects has the potential to:
maximise the value of authoritative data in the Department and in local authorities
create a framework for data exchange and publication across initiatives
enable industry to provide innovate customer centric solutions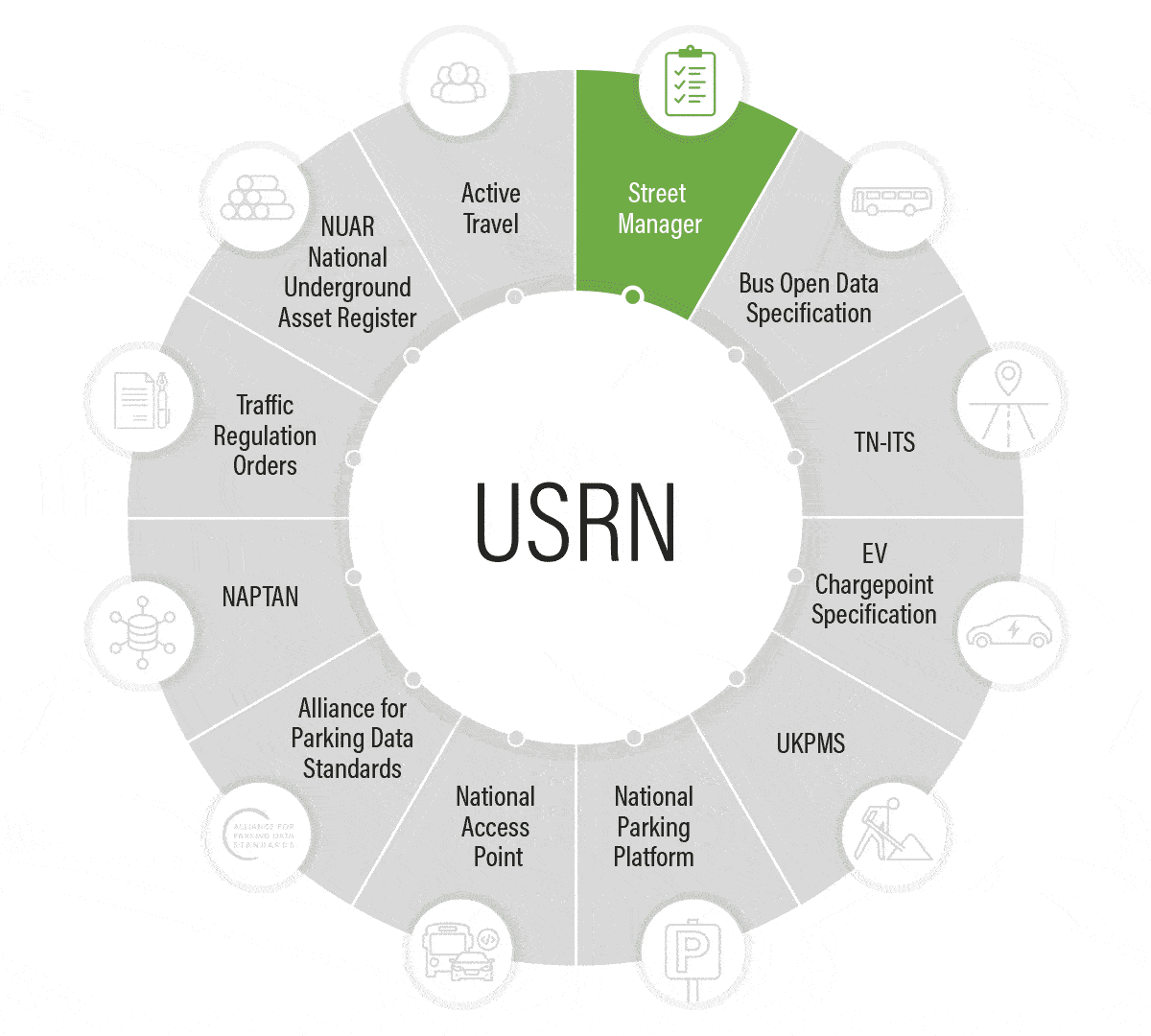 "USRNs are a golden thread for us, it allows us to build up important information about a street that can be used to make crucial decisions. The ability to link data from what assets exist to information related to emergency responses enable us to make key decisions on maintenance and priorities. Without the use of USRNs in datasets we lose the ability to plan, communicate, collaborate and react effectively"