Knowing the characteristics of the entire population is key for the development of public policy. The decennial census provides a snap-shot of all people and households in a particular area and has a direct bearing on the government support that councils receive to fund public services.


These population statistics provide consistent insights and contextual information for small areas and population groups, and highlight local need for services like schools, roads and hospitals. By knowing how many people live in an area, local authorities can identify the services and facilities communities need and make informed decisions.
Councils such as Leeds City Council believe that these statistics are so important in developing its services that it needed to find a method to understand small area population estimates for bespoke areas and periods of time whenever required, not just every 10 years at fixed aggregated areas.
Most statistics are published at known geographies but these geographies and frequencies don't always match with the data that users want. Faced with the challenge of developing a method which provided the statistics required, when they were needed, the Local Address Custodian at Leeds utilised local address property data and classifications; together with council tax data on vacant properties; and known 2011 Census average Household Sizes at Output Area to estimate current population sizes, in any size area.
This Housing Unit Method is now used widely within Leeds City Council to provide bespoke population estimates for use in planning applications, service planning and to assist local Neighbourhood Forums gain a better understanding of their locality.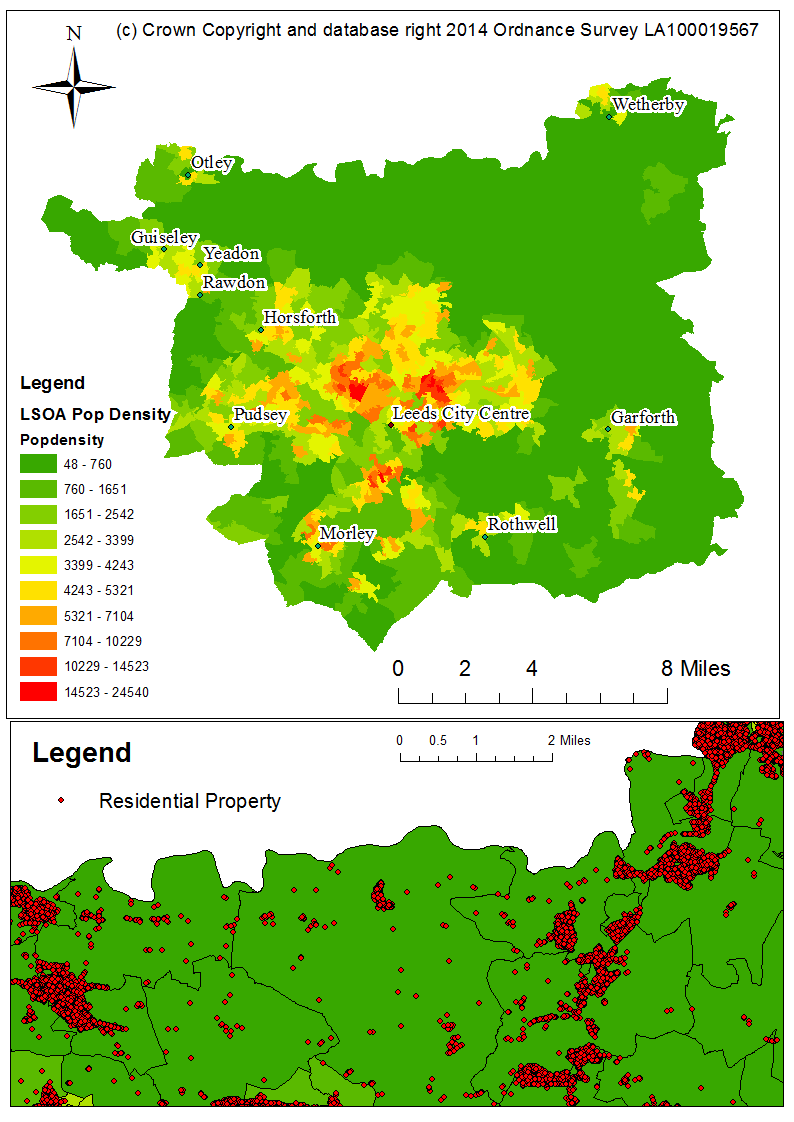 The local address data is the foundation of the entire Method as it contains the detailed property classifications required to identify residential properties, and the accurate coordinates for detailed geographical analysis when compared to aggregated census data.
To further increase the accuracy of the population estimate, vacant property data from council tax records was incorporated and because the local address data has a full match to council tax it enables a more robust population estimate and accounts for variations in vacancy rates across areas
Prior to this method being implemented, Leeds City Council would calculate small area population estimates by splitting and apportioning known census area populations which heavily relied on 2011 population data, and assumed a uniform distribution of population across an output area. But in reality, population density varies widely and the location of residential property is often clustered and is not uniformly distributed.
Rachel Antcliffe, Leeds' Local Address Custodian said "Because of the introduction of these methods within the council we are now able to provide prompt, efficient and highly accurate population estimates for any size or shape area, and at any period of time. Due to inherent inaccuracies in the mid-year estimates produced by ONS between decennial census, the research demonstrated that this method will produce a more accurate population estimate for small-areas than using apportioned mid-year census data."
Service directors at Leeds now have access to the most geographically accurate data available reflecting localised changes, to enable them to account more efficiently for current and future service provision and need. This is helping to plan for essential services such as school places, social service provision and housing needs; and could be used more widely in government to predict localised demand for health services such as GPs and dentists.
Rachel will discuss her work at this year's GeoPlace conference which takes place on 11th May at Leeds United Football Club. Also see this case study from Leeds.