From Nick Chapallaz, GeoPlace Managing Director.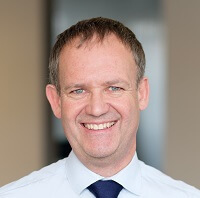 It's been a busy and extremely enjoyable first few months in the post. There has been much to get up to speed on with the amazing array of activities we're involved with, getting to know the superb GeoPlace team, re-connecting and getting to know many of you. It has been highly reassuring and a source of great confidence in my engagements across the market place knowing your work in creating and managing data is recognised as a global exemplar and is actively used by some of the biggest household names in the UK.
Thank you also for making me feel so welcome along the way and particularly at the event in Edgbaston in May. Together we made a real impression on the speakers and guests who attended. The interest from many external parties in what you do and how well you do it has continued at a pace since then. Our plans for the 2019 event in London to build on that are already being put into place.
A lot of our time has been spent working closely with the Geospatial Commission team and the GeoPlace Board. Firstly in the build-up to the announcement in June and subsequently as part of the investigation activity into the potential to open up the UPRN and USRN and related geometry.
We are making positive progress but there is still work to do. We will continue to provide you updates as we are able.
I know many of you have provided input to the surveys sent out recently by the LGA in relation to opening-up the UPRN and USRN. This has been invaluable in providing evidence to the Commission of the risks and opportunities of doing so, so thank you very much. We are running an analysis of the data now and are aiming to provide a summary of the findings at the Regional Meetings in the New Year. I hope to be at a number of these meetings, so I look forward to meeting and catching up with you then.
It promises to be an exciting year ahead. Although my background means I have been involved to some degree with street and address data for a long time, in many ways, it feels as if we are at the beginning in seeing far wider take-up and use of the data as we had hoped and envisaged as part of the original vision for the standards in the early 1990s. The work you are doing in ensuring the use of your data within your authorities and with partner organisations remains paramount. We have been delighted with the range of stories and case studies you have been providing – please keep them coming!
Finally, I wish you all a happy and restful festive period and look forward to seeing you next year!
Best wishes
Nick