GeoPlace has announced the winners of the 2018 Exemplar Awards which were presented at the 13th annual GeoPlace conference and exhibition Edgbaston cricket club on 10th May 2018.

GeoPlace has announced the winners of the 2018 Exemplar Awards which were presented at the 13th annual GeoPlace conference and exhibition Edgbaston cricket club on 10th May 2018.
The Exemplar Award 2018 was presented to Mid Sussex District Council for its work using its local address register to underpin a bid for money from the Chancellor's £190m Local Full Fibre Networks Challenge Fund to encourage the roll out of fibre broadband to homes and businesses.
To submit a bid, the council had to demonstrate that their proposal would harness public sector connectivity to deliver a significant economic benefit to the local economy, driving up inward investment and the growth of local businesses; particularly those in the digital economy. The bid resulted in an award of £2.2m from the Local Full Fibre Networks Challenge Fund in the 2018 Spring Statement.
The bid process highlighted how local address data is used as a decision support tool in combination with a focussed deployment of geo spatial data using GIS. LLPG data was critical in assessing the potential economic benefit that would accrue from a successful roll out of a full fibre network.
The winner of the Peer Award is Ian David. Ian has recently retired from Bridgend County Borough Council. Ian has worked in the streets and streetworks area for many years and his knowledge and experience will be sorely missed. Ian alternated being Welsh Regional Custodian Street Chair and Deputy since the early 2000s and has been involved and made valuable contributions to various local government and GeoPlace related working group. Ian has also made an impact with the JAG(UK) community, leading on Inspection Fees working group and most notably worked on the formula for calculating the current fee structure. Ian has always made time for colleagues in the UK and had a positive outlook which has helped all authorities but particularly those in Wales.
Nick Chapallaz, Managing Director of GeoPlace said: "A key focus of the 2018 Exemplar Awards is on those Custodians who have invested time in creating and continually improving their processes and who have made and achieved a real commitment to improving both the accuracy and quality of the data submitted to GeoPlace. I am pleased to be able to recognise the achievements of these authorities are recognised through the presentations of the Data Quality and Improvement Awards."
Dacorum Borough Council and Bournemouth Borough Council were announced as winners of the Data Quality and Improvement Award for Addresses 2018 and the Data Quality and Improvement Award for Streets 2018 respectively.
Awards were also presented for Best Address Data in Region and Best Street Data in Region together with Awards for those at Gold Standard.
The Awards were presented by Councillor Ian Ward, Leader of Birmingham City Council.
Good quality address and street data underpin many aspects of local government business; from large transformation projects with the local address and street gazetteers at the heart, saving the authorities millions of pounds; to smaller initiatives which have found clever ways to join up other information, or to use the gazetteers in unusual ways.
The Awards highlight Custodians' roles within their authorities and enable their work to be more widely promoted to all parts of the authority. They allow the many services which currently use address and street data to see that the high standard of the data is externally recognised.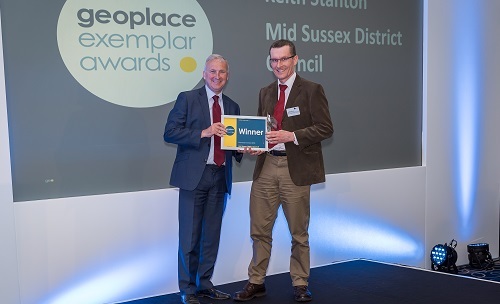 ENDS
Notes
About GeoPlace
GeoPlace LLP is a public sector limited liability partnership between the Local Government Association (LGA) and Ordnance Survey.
GeoPlace is a world class expert in address and street information management, working internationally as well as in the UK to help our partners and customers maximise the value of their spatial information for better decision making.
GeoPlace maintains a national infrastructure that supports the address and street information needs of the public and private sectors. Its work relies heavily on close working relationships with every local authority in England and Wales. This relationship has been developed over 15 years, to build the National Address Gazetteer infrastructure and National Street Gazetteer. Ordnance Survey develops the range of AddressBase products from the National Address Gazetteer and OS MasterMap Highways Network from the NSG. Both datasets underpin efficient and effective services, bringing direct service delivery benefits to users.
The Unique Property Reference Number (UPRN) and the Unique Street Reference Number (USRN) are the unique identifiers for every addressable location and street in Great Britain. They are created by local authorities who have the statutory authority to name and number every street and property and Ordnance Survey who identify objects on the landscape which may otherwise not attract an address.
These unique reference numbers link datasets together and share information with other organisations who also use them. They provide a comprehensive, complete and consistent identifier throughout a property's life cycle â from planning permission or street naming through to demolition.
See https://www.geoplace.co.uk.