We manage the National Address Gazetteer which is the data storage and set of processes bringing together the existing local authority sourced addressing datasets together with Ordnance Survey, Valuation Office Agency, Royal Mail data and other datasets. Through an agreement between Ordnance Survey and Scotland's Improvement Service, working on behalf of Scottish Local Government, the National Address Gazetteer includes Scottish address data.


GeoPlace is the central source for UK addresses and streets. We work contractually with all 318 councils in England and Wales which have statutory responsibility for approving and creating addresses and 175 local highways authorities. We manage a central hub of 46.5 million addresses and 1.7 million streets, taking feeds of address and street data from local authorities in England and Wales, central government, Ordnance Survey, Royal Mail and data from Scotland, Northern Ireland, Isle of Man and the Channel Islands via the Improvement Service, Land & Property Services, Isle of Man Government and Digimap respectively.
Through a stringent data quality process, we synchronise and match data against records from several authoritative government property and address databases. Through a validation and assurance process, we run 364 Address data checks, 550 Street data checks and 1,480 assurance checks on each record before being accepted into the database. Data is enriched and transformed by adding the best attributes from source datasets to enhance the overall quality of the product. Around 2 million records are updated monthly.
Working through a governance structure, we agree, monitor and support an annual data improvement process with councils that set levels of data quality, completeness and accuracy.
The result is a single, unified source for all addressing and street data used for streetworks, as mandated by the New Roads and Street Works Act 1991 and distributed by Ordnance Survey through the AddressBase range of products.
This infographic illustrates the processes that take place at GeoPlace.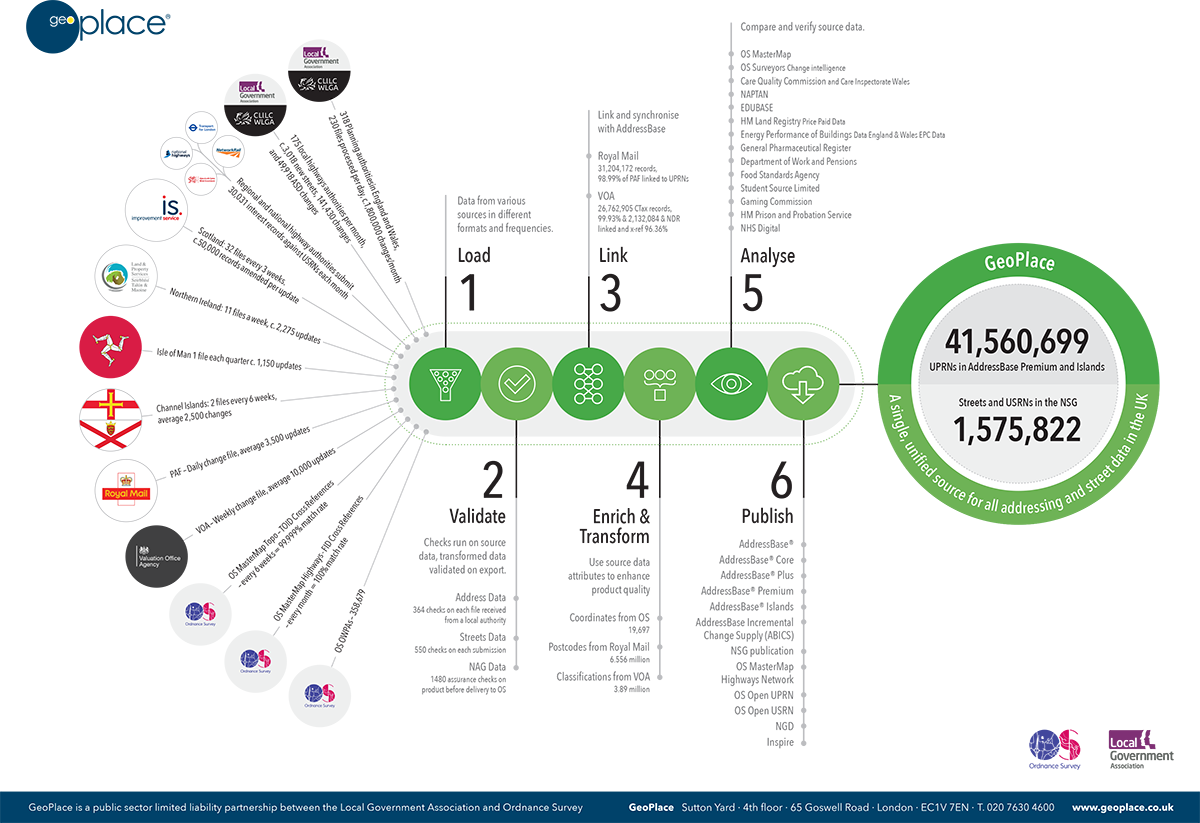 GeoPlace has a strong and productive relationship with every district, county and unitary council in England and Wales.
Click here or on the image above to download a high quality version of the infographic