By Luke Studden, Supplier Liaison Manager at GeoPlace. Luke is responsible for engagement between GeoPlace and system suppliers who provide software solutions to local authorities for address and street data management.
There is a wealth of insight and value waiting to be gained from the use of address data, but the success of this often relies upon the platforms we have at our disposal to interact with it and get hands-on. It's fair to say, the easier it is to get up close to the data, the more it will be utilised and its transition from data to information can truly begin, along with its inclusion in the decision-making process.
Within the toolkit of a local authority GIS Team you will typically find the following platforms used to convert data into information:
Digital and paper maps
Desktop applications
Online mapping tools
Deployable apps
3D visualisations
Web services and API's
In my opinion context is key; I believe that for address data to truly progress into information or actionable intelligence, it requires context.
Context is typically provided by supplementing the data with a combination of Business Information (BI) and Location Intelligence. The power of location can be utilised to answer questions relating to "place": What exists around this property?, Where is the nearest?, How do I get to?, Show me where..? Location intelligence coupled with Business Information can paint a rich picture of information, helping you answer the questions which you set out to ask of your data. These platforms essentially facilitate that journey.
Another platform however has emerged. With ongoing developments in Augmented Reality (AR), a more immersive medium to interact with address data has opened up. Thanks to the release of the cult game "Pokémon GO" back in the Summer of 2016, AR technology was brought to the masses and did something wonderful – it transcended generation gaps making both children, parents and grandparents aware of this medium, its capabilities and fundamentally got them using it as a location based platform. A platform that enables you to interact with and query features right in front of you, there and then in-situ, in real-time when it is needed most – a powerful capability.
Although being a game, the potential of AR in other spheres of industry and service delivery enthrals me. My role at GeoPlace puts me in a good position to view the emerging solutions that suppliers are developing around address and street data which is why I was keen to accept an invitation by Andy Hird (Managing Director) and Dinesh Thanigasalam (Commercial Director) of Aligned Assets – A Gazetteer Management System Supplier based in Surrey – to see a demo of their latest development, "Symphony AR". At this point let me just say that I am always interested to hear from and meet with any supplier utilising the UPRN or USRN to understand what their developments can offer to the market.
Developed for Android devices, Symphony AR is an application that utilises the forward-facing camera, location based sensors such as GPS as well as inertial sensors to overlay OS AddressBase onto the real world. Holding up a smartphone with Symphony AR running in front of you will display symbolised property markers anchored to their real-world locations along with range information and scaled symbols, indicating proximity. The closer you get to the markers, the larger they appear, as if they were in your field of view providing a truly immersive experience. The app can be deployed onto any android device such as a smartphone, tablet, smart glasses such as Epson's MOVERIO, DAQRI or even a Tesco Hudl!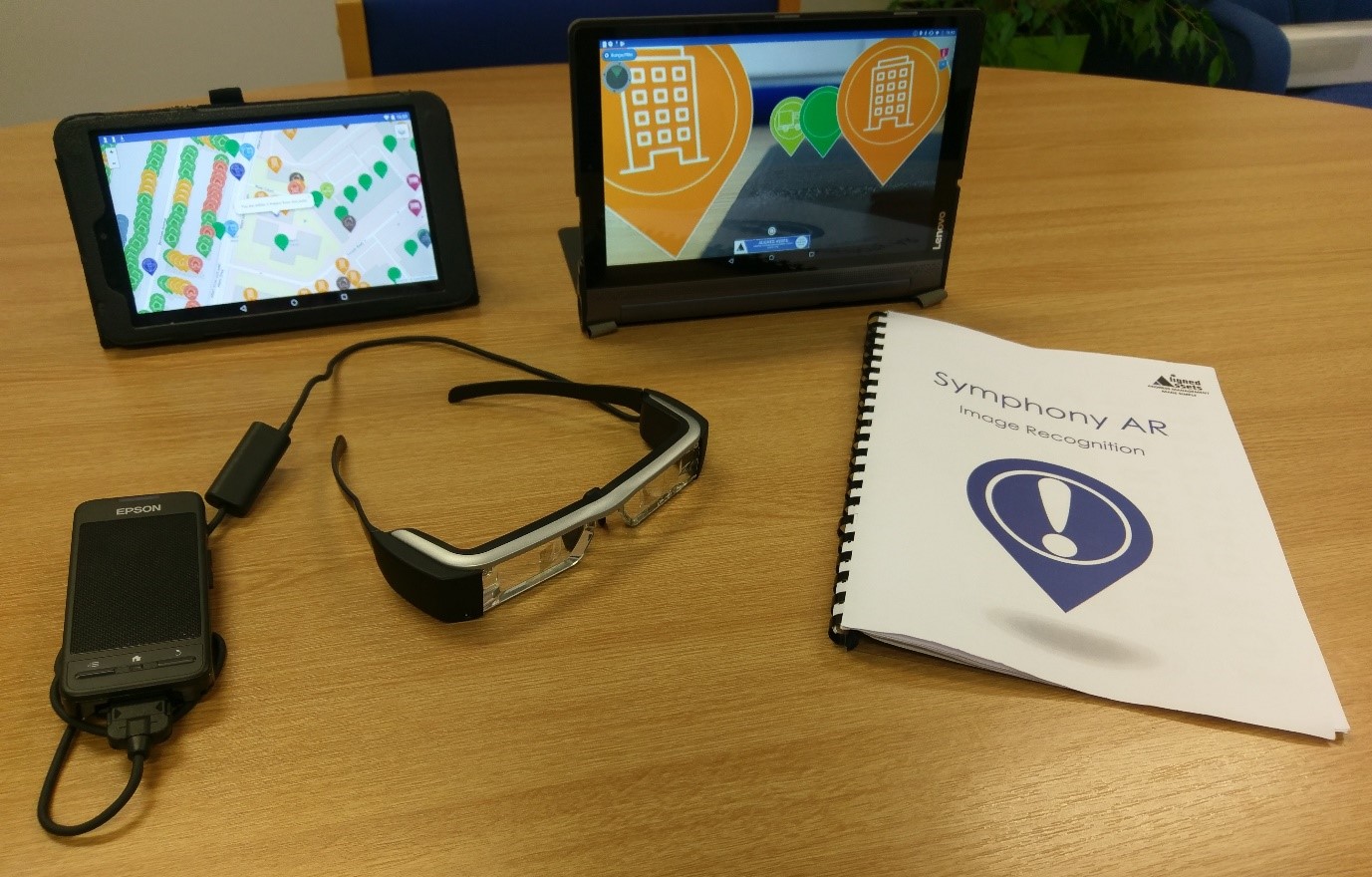 What really piques my interest is the ability to drill down on the address markers to view the natively rich OS AddressBase attribution and custom fields which have been configured in the accompanying "View Builder" application. It is here where you can configure the data elements being returned / filtered and also set up point-in-polygon queries to determine in real-time whether, for example, the property you are facing falls within a flood zone or conservation area. Essentially any data that you can link either spatially or via the Unique Property Reference Number (UPRN) to OS AddressBase can be returned, lending itself to combining location intelligence and Business Information – providing contextual information to the user on demand.
Whilst sitting in the Aligned Assets boardroom with Symphony AR running on a smartphone hooked up to a projector, Dinesh and Andy introduce its image recognition features. Dinesh produces an A4 booklet with the Aligned Assets logo on the front page – which gets me wondering. When passed in front of the smartphone running Symphony AR, it detects the logo and superimposes an animated spinning globe onto the letter "I" in Aligned. Nice trick, however its uses become extremely apparent as Dinesh turns the page to display a hazard warning symbol stating "Acute Toxicity".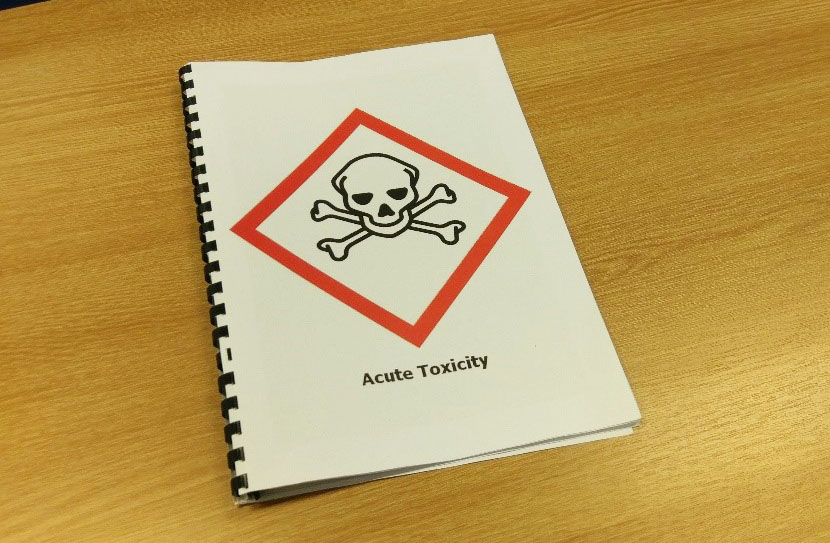 Immediately the app detects this and displays a wealth of textual information deconstructing the image, overlaying it with notes about the warning and an example image of the unassuming, but heavily poisonous Nightshade berry. This is intriguing stuff!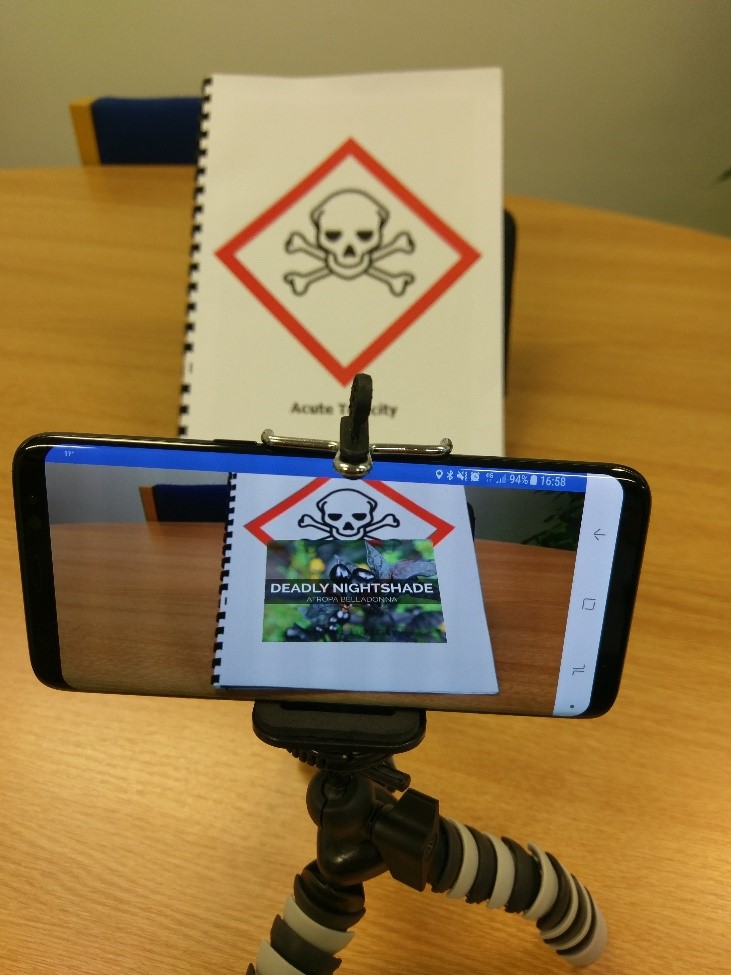 The page turns again but this time the image triggers the app to load a YouTube video which begins playing immediately.
Dinesh then initialises a training feature which simulates our location being on the local High Street whilst accessing live data, and describes a theoretical use case of emergency services wanting to rapidly access a building due to a safety of life situation. The application then displays a 3D exploded view (example data) of the building we are facing indicating its access points – a powerful proof of concept indeed.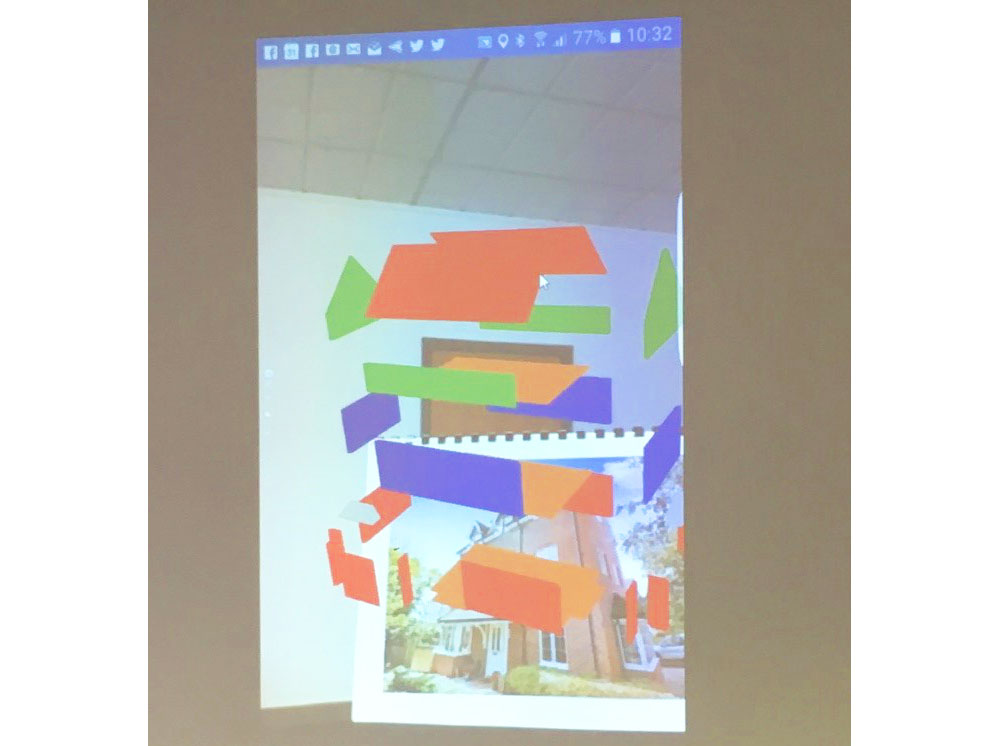 The level of interaction with OS AddressBase here is novel. AR lends itself to a very immersive experience which when considering the traditional "interactive" platforms at the disposal of a GIS Officer or Authority Address Custodian, it is unique and (almost literally) places you within touching distance of the data.
The nature of the AR platform connects you to your environment in a very fluid way which is highly operational and live. It therefore lends itself to these use cases and when coupled with the above examples of image triggers and multimedia display, represents a potent blend of features that can be applied to a plethora of service delivery functions.
For example, by utilising the app's "View Builder", different deployments can be created. A "view" for planning enforcement officers can be constructed providing access to aerial imagery stepping back through the years (which can be overlain in situ), as well as filtering the list of OS AddressBase markers displaying only those which the Authority Address Custodian has flagged as "queries" due to not possessing either a matching Ctax, Electoral registration or PAF cross reference.
Safety of life applications spring to mind around a local authority's Emergency Planning function. Typically, an Emergency Response Officer would be deployed in a reactive sense, requiring information about their surroundings about an incident that has just occurred. It is here that customised property markers such as council owned emergency shelters, compressed gas locations, temporary accommodation or vulnerable persons can all be pulled in, facilitating a decision-making capacity.
On a more leisurely note, a historic walk view can also be constructed, filtering out properties of importance and creating customised guided tours from point to point with multimedia videos, sounds and images being displayed to enrich the user experience. All the above is driven by address data and the interactive features of AR.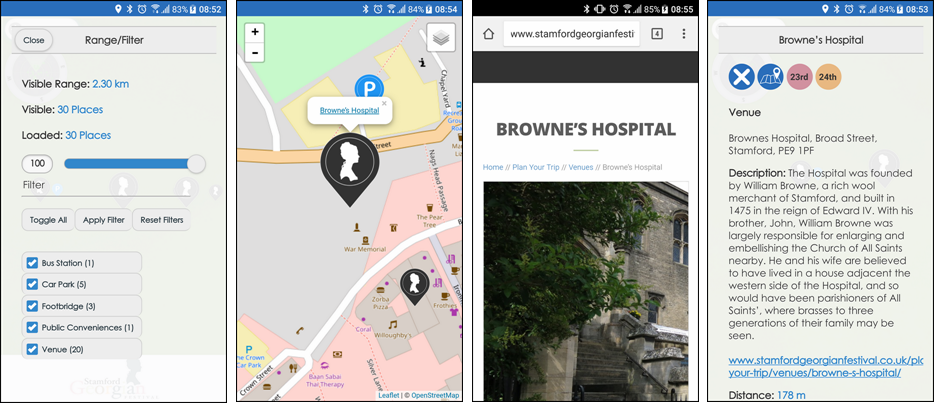 (The above images are screenshots from a customised version of Symphony AR which was used as an interactive guide at the Stamford Georgian Festival event)
The technology landscape is actively and rapidly changing. Looking at the Gartner Hype Cycle as a reference, immersive experiences such as AR are set to play a critical role in facilitating a connection between society and data ecosystems in a very simplistic way. Considering social media giants Facebook and Snapchat are significantly investing into this technology for roadmap items, this very well may be a platform we see becoming quite prevalent – an exciting prospect.
However, there is one crucial ingredient: data, spatial data. The quality and accuracy of this needs to be unparalleled especially if it is to be used in service delivery and crucially safety of life applications. It is therefore encouraging to see a solution placing OS AddressBase at the core of this and opening up the opportunity for end users to engage with the data on a very functional and immersive level. It somewhat shakes up the existing paradigms of data interaction and opens up a whole host of exciting possibilities.
I very much look forward to seeing use cases emerge from this solution and AR in general as it has shown some great potential in combining both location intelligence and business information with address data, giving users a real edge when it comes to understanding their surroundings and its location based properties.