By Gayle Gander, Head of Marketing at GeoPlace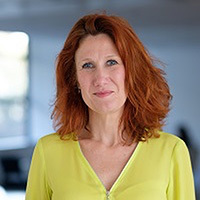 Our national location data infrastructure is essential for the digital economy
Drone deliveries. Connected autonomous vehicles. Even home-based robots are part of everyday life. These are key components in our digital economy, and they all depend on the integrity of our national location data infrastructure. Without it, they cannot know where they are on the surface of the earth – or where they are going.
In the UK, we have nationally recognised identifiers that facilitate confident navigation for these machines. Those identifiers are our Unique Property Reference Numbers (UPRNs) and Unique Street Reference Numbers (USRNs), together with their related geometries. These nodes of information deliver certainty about location as they reference unique addresses, street names, and properties. And, as they are unique, they make the perfect reference point for use in machine-readable data too.
The UPRN and USRN represent the ideal way to validate and underpin electronic information exchange. We've seen this in projects such as the Multi Agency Information Transfer (MAIT), in Wales, which is now the agreed structure for data elements that must be shared between many organisations there.
The MAIT scheme has reduced operational response times for emergency incidents significantly. Incident data is being handled with more confidence; faster, too – with call times reducing from over 4 minutes down to just 16 seconds.
Similarly, the JIGSO2 project in Wales has used UPRNs as a data exchange mechanism to identify vulnerable people, property and infrastructure. JIGSO2 is a joint initiative between Dyfed Powys Local Resilience Forum, Joint Emergency Services Group (JESG) and the Welsh Government – again, demonstrating the potential of collaboration.
Both projects utilise the UPRN to facilitate data exchange between machines that deliver life-saving outcomes for people. Machines need an unambiguous way to transfer information that relates with certainty to exactly the same location or group of locations.
Business as usual for government
Central government is taking the same approach for business as usual:
HM Revenue and Customs use the UPRN from AddressBase within their Connect Risk Engine to detect fraudulent activity across all HMRC's Heads of Duty tax systems. This resulted in an extra £3bn of tax revenue being collected.
The Department of Work and Pensions use the UPRN to confirm voter eligibility by matching registered details with DWP databases. The Department also intends to use the UPRN at the heart of their master persons index.
Ofcom's use of UPRNs is helping service providers deliver better communications and connectivity, right across the UK.
HM Courts and Tribunal Service is using AddressBase for address validation in courts enforcement.
The Department for Energy and Climate Change utilises the UPRN within the National Energy Efficiency Data-Framework. There, it's used to glean insights about the use of energy and the impact of energy efficiency measures on different types of property and household.
UPRNs have been at the heart of local authority business for years. Their use has delivered savings in tax collection, planning, waste collection and school bus-journeys, to name but a few examples. However, we are also now seeing excellent innovation in uses for the UPRN.
£2.2m of government funding has been secured for local broadband improvements, to improve tenants' housing conditions, to ensure electoral equality and empower insight and to improve the standard of living in rented accommodation.
If you'd like to see more examples, we've included them in our 'Linking People to Places with Unique Identifiers' document.
Supporting the next challenges
Government's digital services revolution is far-reaching. It includes the roll out of full fibre broadband and 5G, and the siting of electric car charging points. It comprises encouragement for highways authorities to implement street works permit schemes, and work on Cabinet Office's digital public record of the Government's property assets as part of the Government Estate Strategy. Changes are happening to the Department for Transport's Street Manager programme, as well as the Ministry for Housing, Communities and Local Government's Public Land for Housing programme, and MHCLG's call to 'fix the plumbing' also comes under this banner of 'change, for good'.
All of these programmes need a foundation of common, standardised data and systems. They all benefit from having exemplars of best practice to emulate, and a dash of innovation to set them apart and provide ongoing inspiration to others.
As the Secretary of State for the Department of Digital, Culture, Media and Sport at the time, Matt Hancock said the Prime Minister asked him to produce a National Data Strategy. This would unlock the power of data in government and provide immense benefits for the UK economy. Matt was a great champion for the digital sector. I do hope the good work he started carries on.
We're still waiting to see how the Geospatial Commission's '21 unlocks' may remove impediments to the wholescale use of geospatial data and addressing.
Our work here, at GeoPlace, is all about making sure accurate information about streets and addresses is put to best use – maximising the value of this information, enabling government to run more efficiently and effectively for everyone's benefit.
We work closely with many different parts of government, and we're contributing to the National Data Strategy and the work of the Geospatial Commission. And, through the Data Cooperation Agreement, we maintain a unique relationship with every local authority – we believe this is one of the world's most robust frameworks for data collection of this type. We've created an invaluable data infrastructure of 42 million addresses and 1.39 million streets, and that data is already supporting millions of government transactions every day.
Now, we're ready to take the next step on our journey. We're moving towards a time when no public-sector address appears without a UPRN and no street without a USRN – and even drones, robots and automobiles can navigate confidently, too