GeoPlace LLP was set up as a joint venture between Ordnance Survey and Local Government Association to create and maintain a single source of definitive Address and Streets data for the UK. GeoPlace was commissioned in the year 2011 to create the 'National Address Gazetteer' in a central hub by consuming data feed from all Local Authorities in England and Wales, national feeds from Scotland, Northern Ireland, Isle of Man and the Channel Islands before being synchronised, validated and enriched by cross-referencing with supplementary data from Royal Mail, the Valuation Office Agency and Ordnance Survey.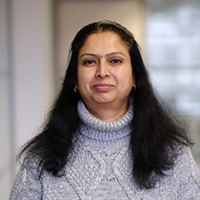 From this central hub, GeoPlace generates and delivers the AddressBase® range of products to Ordnance Survey who is responsible for sales, marketing and the distribution of products. AddressBase® range of products were first released on the 1st of October 2011, delivered to the market every six weeks with AddressBase® Premium version providing over 40 million addresses and 100 million cross-references. On the 31st of March 2023, GeoPlace and OS celebrate the release of their 100th edition of AddressBase® products.
The GeoPlace hub collates and processes large volumes of data on a daily basis from over 350 source data providers. Land and Property data submissions from source suppliers are validated by >1000 assurance checks before being updated into the central database. We follow a simple ETL process, by Extracting source data acquired via FTP/API or email, Transforming the incoming data by synchronising, matching, cleansing, and validating against the data standards before Loading the data into our central repository. We also enrich the data using various sources and other third-party data sets to populate products attributes including improving the co-ordinates, classifications, property level detail, life-cycle information to enhance the overall quality of the data.
(To view the following infographic close up, follow this link)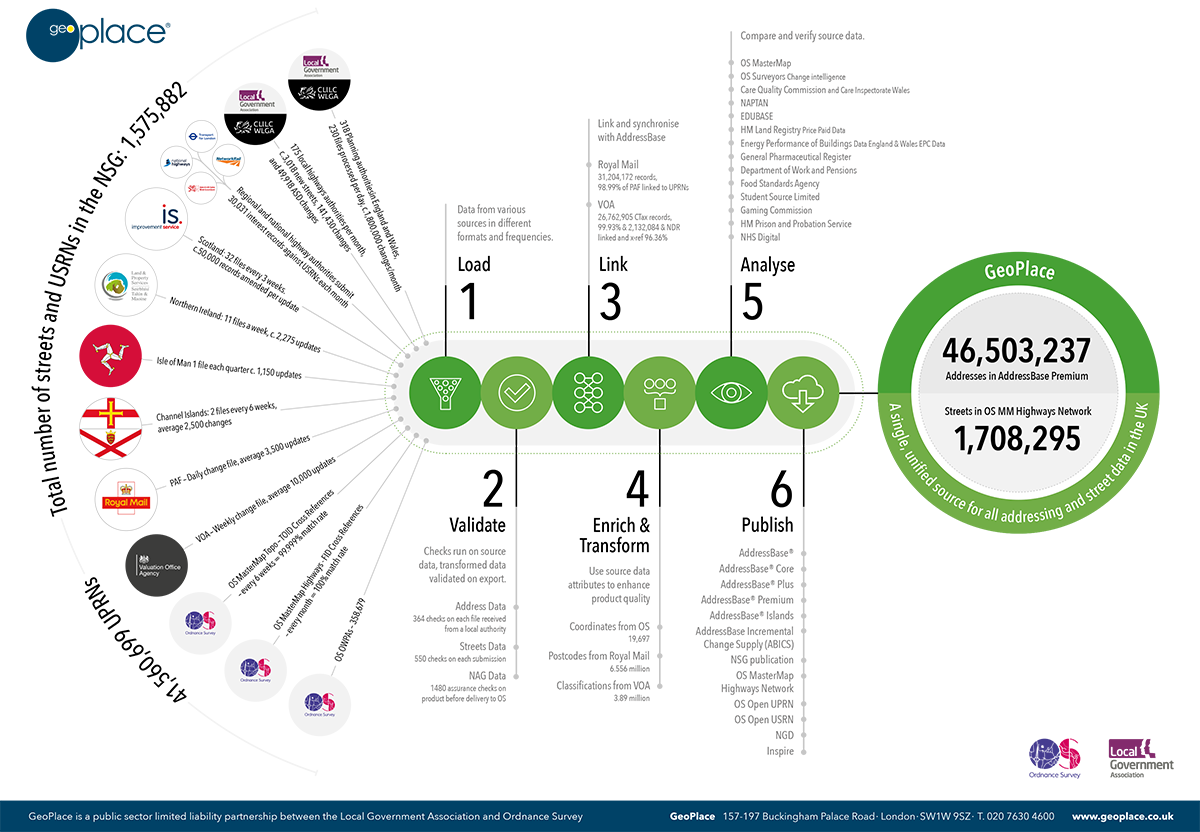 Upon successful ingestion, we derive various addressing products based on the products specification, delivered to Ordnance Survey via API service and data feeds which are distributed to the market as AddressBase® range of products. Data submitted during the day are amalgamated to create the 'National Address Gazetteer' and transformed into AddressBase® products using complex business logic to derive and generate various product-specific attributes and validated using 500+ Product assurance checks before publishing this to Ordnance Survey. Our core technology stack comprises of Oracle and Java while Jira and confluence are used for process and content management respectively.
The term 'Epoch' is used within GeoPlace to mark the six-week period, at the end of which AddressBase® range of products are generated from the "National Address Gazetteer" datahub created by amalgamating addresses from various data sources, providing single definitive source of accurate geo-referenced address data for the UK.
We started this journey with the initial launch of the product in 2011 containing 31,725,664 addresses for England and Wales. Through an agreement between Ordnance Survey and Scotland's Improvement Service, GeoPlace included Scottish Address data into the National Address Gazetteer for epoch 6 publication. Continuous improvement is at the heart of any GeoPlace activity from data completeness, quality, currency to systems to process to provide the growth, expertise and services required to meet the increasing customer needs of high-quality address data for their business needs. As a part of Scotland address inclusion, GeoPlace automated the process of products transformation thus improving efficiency and reducing the operational effort required to generate an epoch.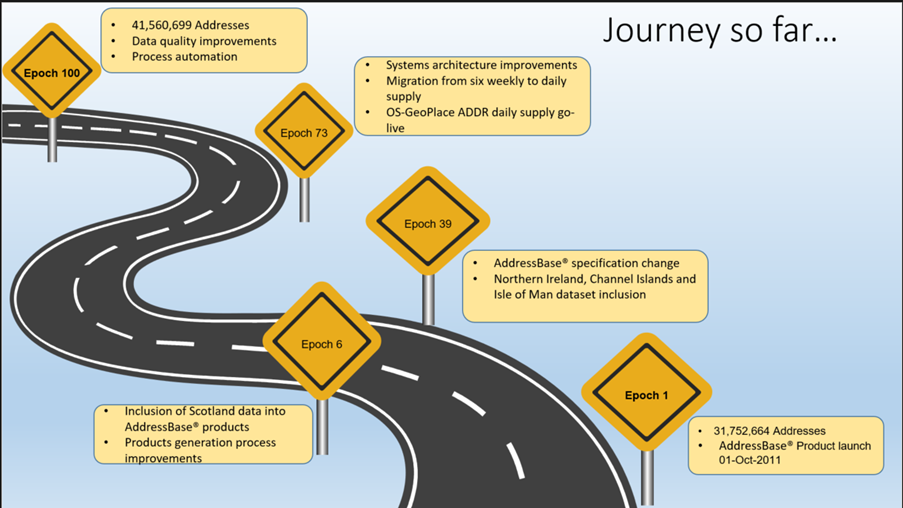 Further expansion of National Address Gazetteer happened during epoch 39 publication, when all Islands datasets were included and the first AddressBase® Islands product was released to its customers alongside delivering the specification change for all AddressBase® products.
A key milestone achievement for both GeoPlace and OS was the implementation of a major architecture improvement for data exchange that helped migration from a six weekly bulk data feed to a Daily Address Supply via an API service. We deliver on an average 3.5 million Address changes every epoch. Breaking this into smaller chunk of daily changes reduced processing time and the effort involved in transferring bulk changes at the end of every six weeks. Creation of robust, secure, and reliable systems provided the platform for delivering more frequent data updates. In November 2022, Ordnance Survey released the National Geographic Database API for accessing data that provides a more frequent updates with the "NGD Address theme" providing daily Address updates for the first time!
Over the last twelve years the National Address Gazetteer has been enriched and transformed by including additional attributes from source datasets to provide a consistent, complete and a high-quality Addressing product. Improvements to the technological architecture provided the structure and platform required to deliver more frequent updates; from AddressBase®, AddressBase® Plus and AddressBase® Premium products released on six weekly cycle, to release of AddressBase® CORE in July 2020 on a weekly basis to the more recent National Geographic Database API release in November 2022, providing a daily feed of Address changes.
Today, we are celebrating the successful delivery of 100th edition of the products publication. GeoPlace's vision is that everyone can benefit from the power of location data. With its continuous effort in improving the data quality, consistency, currency, and completeness of UK Address data, GeoPlace is committed to delivering excellence in location-data supporting businesses to improve their services and operations by utilising the power of single definitive source of location data.