In this session at the 2022 GeoPlace conference, four speakers discuss using the UPRN in the housing market, and talk about how processes have been and could be changed to make improvements.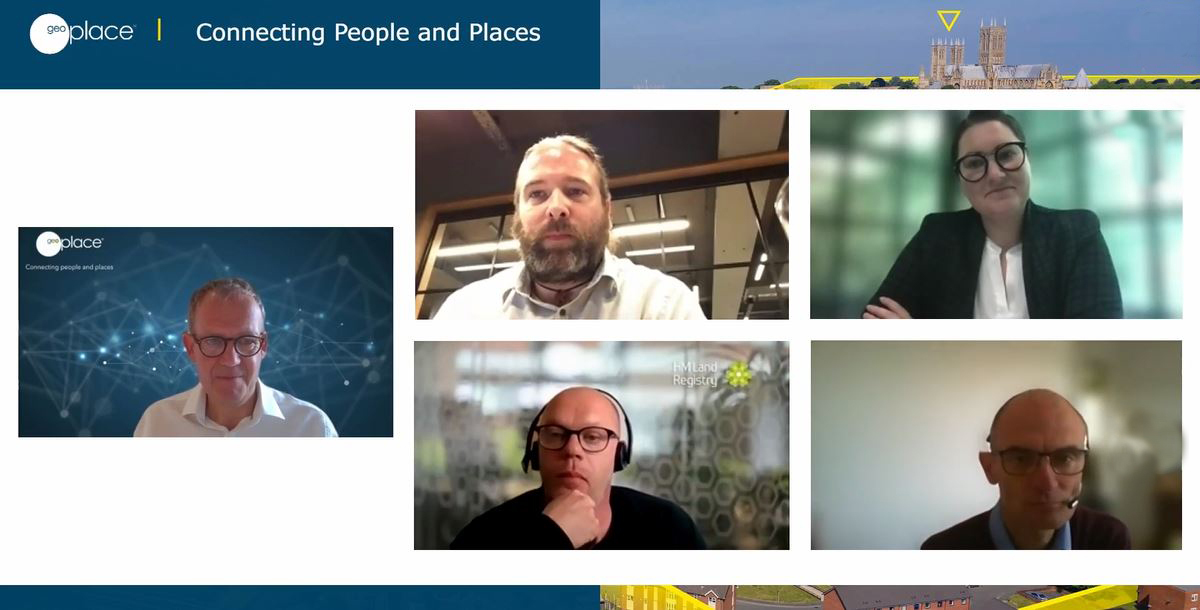 The speakers:
Property risk – expectations of lenders, current challenges & lending in the future
Why Zoopla invested in UPRN adoption - and the opportunities it presents for both agents and consumers
Antje Bustamante, Director of Data and Analytics Zoopla
Local Land Charges, UPRN data and the housing market
Mark Edwards, Service Manager, LLC Register Service
Andrew Trigg, Chief Geospatial & Data Officer, HM Land Registry
Robert Stevens, Head of Property Risk at Nationwide Building Society, opened this session by looking at the expectations of lenders in the property journey.
Lenders, historically, have been focussed on the relationship between people and money – but the journey of property conveyancing now extends beyond this concept. We need to be engaged with consumers far beyond the traditional 'move' cycle.
The piece between finding a home, and owning a home, is stress-filled and full of uncertainty. Currently on average this takes 16 weeks. Rob explained that Nationwide's vision is to create far more certainty much earlier in the process. Consumers want flexibility, too. Nationwide started to improve the data flows with this aspiration in mind, by building a Property Risk Hub – a model that overcomes many of the risks connected to the work of valuers, underwriters, and conveyancers.
The PRH links conveyancing, valuation and underwriting processes via an API. Decisions in principle can be made 'amber, green, or red', and decisions can be made on authoritative information that's been collected about every property in the UK. Valuations and lending criteria can be made faster, and with more confidence, which removes much of the 'on the ground' work from conveyancing as a whole. For example: for a semi-detached 3-bedroom house with a purchase of £250k and an acceptable loan to value ratio, Nationwide is able to make decisions in 13 seconds.
To do that, Nationwide Building Society used property data to make decisions about valuation, environment, ownership, perils, verified associations, and characteristics (such as leasehold or freehold status, and proximity to listed buildings). However, for another property in central London with a value of £2.5m, showing a listed building status and queries as to ownership, the decision would be taken through a further assessment and possibly even a manual valuation. In some cases, a decline is the right decision. For example, a property with a history of flooding that's outside the lender's criteria can be declined within a few seconds.
Robert went on to talk about lenders' views on climate related issues, which now need to be factored into long term loans. There are physical risks as well as compliance risks to consider; erosion, but also the intention for properties to meet EPC 'C' ratings for residential homes by 2035. Having authoritative data to hand makes modelling and the progression of these conversations much easier to have with regulators and other stakeholders. To conclude, Robert talked about the importance of UPRNs in this work – ensuring authority – but also the importance of collaboration between agencies and stakeholders, and availability of data.
Antje Bustamante, Director of Data and Analytics Zoopla, spoke to the subject of Zoopla's investment in adopting the UPRN, and the opportunities this presents for both agents and consumers
Antje started by explaining that, historically, Zoopla has used a property ID – with no correlation to authoritatively addressed data. The Zoopla ID was derived from the Postcode Address File, but this presented challenges – particularly when it came to matching and modelling market trends. With this in mind, Zoopla moved to the use of UPRNs. Zoopla uses AddressBase Premium as its core database (the Local Authority tables rather than the Delivery Point tables). The right queries provide the best quality addressing information for consumers.
One of the challenges for Zoopla, on the business to business side, is the provision of accurate data to smooth the conveyancing and sales processes. However, with authoritative data at the heart of the system, improvements are seen across the board – delivering a reduction in the number of fall-throughs, too. Conveyancing is being accelerated through the use of public and private sector data sources that are powered by the UPRN.
On the consumer side, with this shift to UPRN-driven datasets, consumers can now have more confidence in the properties being – it is easier to access features that provide information about proximity to transport links, health and education facilities, climate data, and crime data etc – as well as perceived and historic market values.
Mark Edwards, Local Land Charges Service Manager, and Andrew Trigg, Chief Geospatial & Data Officer, HM Land Registry (HMLR), then spoke about Local Land Charges, UPRN data and the housing market.
Andrew opened the session by explaining how HMLR uses UPRNs. The UK has the fourth biggest property market in the world, and housing is the UK's biggest store of physical wealth – several trillion pounds of assets. HMLR contains more than 26 million titles, which accounts for 87% of properties on the land mass of England and Wales – non-compulsory registration accounts for the other 13% (this includes residential properties that have remained in single ownership for over 40 years, for example).
The mortgage market exists against the surety of ownership that HMLR provides. Better land registration enables better conveyancing, a better property market overall, and it contributes to economic stability and social prosperity too. HMLR handles around 122,800 requests every day. Almost 17,000 are for changes to the Land Registers, while 1,600 are creation applications; 15,300 are updates; and more than 105,000 are queries (94% automated) about the ownership of property.
HMLR's basis for registration is the title of the property (not the same as the address). A title can have a 1-to-1, 1 to many, many to 1, or many to many relationship with addressed. HMLR uses OS AddressBase as the foundation for its address estate, but it needs to create addresses too. Some titles do not relate to addressable property (such as fields, a housing estate under development, or some typed of roads, for example). While HMLR acknowledges the value and importance of the UPRN, this does mean the UPRN is not always the most appropriate identifier for its internal processes – however 82% of HMLR's title do link to UPRNs.
HMLR is undergoing transformation, improving its address and map management systems. The aspiration is to improve on the current relationships between Titles and AddressBase, improving its core systems to help enhance the interoperability of data.
Mark continued the session, looking at Local Land Charges – an obligation, prohibition, or restriction on a particular parcel of land. It includes things like SSSIs, tree protection orders. Primarily, LLCs are raised by local authorities but also by other bodies too. There are around 26 million LLCs in existences at the moment, on paper, microfiche and held digitally. HMLR is working a transformation piece to migrate the LLC register from the local authorities' environments, to a fully spatially enabled centralized register. 40 local authorities (around two million LLCs) have been through an intense data quality process and been migrated already. This data is available free of charge for inspection via the Gov.UK channel, the HMLR portal, and the Business Gateway.
Some local authority data is still disparate in nature, which makes standardisation complex. It is hard to mandate use of UPRNs as the unique identifier for LLCs, in areas such as conservations areas and for certain assets such as listed lampposts, for example. However, the UPRN can be used to refine searches. They have been essential during the data migration phase, and LLC data is now helping to improve the home buying process generally: matching, de-duplicating and cleansing the data.
Nick Chapallaz concluded the session with a question and answer session that touched on a fundamental challenge for the land and property sector: encouraging more stakeholders and agencies to the UPRN throughout the conveyancing chain. The speakers concurred, while the location-data community knows the value of unique identifiers, there is still a large education challenge ahead for stakeholders that aren't data-centric by default.
Watch the recordings of this session on the Day 1 tab on the conference agenda