This session at the GeoPlace 2022 conference looked at energy use, warm home discounts and helping vulnerable families in fuel poverty.
The speakers:
Understanding energy use in British Building
James Hemingway, National Energy Efficiency Data Framework, Department for Business, Energy & Industrial Strategy (BEIS)
Linking data to target warm home discounts
James Wardroper, GI Consultant, Ordnance Survey on behalf of the Department for Work and Pensions
Housing improvements – targeting vulnerable families in fuel poverty
Mark Wood, Business Intelligence Technical Advisor, Barnsley Metropolitan Borough Council
Jamie Tasker, Business Intelligence Technical Advisor, Barnsley Metropolitan Borough Council
Riley Marsden, Data Management Specialist, Ordnance Survey, formerly Barnsley Metropolitan Borough Council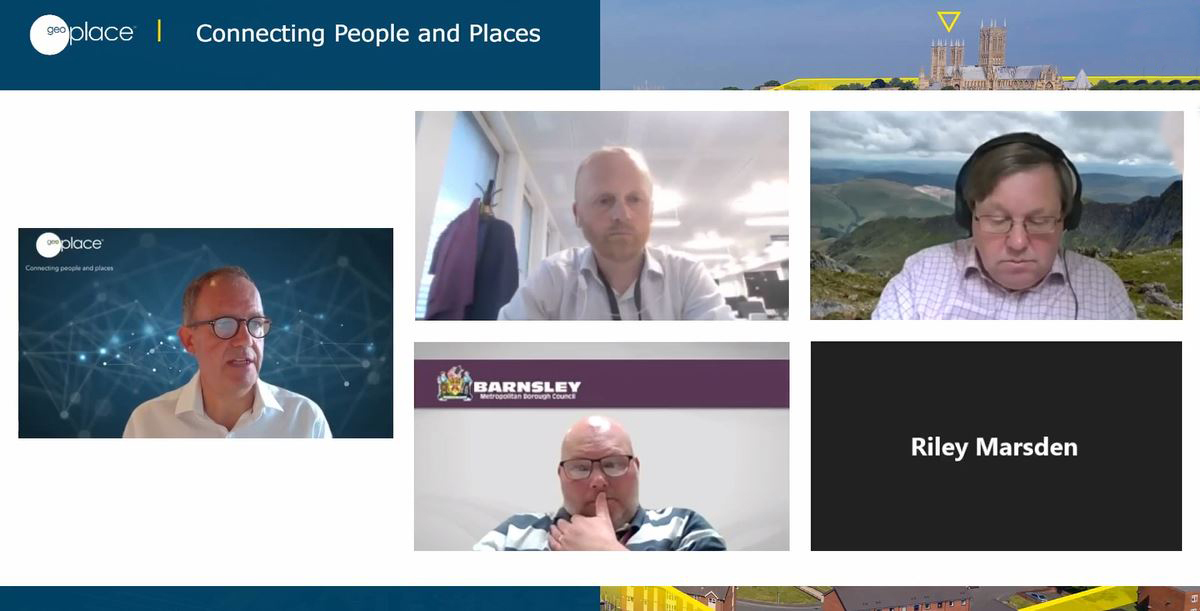 James Hemingway opened this session with an insight to the fundamental role for UPRNs in the work of the Department for Business, Energy & Industrial Strategy (BEIS), particularly in relation to the upkeep and maintenance and creation of the National Energy Efficiency Data-Framework (NEED).
NEED is a set of aggregated statistics, published annually since 2011 (for domestic infrastructure) and 2014-15 (non-domestic infrastructure). NEED provides insights into energy use, defined by individual property characteristics and geography. This enables better policy-making, as it elevates insights about the impact of long-term measures being taken.
The data for NEED comes from both administrative and commercial sources, and is intrinsically linked via UPRNs. On the non-domestic side, NEED links the VOA ratings list, various sources of business data and the annual meter point for electricity and gas consumption data, (although UPRNs are attached to only 50% of these, which means scaling up to reach optimum quality).
Non-domestic building stock comprises buildings such as factories, education facilities, hospitality, and health. By embedding UPRNs in this way, confidence is created in insights derived. For example, non-domestic NEED data shows that, not surprisingly, factories are the largest consumers of gas, but perhaps hospitality is still the most gas-intense user – and saw a significant fall in use over 2020, due to the impact of Covid-19.
The ambition for non domestic-NEED is to improve match rates of meter data, and provide more detailed breakdowns. Also, to expand regional data maps, perhaps make them interactive, and to address gaps in floor area data. The team would also like to add more datasets – EPC/DEC data, for example – and to identify public sector buildings, and to address tenure status.
Within the domestic NEED dataset – around 90% of domestic buildings are matched using data from VOA, energy efficiency data (from schemes that BEIS administers), metre consumption data, and household characteristics. Analysis can deliver detailed insights about energy consumption against criteria that make it easier to understand how improvements might be made and support offered to various audiences. In addition, the effectiveness of energy measures can be analysed, year on year.


Insights are available through an interactive domestic energy map, revealing such insights as percentage or properties off gas grid and percentage of properties with higher and lower EPC ratings, and percentage of households that are fuel poor. UPRNs are vital to matching these datasets. There are some key definitional nuances and data issues to be addressed, particularly on the non-domestic side, but NEED is still in its infancy.
James Wardroper, GI Consultant at Ordnance Survey on behalf of the Department for Work and Pensions, talked to the subject of using UPRN-infused data to target Warm Home Discounts and improve the DWPs data estate. OS has been working closely with teams advancing these initiatives.
The Department for Work and Pensions is the UK's biggest public service department, with about 96,000 employees. It administers the State Pension and a range of working age, disability and ill health benefits to around 23m claimants and customers. Its IT estate is complex, with hundreds of systems handling 3000 requests a second at peak times.
For the last two years or so, the DWP has been administering around 20 business lines – including seasonal benefits, Universal Credit, pensions etc. Until recently, access to address data was handled in different ways by different services – several systems were built in-house to provide look up functions, using with PAF or AddressBase. However, many older systems used external products, such as Experian QAS. The DWP's strategic vision is to have centralised, shared components that simplify the estate. This will deliver more efficiency and cut costs.
One of these components will be a strategic address service, providing address lookup and matching to the whole of DWP. Accuracy will be crucial. Accurate correspondence and residential address data is key to the citizen profile. This data is used for processing claims, making payments, verifying identity and sending correspondence. However, the source data is not always of an optimum quality, so automated processing validates manually entered addresses. This is crucial to the identification of fraudulent claims, but with the right tools and data this can be prevented.
The Warm Home Discount, for example, is a key policy in the government's approach to tackling fuel poverty and reducing energy costs of low income and vulnerable households. Since 2011, £3billion in rebates has been provided to low income and vulnerable households. DWP uses AddressBase data to deliver the Warm House Discount scheme, adding missing values to VOA data, which is used to help assess if a household has high energy costs.
Frequently used data fields include single address lines, classification data, geographic coordinates, and home nation codes – and in the future, DWP's address data will include international address data, and occupancy data for a range of property types. UPRNs are at the heart of all this work, improving match rates and delivering efficiencies across the board.
Riley Marsden, a Data Management Specialist at Ordnance Survey and formerly of Barnsley Metropolitan Borough Council, and Mark Wood, Business Intelligence Technical Advisor at Barnsley Metropolitan Borough Council, led the next session.
Riley and Mark explored Barnsley's approach to managing complex datasets and using that data to improve housing quality – understanding more on ownership, energy performance, and householder vulnerability. The problem at hand was a disparate set of housing data: several schemes had emerged, which all had different data requirements. Benefit eligibility criteria, in particular. The solution involved migrating this legacy data to a brand-new model, to introduce a range of new datasets, and to ensure lessons learned during the pandemic were embedded in best practice.
The centralised team at Barnsley sets the example for other business units. It manages a complex corporate data warehouse, has implement PowerBI as a data visualisation tool, and has introduced and developed a discipline for report development, so that products become maintained solutions.
In response to the pandemic, the team needed to build a vulnerability index for every household in the Barnsley borough (see Barnsley's presentation at the GeoPlace conference last year for more detail). This involved the inclusion of dozens of maintained, modelled datasets, but would mean that disparate teams could then use a range of indicators to analyse properties at an individual level. While legacy data had been stored in various ways, this task was made much easier by many of the datasets having the UPRN included. The resulting system is enabling Barnsley to have far more confidence in its one-view of citizens in the borough, in particular the data it holds on vulnerable citizens which can now be used across multiple departments for different purposes.
Key lessons learned from this work, include the importance of being asked to answer a question or design a solution to a problem, rather than simply be asked to supply some data. In addition, it is essential to maintain and nurture positive relationships with key individuals – people who may not understand the value of location data – so that they can grasp the art of the possible. Finally, there is immense value in training and supporting users of systems well; in particular, through remote demos, by recording training sessions, and making use of technologies such as MS Teams or Zoom to develop confidence in any new systems being deployed across an organisation.
Watch the recordings of this session on the Day 1 tab on the conference agenda