HMOs – Houses in Multiple Occupation – are an important form of accommodation. A building is classed as an HMO if it's let as a main or only home to at least three tenants forming more than one household. Large or small, they share facilities such as a kitchen, bathroom or toilet. HMOs with five or more tenants require a licence.
Well-managed HMOs can provide relatively low-cost housing for vulnerable people and for young professionals in particular. But HMOs can pose risks to tenants if management is poor, and this can lead to the risk of harm in the event of fire as well as problems with too many people sharing a limited number of amenities. For district councils, it's vital to know how many HMOs are in their area so they can plan and prepare their services appropriately.
The challenges
In North Hertfordshire, the council's Environment Health Services Department had received several complaints relating to possible overcrowding, issues with waste, parking spaces and noise. The impact of HMOs had been raised, particularly where there was a concentration such as Great Ashby. In January 2019, the Cabinet decided to identify the issues specifically, so that their location in relation to HMOs could be understood. To achieve this, a list of known HMOs was needed: this work would also help the council to understand more about its residents' housing needs; the implementation of legislative controls; and ways in which standards might be raised, in smaller HMOs particularly.
To date, there's been challenges in accessing external data sources such as Tenancy Deposit Scheme data. It was also difficult to identify whether or not internal data sources were up to date, without making reference to the Local Land and Property Gazetteer (LLPG).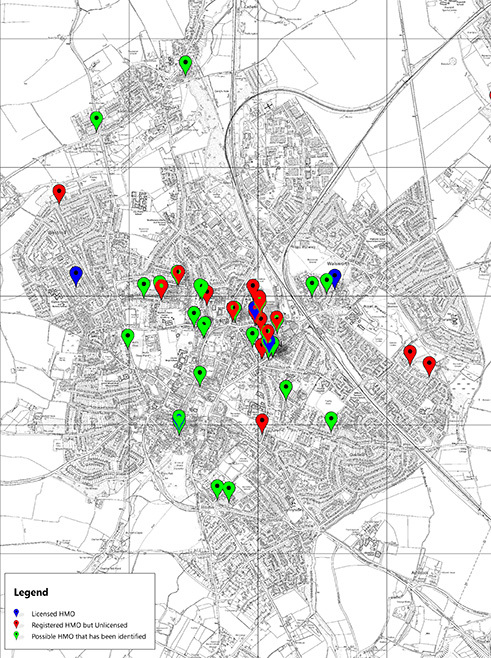 The solution
Identifying HMOs meant analysing a wide range of data. A list of properties known to be classed as HMOs for council tax purposes was provided by the Council Tax team, for example. The Environmental Health system held one robust dataset of properties that were known to be licensed as HMOs, and had another dataset indicating which buildings might be classified as such due to the service requests. Information was also gathered though the electoral register, from the fire service, and from the Housing Options teams – but some data wasn't as easily available. This included datasets from Building Control, Customer Services, Waste Collection, the Police, and Housing Benefit data.
Once these potential locations had been gathered together, the addresses were first plotted on the council's GIS system, using the Unique Property Reference Numbers (UPRNs) for detailed accuracy, and then loaded into an internal web mapping system. Where the UPRN of a building hadn't been matched to a data source (such as the dataset from the Housing Options team), a small amount of manual address matching was done.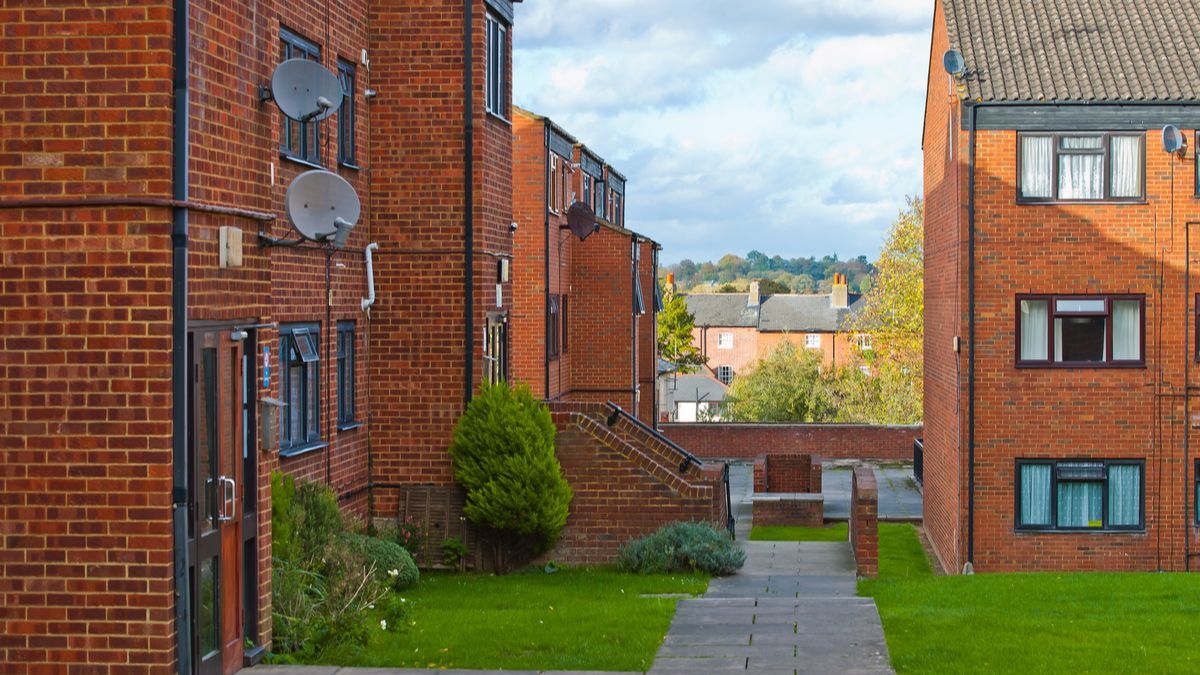 The results
In total there are 55,000 residential addresses in North Hertfordshire. HMOs make up a small proportion of the housing stock. The council's Housing strategy describes housing affordability problems in the district, with high demand for a limited supply of smaller affordable housing. The supply of HMOs within the private rented sector provides an important form of accommodation.
The Environmental Health database contained 102 known HMOs, identified by existing licensing or registration. By using UPRNs to ensure accuracy at the granular level, North Hertfordshire District Council was able to combine many disparate different data sources. The study produced a robust, definitive list of 199 properties which were both known HMOs and suspected HMOs – enabling the authority to target those properties for future action. In all, 42 properties were shown to be licensed HMOs (28 in the Great Ashby area), and Hitchin was identified as having many potential HMOs which were neither licenced or registered.
This led to several recommendations drawn for the Environmental team, including a greater propensity to share HMO intelligence and maintain a list of potential HMOs for pro-active investigation. The council concluded that new policies, designed to limit the number of HMOs in the area, would not be justifiable – and that associated issues (parking, for example), could be dealt with in other ways. Incentivising residents to park cars in their garage, perhaps, and introducing more cycle paths and public transport. The study also highlighted the importance and benefits of updating the LLPG Corporate Gazetteer on HMO classifications. As the LLPG was for the most part up to date, data on HMOs was easily accessible.
Contacts
Michael Mandeville, LLPG & GIS Officer, North Hertfordshire District Council
Aamenah Vaid, GeoPlace, Research and Communication Coordinator, [email protected]