Using drones to monitor developments from the Local Plan
Milton Keynes Council's local plan sets out how the town is likely to grow over the next ten years to 2031 with a minimum of 26,500 new homes built to the east and west as well as south east of the borough. The MK Strategy 2050 projects some 410,000 people will live in Milton Keynes by 2050.
Real-time monitoring of rapid developments and growth at the local level is challenging and the council employed some out of the box thinking to take advantage of in-house skills to deploy an Unmanned Aerial Vehicle (UAV) – or drone – to help gather data.

By flying over new development sites, intelligence can be gathered quickly to record actual construction progress. By capturing this intelligence within the council's Local Land and Property Gazetteer managed by Paul Brookin, it can be rolled out to other essential services such as electoral registration and waste collection and be recorded in the operation of systems and process that ensure the accurate collection of payments via Council Tax.
Additionally, the use of drones is an important contribution to the council's pledge to be carbon neutral by 2030. Rather than sending an officer out on site, development can be monitored remotely.
By putting location data at the heart of service delivery, Milton Keynes is transforming in terms of efficiency and effectiveness. By collaborating across services, it aims to rationalise site inspections across the organisation.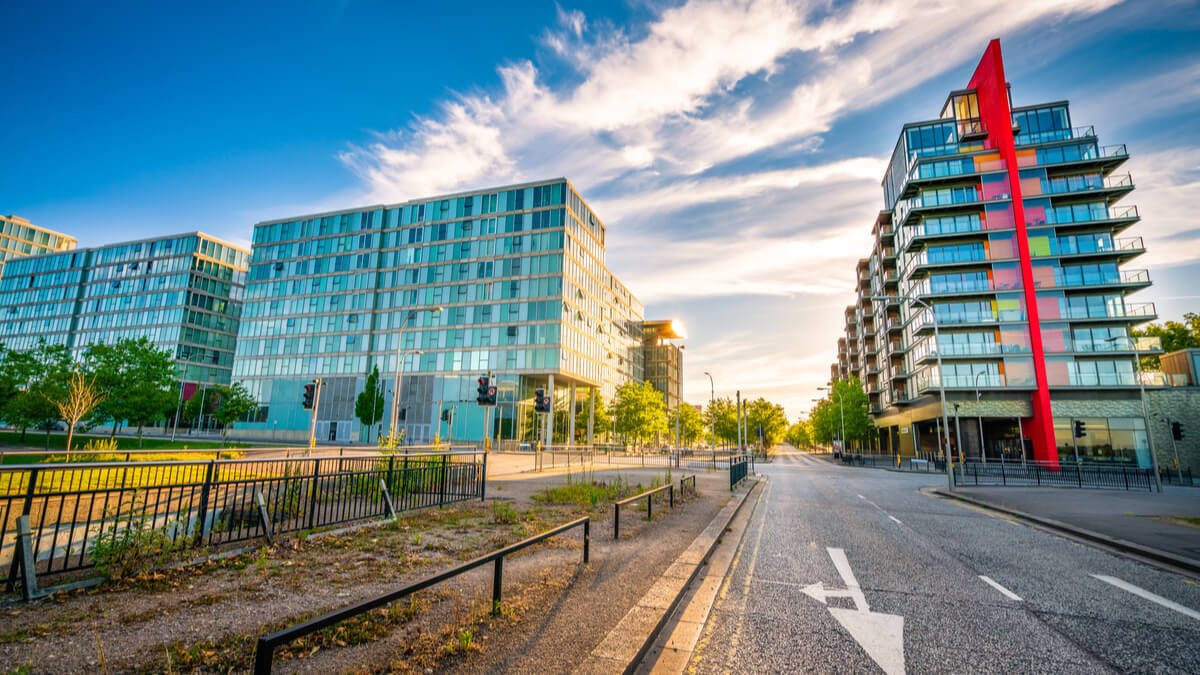 The issues
The town of Milton Keynes is one of the fastest growing conurbations in the UK. With 36 major development sites throughout the borough and 150 properties on average being completed every month (19/20), it is inevitable that base mapping fails to keep pace with on the ground reality.
Additionally, the number of available staff for site inspections across the council is limited which means some areas do not have the granular data mapping necessary to ensure efficient services. However, when property construction is completed, residents naturally expect services to be delivered instantly – and at the same time, the properties become eligible for Council Tax. The accuracy of data sitting either side of this equation is crucial for targeted service delivery.
The use of crewed aircraft to provide aerial photography is not a practical answer to this problem. Targeted surveys are needed, focusing on development sites across the borough.
Solution
With Ken Farrier a Civil Aviation Authority qualified UAV Pilot in the GIS Team, the council has introduced targeted surveys that can be carried out with a UAV. Flight imagery provides current intelligence of the local developments as they happen, and this provides a visual record of how the landscape is evolving. Surveys are repeated at agreed intervals so that developments can also be monitored on the ground. By linking the data provided from the UAV to the authority's GIS, a more cohesive and time-dated set of images showing progress can be made available. Additionally, the imagery enables a variety of departments to easily understand the rate of physical development.
The creation of highly accurate aerial maps using a RTK (Real Time Kinematic) drone is a way to circumvent the cost of purchasing commercial aerial photography.
Development site boundaries are input to the drone controller, which is then flown for a short period of time – minutes – across and around the site. Within this time frame, hundreds of images are taken. This provides an encompassing image of the whole site. Resolution is 1 – 2 cm and highly detailed, as opposed to 12.5cm output from manned aerial photography.
By geo-referencing developer site plans in the desktop corporate mapping solution (QGIS), new roads can be planned and plot all the new properties for each site.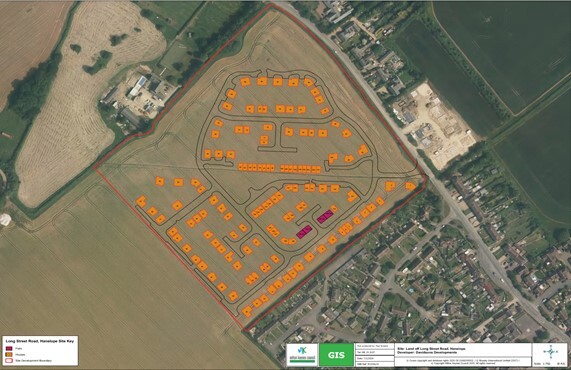 These can then be added as a layer in the internal authority wide interactive GIS (My GIS), on top of the 2D imagery, to show how the site is evolving. Over time a library of current and historical images will be available to view as follows: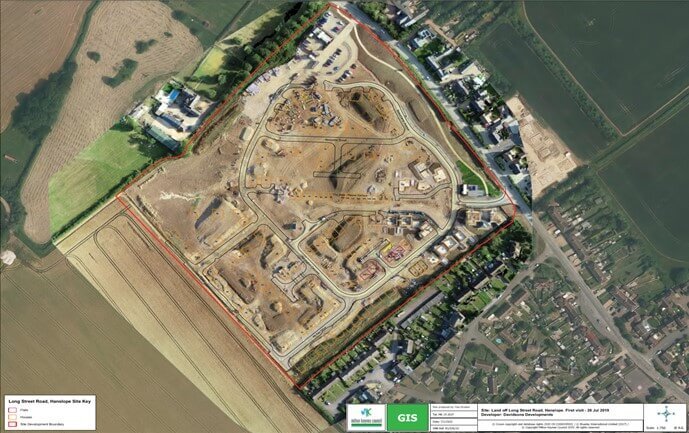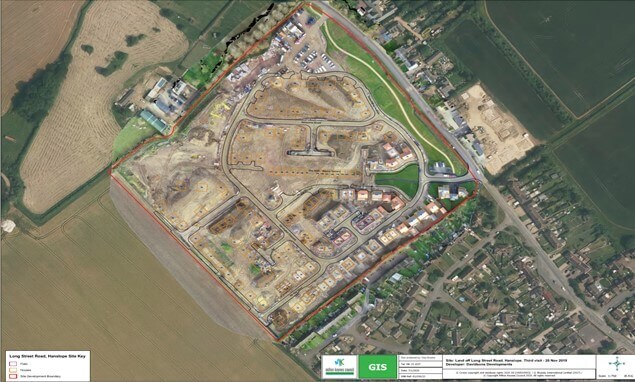 Once the imagery has been processed, additions of roofs and the associate building status within the LLPG can be changed from 'provisional' to 'approved' – at which point properties then become eligible for Council Tax. This is essential information for multiple council services.
Outcomes and benefits
Benefits are numerous including reducing costs instantly. By using drone technology, the team are in control of collecting their own data without having to commission external suppliers at significantly higher cost. This data is now available, ahead of the geospatial information being supplied by national agencies – and MK is now able to share intelligence about development sites via the Local Land and Property Gazetteers, as well as visually via My GIS.
This means that the LLPG can be updated at an earlier stage of property completion. In doing so, internal systems receive intelligence, and service deliveries can be planned on a just in time basis – reducing excessive commitment to services instantly but capitalising on known revenue streams. This includes waste collection, electoral registration services and the payment of Council Tax. With the early notification of streets, the team are also able to inform the Local Street Gazetteer, and in so doing alert Highway colleagues of network needs. The council can also 'join up' inspections, relieving pressure elsewhere. In addition, the housing monitoring plan also benefits as sites that aren't making rapid progress can be avoided.
UAV surveys are cost effective, offer greater accuracy and resolution and are fully autonomous in comparison to manned aerial photography from fixed wing aircraft. Large areas can be covered quickly, and it is possible to operate the UAV in areas where it is difficult or dangerous to do a ground survey. In good conditions, high resolution 2D and 3D mapping is possible, to 1- 2 cm. The use of drones makes an important contribution to the council's pledge to be carbon neutral by 2030. UAVs provide an environmentally friendly way to collect data. Fewer car-miles and fewer visits are required, and the need for site visits might be eliminated completely.
People are excited by what they see, and they recognise the benefits of UAV surveys to their service delivery, including savings in time with site inspections and associated services across Planning, Building Control and Council Tax. By working together, becoming more connected and using location data from UAV surveys, MK can access local intelligence quickly and help the team keep pace with the expansion plans for a more 'metropolitan' Milton Keynes.
Whilst the global pandemic has paused operations, flights are planned to resume.