Electric Vehicles (EVs) are gaining in popularity in the UK, which is good news for the planet. These vehicles all need charging, regularly, so we also need to have the right charging infrastructure in place i.e. easily-accessible chargers for as many people as possible.
However, some vehicle owners face physical challenges – such as living in a flat or a communal residence – and may not have their own charging equipment. However, by using UPRNs, those needs can be analysed and planned for in advance, saving money, improving mobility, and cutting carbon emissions.
The challenge
With a tendency for procurement to renew 5.3 million corporate vehicles by choosing EVs, the need to have a strong policy for charging infrastructure is clear. Electric vehicle supply is ramping up. EVs are becoming more affordable in general, and the previous concerns about the frequency of charging and reliance on a full "tank" are dwindling among private users. As a result, planners need to understand more about these changes in behaviour, so they can adjust their infrastructure plans to account for these new levels of demand.
With this in mind, Field Dynamics used Ordnance Survey data to validate the locations of almost eight million households that are 'on-street' residences, which don't have access to off-street parking already.
The underlying data – the Unique Property Reference Number – is the defining element that makes this study so dependable and insightful. In densely populated areas, such as those with multiple occupancy buildings (universities, high rise flats etc), it's essential to use the number of family units (potential car owners) in projections, rather than the buildings themselves.
Accurate analysis can only be done by understanding the weight and distribution of possible demand from householders – vehicle users will rely upon on-street EV charging, once they move to an electric vehicle. Matching that with data from Zap-Map, the study then identified 7,563 existing charge point sites in locations outside London. It analysed the number of on-street households within a five-minute walk of the nearest charging location – and came to a startling conclusion: nine out of ten households are not within close walking distance of an EV charger.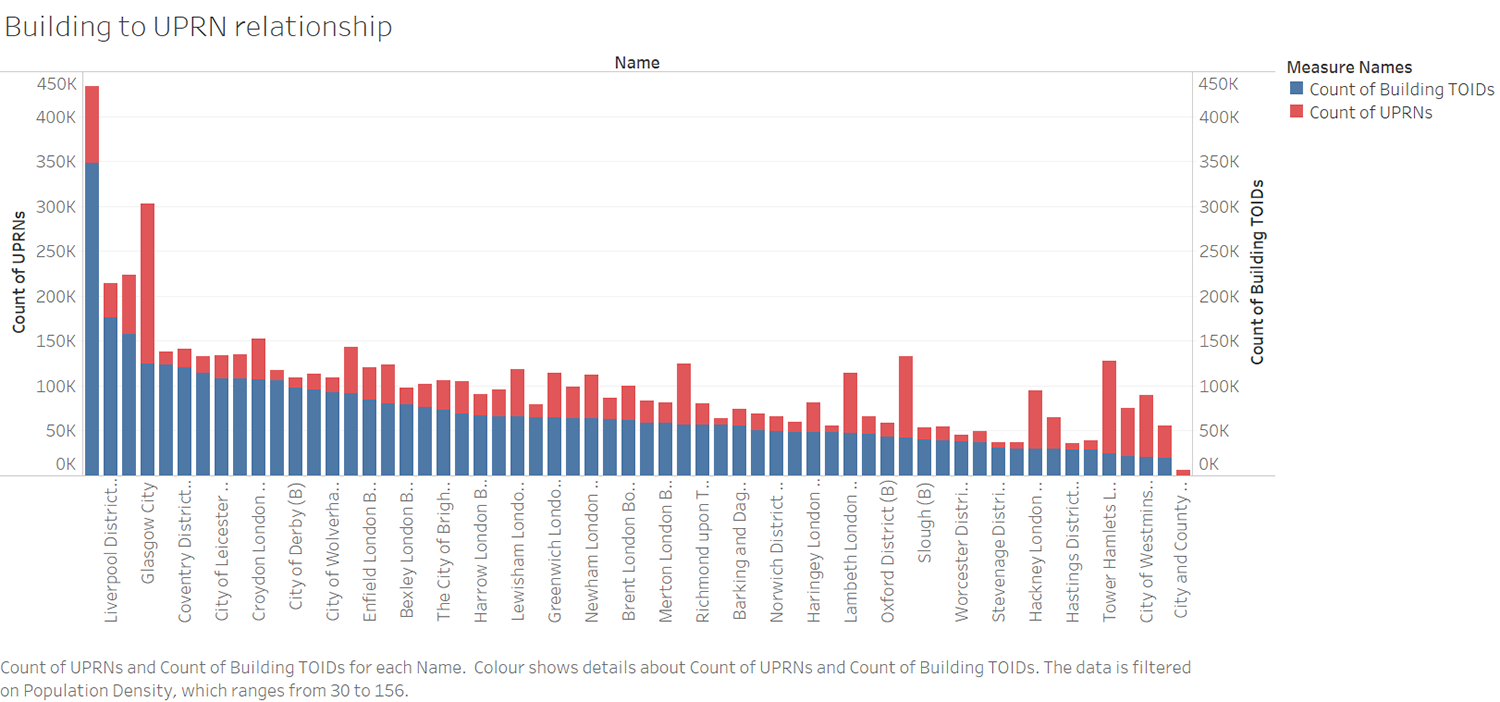 Analysis that relates UPRNs to TOIDs for the 120 most densely populated councils
This research highlights the importance of planning carefully to accommodate the current and future needs of residents who will rely on public EV charging. It also demonstrates how better residential EV charging can be achieved by locating public chargers in focused locations, and how surprisingly few units might be needed. Brighton & Hove Council, for example, recently achieved 67% coverage of on-street households with the addition of just 139 charge points. Most councils will need to install a few hundred units to ensure there is access to a public charge point within a five-minute walk – but the UPRN-based analysis shows exactly where and how to optimise those locations.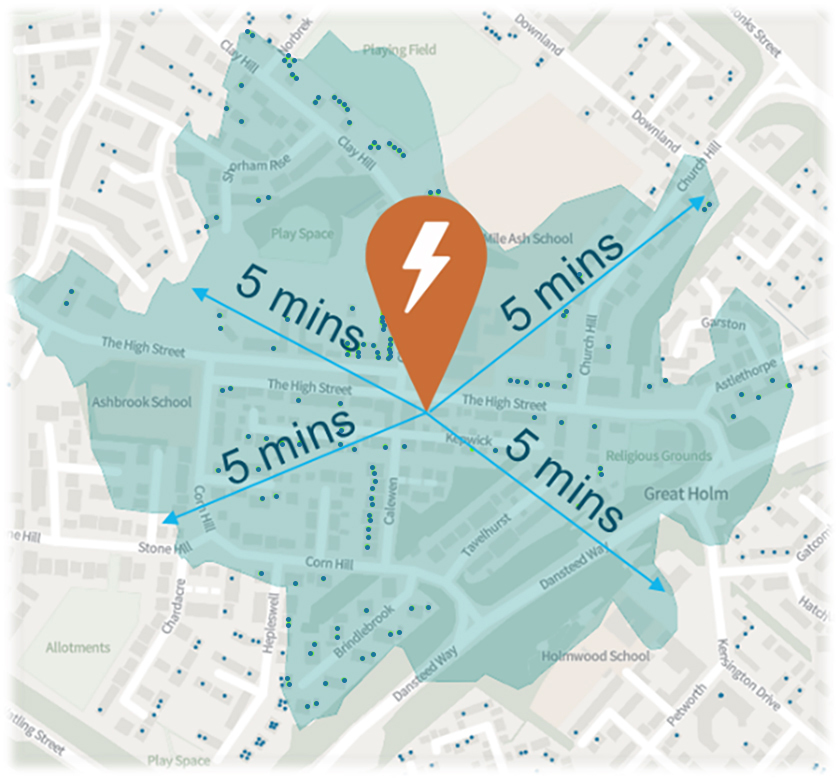 A walk-time isochrone is used to depict an area of equal travel time in any direction. The study applied an individual 5-minute isochrone to each of the 7,563 charging sites outside of London as provided by Zap-Map. The blue dots depict UPRNs.
The solution
By using UPRNs at a granular level to ensure transparency around the location of households, specifically, rather than buildings, Field Dynamics' study shows there is still a significant amount of work to be done in terms of servicing the current and forthcoming need for EV chargers.
The results may also explain why there is still some reticence to make the change and purchase an EV vehicle when cost, carbon cutting, and convenience might otherwise have tipped the balance.
Policy and planning need to be mindful of the actual location and needs of residents and make provision for increases in demand as the EV market matures. There is a need for national guidance on what a good charging infrastructure might look like, and at what pace that provision needs to be achieved. To do this, it's clear that UPRNs will be a constituent part and play an essential role in delivering granular analysis and shaping EV policy.
Field Dynamics Managing Director, Ben Allan, said: "Placing public chargers is a hard process as it means balancing many conflicting priorities. This is a bedrock of robust data that planners can use to select sites, and place fewer chargers at lower cost while providing a much more inclusive service."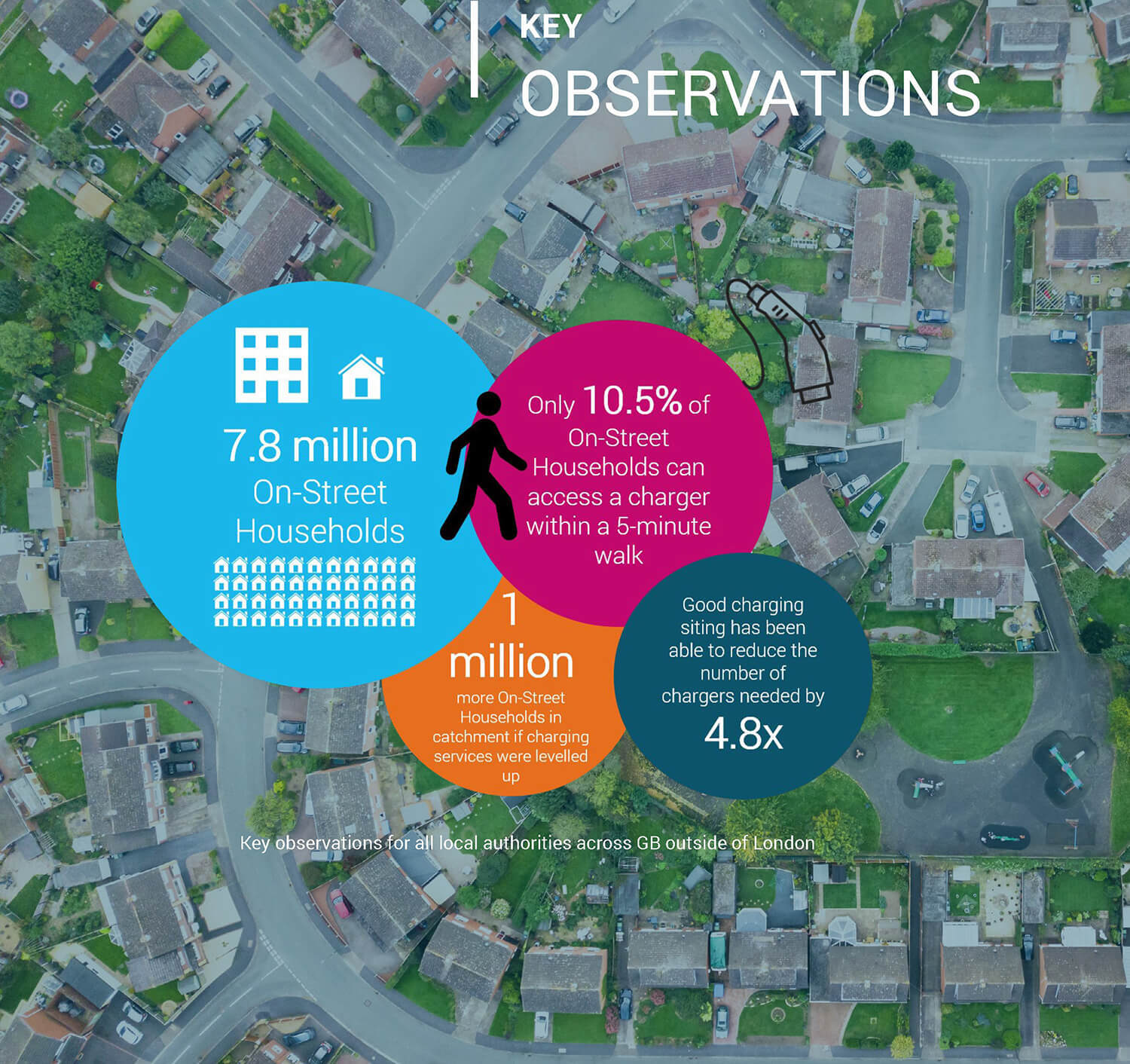 An interaction map of the results of the study is available at https://onstreetcharging.acceleratedinsightplatform.com/ and the full report is available from https://www.field-dynamics.co.uk/public-charger-catchment-research/.
Read about the 'EV UP' tool developed by SP Energy Networks and Field Dynamics to analyse the infrastructure and uptake of electric vehicles, so that every home that wants to will be able to charge an EV.