At the 2022 GeoPlace annual conference, three speakers addressed the theme of using location data to support local public services, making that data more accessible, and the benefits to everyone.
The speakers:

Claire Holloway, Head of Corporate Services & Company Secretary, Local Government Association
Catherine Howe, Chief Executive, Adur and Worthing Councils
Andy Coote, Director, ConsultingWhere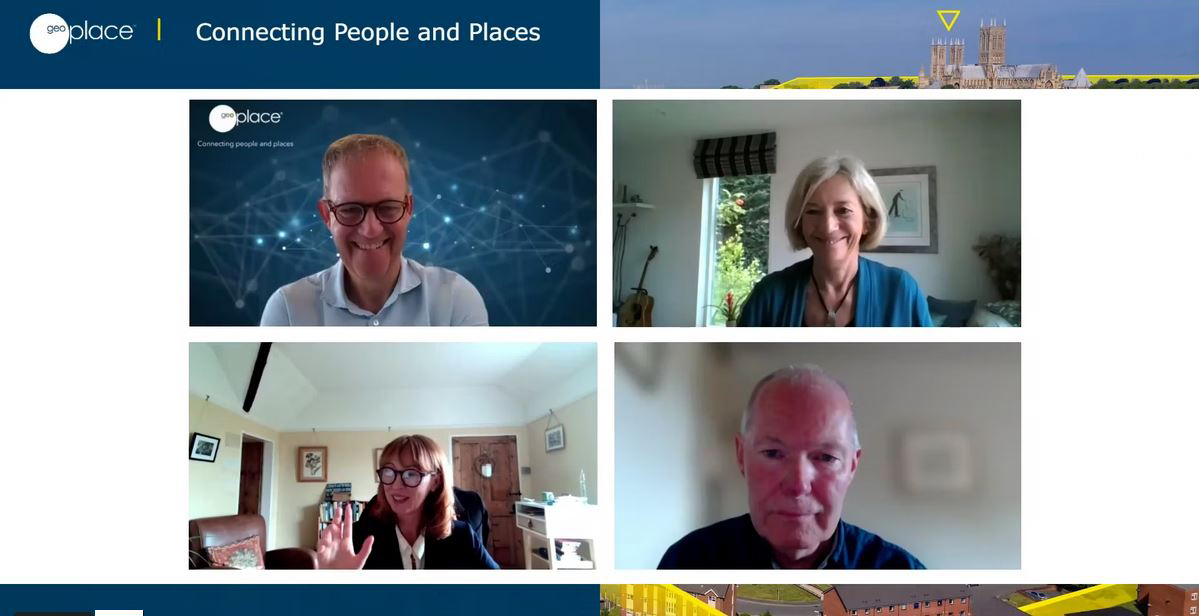 Claire Holloway, Head of Corporate Services & Company Secretary, Local Government Association (LGA), opened this session looking at the use of data in supporting local public services.
Claire introduced the session with an overview of the work done by the LGA, the national membership body that aims to help councils receive the best possible support and funding from government.
On behalf of the GeoPlace Board, of which Claire chairs, Claire thanked every attendee for their work to make the geospatial data amongst the best in the world – offering a particular thank you to everyone in local authorities who are at the heart of enabling modern, efficient public services. She went on to emphasise the importance of raising the profile for location data, and for UPRNs and USRNs in particular. The mandate for use of these identifiers across the public sector puts the spotlight on the need to carry on raising the profile for their benefits across the public sector. Claire emphasised that had government departments started using UPRNs at the beginning of the pandemic the support to those people who were shielding would have quicker, that would have been smoother access to COVID testing centres in England less furlough fraud.
Whilst many local authorities are making excellent use of UPRNs to link information across departments such as housing, revs and ben and social care to deliver huge efficiency savings and better service, Claire warned that some authorities, including some in two and three tier areas aren't maximising the benefits of adding UPRNs to the data in their services.
The vision in the LGA's three-year business plan is for "a vibrant local democracy, where powers from Westminster are devolved to local areas, and citizens have a meaningful vote and real reason to participate in civic and community life". The data maintained by local authority address and street Custodians contributes to all seven themes in the plan:
Funding - funding is at the top of every council agenda, with the cost-of-living crisis exacerbating challenges. Use of UPRNs can increase council tax collection rates - they can help join up multiple service areas so that services are planned and delivered more efficiently and money goes further - and along with the USRN. can ensure that development and maintenance of capital assets - and the wider infrastructure - is carried out in the most efficient way possible, making best use of limited capital and revenue budgets
Adult social care - widespread adoption of the UPRN across providers would improve integration with health and other partners, giving people access to seamless services that help them to live healthy, active, independent lives for as long as possible – and reduce the enormous frustration of dealing with multiple agencies
Children and young people – the data can also enable councils and other agencies to cross reference and identify early on the most vulnerable children and young people and put in place the right support - including school places - to help them thrive and achieve their full potential
Climate change - yesterday morning's sessions outlined how including the UPRN on every Energy Performance Certificate is key to creating sustainable homes – and the EPC dataset can help councils understand which areas are performing less well and take action
Economic recovery and growth - increasingly businesses across every sector are understanding how UPRNs can support them to grow and improve their products and services - and that in turn supports local economies to grow. That isn't just the big players – the Zooplas of this world – it's the local minicab company, the gardener looking to build their business and the corner shop that does local deliveries
Narrow inequalities and protect communities - location-specific information can also help councils better understand areas of deprivation and target the right support. It can ensure that the homes and services that people need are provided in the right places. Post-Grenfell the UPRN is the golden thread ensuring that homes and other buildings meet the highest safety standards. And of course, it gives the emergency services the best chance of reaching those who need them urgently. Put bluntly – it saves lives. All of this supports the LGA's priority - to narrow inequalities and protect communities – and contributes to the government's much publicised levelling up agenda
Strong local democracy – as highlighted again in last week's local elections – Address Custodians play a key role in supporting strong local democracy and making sure that every resident has a vote and a voice in the way that their local areas are run.
Claire emphasised that everything that local government does happens somewhere, be it housing a homeless person, collecting someone's bin, or providing support to a family in difficulty. Precise location information is essential for councils to deliver services to the residents they serve. But with local government finance ever tighter, councils have difficult choices to make – and the temptation is always to reduce funding to lesser-known services. The LGA and GeoPlace are both absolutely committed to raising the profile of the work that local authority address and street custodians do and helping more people from all walks of life to understand how important that little-known role of custodian is to everyday life.
Claire previewed the results of a report that ConsultingWhere, an independent research consultancy produced 'Return on Investment Analysis Assessing the value of Address and Street Data to Local Authorities in England and Wales, 2022'. The report shows that for every £1 invested in the work of custodians will generate 6x that in public service improvements and efficiencies – powerful evidence of the financial and economic benefits of street and address data.
Claire highlighted the FindMyStreet and FindMyAddress websites, which are joint initiatives between the LGA and GeoPlace - are another way of raising the profile of location data. She was encouraged to see that visits to those sites have been steadily increasing and confirmed that the LGA had agreed further funding to enable GeoPlace to further develop both sites and make them even more accessible and user friendly.
As a final thought, Clare stated that if we are serious about raising the profile of the hugely valuable work that custodians do, and encouraging the widespread data sharing and joining up across silos and sectors to get more businesses to understand the value of the UPRN and the USRN and their huge potential for modern, efficient public services, then perhaps it's time to devote more effort to getting the public to understand them too. And that might mean finding some more user-friendly titles – something a bit more memorable than UPRN and USRN – that resonate with everyone.
Catherine Howe, Chief Executive, Adur and Worthing Councils, built on the context and introduction that Claire had provided. Claire explained that, as a technologist, she is very interested in making location data more accessible – it is fundamental for efficiency.
Data is foundational to create a modern, thriving democracy with public services that are fit for purpose. But there are real difficulties: budgets are challenging, and finances have been cut to the bone. This often means that, within a council, any services or functionality that isn't understood, can often be side-lined or even discarded when, in fact, it may make all the difference to robust decision-making. The investment needed is not just in technology or functionality. There is a huge need for education and promotion.
Catherine emphasised that, within local authorities, it is critical to make the benefits of location data unavoidable and irresistible, and to follow-up quickly when traction is gained. Show the value, raise the profile of the data's problem-solving capabilities. This involves having a plan to communicate with decision-makers in a way that helps them understand the benefits, but without being inflexible about the way that solutions are provided.
Data literacy throughout the workforce; the ability for everyone to ask data-led question; ubiquitous user-experience design skills; the ability to have high quality conversations that facilitate multi-disciplinary working – these are all achievable, but they need to be seen as cornerstone skills for each organisation, in much the same way that human resources and managerial skills are ubiquitous.
There are great insights that can be revealed but there is also a need for clarity and for understandable transparency, to ensure informed choices. Data is part of the narrative for achieving great outcomes, but there is a need to play back the insights to the community – to understand if the results are reflecting the insights. In particular, the prevalence of vulnerability and inequality is starting to surface data that can truly make a difference, but the evolving solutions must reflect the evolving situations, too. Communities must be able to see themselves, to recognise themselves in the solutions being created – otherwise they will not be adopted, and dependency is perpetuated.
Catherine concluded by saying that there are brilliant data businesses at our disposal, but most councils are dependent on legacy suppliers that may not be using data as well as they could be. Standardisation is key; accessibility is key; councils are not just customers. They do have an opportunity to influence innovation and the development of the data landscape.
Andy Coote, Director, ConsultingWhere, contributed to this session with a presentation exploring the 'Addressing the UK' report. He concurred with Catherine, that legacy suppliers must make a shift in their approach to innovation – and that includes changing the language being used to explain the benefits of their products and services.
It is important to understand the return on investment in location data, because this influences decision-makers and, ultimately, this delivers better outcomes to citizens. The work done by ConsultingWhere for this report involved a standardised approach, using cost-benefit analysis.
The team identified use cases from a wide range of local authorities, which could be relatively easily quantified. These included the analysis of data integration projects; additional NDR revenues; Highways Asset Management – saving money from improved prioritisation of maintenance; Adult Social Service improvements by cross reference with NHS and emergency data; Customer Services – using CRMs to locate service requests; and waste management – building efficiencies into data collection and procurement.
The types of benefits identified fall into five categories: regulatory compliance, customer service, process improvement; procurement, and finances. The results are impressive. Where a previous study across insights from 2017 – 2021 showed a return of investment of 4:1, with realised benefits of £253m, we are now seeing an increased return on investment of 6:1. Predicted benefits for 2022 -26 are £398m.
Cumulative results from this report show that the return on investment in the use of location data, within these scenarios, is £636m – a return on investment of 6:1,
The full report is available here, and is supported with a range of short videos to help communicate the benefits of using national address and street data to decision-makers. Crucially, these benefits are quantifiable; they can be expressed in financial terms; they are applicable to all local authorities; and the report provides a 'jump start' for every local authority that wants to make the business case for this kind of investment.
Nick Chapallaz concluded this session by drawing on questions from the attendees, in particular a collective query around the largest barrier to LLP integration and UPRN adoption being interoperability with the VOA. Andy noted that there are technical challenges, naturally, but all three speakers concurred that there is a need to maintain the momentum being generated by the location data community, and to widely demonstrate the value of using UPRNs and USRNs to as many agencies as possible.
Watch the recordings of this session on the Day 2 tab on the conference agenda