We have currently moved all our training courses online for the time being. The course will be conducted over a number of sessions ranging from 1-2 hours in length. We plan to conducted these on Microsoft Teams. If you do not currently have access to Microsoft Teams please indicate this in the booking form below.
Details of the updated dates and timings of courses can be found below. Additionally, we have adjusted the price points of our courses to reflect these changes, details of which can also be found below. If you have any questions please contact [email protected].


What you can expect from the course

A step by step introduction to the creation and maintenance of street data according to best practice guidelines and data entry rules. In particular, the course will cover
the benefits of good street data for your organisation
an introduction to geometry and streets creation
an overview of additional streets data
other topics such as health checks; how to submit data and other topics
throughout there will be reference to best practice case studies
The course will be delivered by one of our expert team who collectively have over 50 years' experience in creating and maintaining address and street data.
The courses are delivered directly by GeoPlace members of staff, we don't outsource our training. This means you will be trained by experts who have been involved in writing the specifications for the data as well as bringing years of practical experience of data management.

What you will get out of it
100% of delegates say they would recommend this course to a colleague.
The course is designed to explain simply and concisely the complexities around creating and maintaining your data. Understanding how your data is used not just within your authority but by organisations nationally.
The course is intense and we guarantee you will be tired, but fired-up by the end of the day!
You really will get as much out of the day as you put in. We suggest you think a little before you attend what you want to discuss or find out more about.

You will come away with a sound basic understanding of how to represent real world objects in the appropriate data format. You will have a good awareness of the best practice associated with the creation and use of the data and a sound understanding of how to submit your data to the hub.

Who should attend
The introductory courses are designed mainly for Custodians or Deputy Custodians who have been in the role for less than a year. Please note, this is not a street naming and numbering course.
Some Custodians who have been in the role longer or who feel they would like to brush up on their skills may also benefit from the course.
If you are in doubt, please contact us using the details below and we can advise you.

Schedule

The Streets Introductory Data Creation and Maintenance course is currently fully booked. We will shortly be confirming more dates for the end of 2022. Please email [email protected] to be added to the waiting list.
Prices
| | |
| --- | --- |
| Course | Price |
| Standard course (currently unavailable) | £195 per person (plus VAT) |
| Standard course (online) | £99 per person (plus VAT) |
| Onsite course (currently unavailable) | £1000 (plus VAT) |
| Choose the dates for your authority (Online) | £750 (plus VAT) |
| Bespoke onsite course (currently unavailable) | £1250 (plus VAT) |
| Bespoke course for your authority (online) | £1000 (plus VAT) |
We also offer a discounted price of £150 for those wishing to book onto both Introductory and Advanced Courses.
The maximum number of delegates for group bookings for bespoke courses for your authority is up to 8 delegates.
Pricing has been set at a cost recovery level. Please refer to the terms and conditions page for details of our cancellation policy.
How to book:
Please contact [email protected] to book
Terms and conditions
Please read our terms and conditions.
Accredited for CPD

'Continuing Professional Development (CPD) is the systematic maintenance, improvement and broadening of knowledge and skill, and the development of personal qualities necessary for the execution of professional and technical duties throughout one's working life'.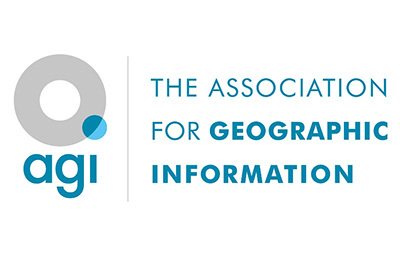 The Association for Geographic Information (AGI) has accredited this courses with four CPD points. For more information on the AGI CPD scheme, please see the AGI website: www.agi.org.uk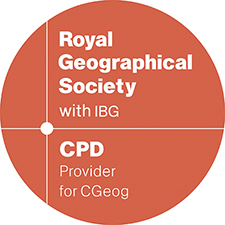 The Royal Geographical Society has accredited the introductory courses with five CPD points.
CPD is an important part of the application and assessment process for
Chartered Geographer, and is a requirement for all those awarded
chartered status. For more information, please see the RGS website on Chartered Geographer accreditation.