GeoPlace has announced the winners of the 2014 Exemplar Awards. Th
e Awards are designed to showcase the innovation and value local authorities deliver in managing and utilising their address and street information.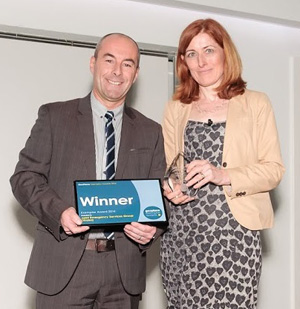 The winner of The Exemplar Awards 2014 was the Joint Emergency Service Group (Wales) for their collaborative initiative to electronically transfer information between public service organisations using the Unique Property Reference Number (UPRN) in each address record as the common identifier. The partners include;
North Wales Fire and Rescue Service
South Wales Fire and Rescue Service
Mid and West Wales Fire and Rescue Service
South Wales Police
Dyfed Powys Police
Gwent Police
Welsh Ambulance Services Trust
Newport City Council
The project has enabled sharing of information between partners and has reduced the telephone transfer time on emergencies from over 4 minutes to 16 seconds, and is projected to save over 18,000 hours across the emergency services in Wales. There are plans to extend the project to England as well.

The runner-up was Oxford City Council for their Virtual Deeds Room and Voluntary Registration of Title Projects. Northumberland County Council were highly commended for their project to develop an initiative solution in the way the authority administers its elections function.

Awards were also presented for Data Custodian of the Year and a number of Awards for Data Quality and Improvement. View the full list of winners.

As well as local authorities benefitting from this data, over 75% of the public sector organisations across Great Britain are also using it in the form of the AddressBase range of products, made available nationally by Ordnance Survey. Projects include, amongst many others: Tell Us Once; rural payments; flood risk; Beyond Census 2011, Registration of land and title ownership; TV license revenue collections; fraud analysis; school admissions; and passport applications.
END
GeoPlace

GeoPlace is a public sector limited liability partnership between the Local Government Association and Ordnance Survey. GeoPlace's role is to create and maintain the National Address Gazetteer and the National Street Gazetteer for England and Wales, providing definitive sources of publicly-owned spatial address and street data for Great Britain.
Contact

Gayle Gander

Head of Marketing

GeoPlace

157-159 Buckingham Palace Road

London

SW1W 9SP

+44(0) 20 7630 4600
[email protected]
www.geoplace.co.uk