Marilyn George from East Riding of Yorkshire Council has been named 'Custodian of the Year' after being nominated by colleagues for outstanding contribution to the address and street data community.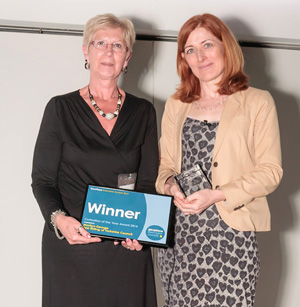 The Award was presented at the GeoPlace annual conference and presentation of the Exemplar Awards 2014 which celebrate excellence in service delivery enabled through local government address and street information.

This Award rewards continuous commitment such as participation at a national, regional or county level, contributing to Technical Working Groups, working with other Custodians to resolve a local issues such as partnership with the emergency services, or synchronisation of gazetteers, raising awareness of the benefits of address information within the authority leading to improvements in data quality.

GeoPlace is the centre of excellence for the management of spatial address information and street data for Great Britain, and manages the National Street Gazetteer (NSG) which contains information about streets from every local authority in England and Wales. GeoPlace was set up following an announcement by the Secretary of State for the Department for Communities and Local Government, The Rt Hon Eric Pickles MP.

Address information is important to a local authority as it is often used for managing benefits, collecting local taxes, arranging school buses, refuse collection routes and registering to vote. Public sector organisations across Great Britain also use it in the form of the national AddressBase range of products, made available by Ordnance Survey. National projects include, amongst many others: Tell Us Once; rural payments; flood risk; Beyond Census 2011, Registration of land and title ownership; TV license revenue collections; fraud analysis; school admissions; passport applications and the emergency services that rely on it to get to people in distress quickly.

In presenting the Award to Marilyn, Richard Mason, Managing Director of GeoPlace said "Marilyn has been at the forefront of LLPG database maintenance for over 10 years and consistency achieves the highest Standard with her gazetteer. She has sat on the NLPG DEC working group for as long as it has been in existence and is always helpful when fellow Custodians have queries and need help. Marilyn is also an active participant in regional meetings and just gets on with the job in hand. So congratulations to Marilyn George, a very worthy winner."
END
Notes to editors:

GeoPlace

GeoPlace is a public sector limited liability partnership between the Local Government Association and Ordnance Survey. GeoPlace's role is to create and maintain the National Address Gazetteer infrastructure and the National Street Gazetteer for England and Wales, providing definitive sources of publicly-owned spatial address and street data for Great Britain.
Contact

Gayle Gander

Head of Marketing

GeoPlace

+44(0) 20 7630 4600, [email protected], www.geoplace.co.uk

Announcement from the Department for Communities and Local Government and The Rt Hon Eric Pickles MPNew national 'address book' to be free to emergency services www.gov.uk/government/news/new-national-address-book-to-be-free-to-emergency-services