GeoPlace has published a book of case studies from the winners, runners-up and those highly commended from the 2013 Exemplar Awards presented at GeoPlace's âEverything Happens Somewhere' annual conference.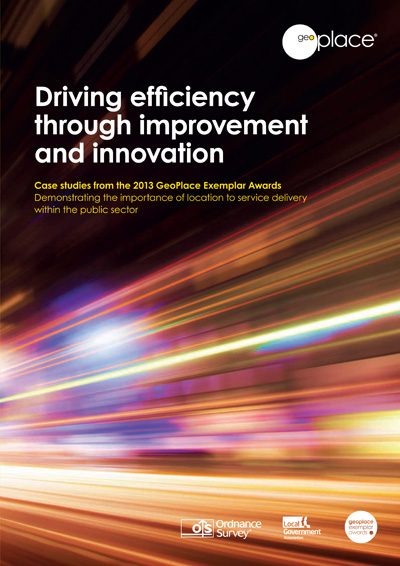 Usage of local authority address and street information is increasing across the wider Public Sector Mapping Agreement community, now numbering over 3,000 members. There is a resulting recognition of the power of the Unique Property Reference Number (UPRN) and Unique Street Reference Number (USRN) and their ability to enable organisations to develop a "create once and use many times approach" to information sharing.
The case studies in this book outline the importance of address and street data in driving efficiency through improvement and innovation, including:
the mitigation of traffic and highways impacts on new developments in the London Borough of Tower Hamlets
supporting cheaper and better waste management services in South Staffordshire
engaging the local community in naming new street developments in Cambridge City
identifying and accurately recording local businesses to ensure fair local business taxation in Barnsley
enabling the database integration to identify instances of sub-letting within council properties and unlicensed privately rented properties in the London Borough of Newham
the optimisation of waste collection routes at the individual property level in North Somerset
the protection of village greens in Northumberland
enabling the development of the cross-authority Housing Fraud Partnership in Huntingdonshire and the surrounding districts
facilitating the introduction of a new recycling, food waste and refuse service in Reigate and Banstead
the transformation of the customer journey for a Local Land Charge search request in the London Borough of Tower Hamlets
managing the absorption of new properties into waste management routes
The book is available to download
here
, and hard copies are also available from GeoPlace.
ENDGeoPlace
GeoPlace is a public sector limited liability partnership between the Local Government Association and Ordnance Survey. GeoPlace's role is to create and maintain the National Address Gazetteer and the National Street Gazetteer for England and Wales, providing definitive sources of publicly-owned spatial address and street data for Great Britain.
Contact
Gayle Gander
Head of Marketing
GeoPlace
157-159 Buckingham Palace Road
London
SW1W 9SP
+44(0) 20 7630 4600
[email protected]
www.geoplace.co.uk