GeoPlace has announced the winners of the 2015 Exemplar Awards which were presented at the 10th annual GeoPlace conference and exhibition at Edgbaston cricket ground on 19th May 2015.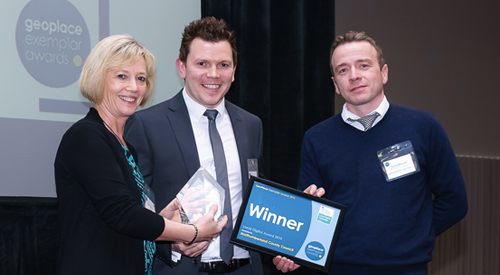 The winner of the Exemplar Award 2015 is the London Borough of Bromley for its visualisation and modelling tool. Using data from the National Street Gazetteer, the team at Bromley have delivered significant savings and service improvements. The winning project focused on re-engineered street cleaning work schedules. The project is a fantastic example of evidence based decision making and has led to substantial annual savings of £800k. It has also resulted in a 50% increase in site street inspections that provide spot checks on the quality of street cleaning.

The winner of the Local Digital Award was Northumberland County Council for its delivery of a streamlined digital solution for the public to report issues to the council. The system links a number of council data sources such as street lighting, recycling points and potholes. The data is integrated with other back-office systems, using the master council address system as the source to link data together. 94% of streetlight faults and 95% of potholes were logged through the new system in first six months. Recording the information digitally through a common address identifier means coordination the council response teams is a streamlined, more efficient service.

The Exemplar Awards recognise excellence in local authority business critical data creation of Address data, known as a Local Land and Property Gazetteer (LLPG) and Street data, known as a Local Street Gazetteer (LSG). Local authorities' LLPGs and LSGs enable digital transformation by joining information together from different local authority departments to give a property or street level view of service delivery.

The datasets each contain a unique identifier, the Unique Property Reference Number (UPRN) and Unique Street Reference Number (USRN) respectively, which act as a âgolden thread' enabling data sharing and joined-up working. This has the end result of better, cheaper service provision.

LLPG data is also included within the AddressBase® products from Ordnance Survey. This means that local and central government bodies, emergency services, insurance and utility companies all benefit from local authority address data.
View the full list of Exemplar Award winners.
Photograph:Ryan Gilchrist, Information Governance Manager and David Basnett, Development and Spatial Officer, Northumberland County Council receiving the Local Digital Award2015 from Claire Holloway, Head of Corporate Governance, Local Government Association and Chair of the GeoPlace Board
END

GeoPlace

GeoPlace is a public sector limited liability partnership between the Local Government Association and Ordnance Survey. GeoPlace's role is to create and maintain the National Address Gazetteer and the National Street Gazetteer for England and Wales, providing definitive sources of publicly-owned spatial address and street data for Great Britain.
Contact

Gayle Gander

Head of Marketing

GeoPlace

157-159 Buckingham Palace Road

London

SW1W 9SP

+44(0) 20 7630 4600
[email protected]
www.geoplace.co.uk