GeoPlace is delighted to announce three new appointments into key positions at GeoPlace. Luke Studden has joined the compan
y in a newly created position of Supplier Liaison Manager. Martin Barnes has joined as the National Address Gazetteer (NAG) Coordinator and Jason Houghton as the Deputy National Address Data Manager.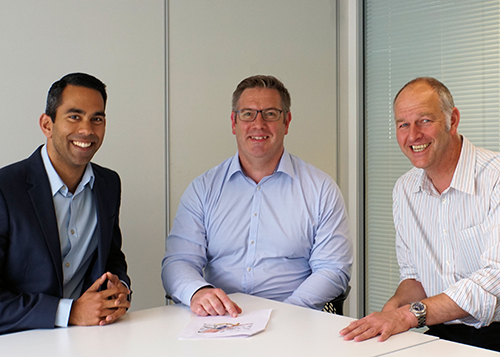 Luke brings his considerable expertise of data management to GeoPlace having previously worked at the London Borough of Harrow as the Senior Address Data Custodian and GIS Officer. Luke will be responsible for engagement between GeoPlace and system suppliers who provide software solutions to local authorities for address and street data management. He is well known through the Address and Street data community having been the recipient of a number of Exemplar Awards and presentations at the GeoPlace annual conference. Luke is also convener of âAGI London', a regional group for geographic information specialists within the London area.
Martin's role requires him to manage and support the receipt, analysis and incorporation of all data inputs required in the production and maintenance of the NAG dataset, together with ensuring quality controls and testing. The role also involves continual improvement, requirements management and process modelling to enable further developments and enhancements to the NAG. Martin's background is firmly rooted in location and address data, with his first job working on Ordnance Survey's AddressPoint product. Subsequently he has had a number of GIS roles for organisations such as Yahoo!, Westminster City Council and most recently he was involved in the delivery of Transport for Greater Manchester's new Optimised Public Transport Integration System where Martin gained valuable in-depth first-hand experience of the AddressBase Premium product from a user perspective.
Jason has worked for local government for the past 11 years in the roles of GIS Officer, LLPG Custodian and the Street Name and Numbering Officer. At GeoPlace he will be managing the Address Team who are responsible for the processing of Change Only Updates, Resyncs and Improvement Schedule returns from councils.
Luke said "I am pleased to take on this new responsibility at GeoPlace. Having worked closely with colleagues in all council departments at Harrow, I have seen the benefits that the UPRN and USRN bring to joining up service delivery right across the council. I am looking forward to utilising this knowledge to collaborate with software suppliers and Address and Street Custodians across the county to engage in a proactive dialogue with systems suppliers."
END