GeoPlace has undertaken a complete review and rebuild of the SWA code list, using its experience in data management to overcome some inherent challenges. The list itself had not been reviewed for some time, but this project ensures 100% confidence for authorities and stakeholders engaged in streetworks or researching liability and responsibility for assets.
Without a unique Street Works Act (SWA) code, organisations cannot carry out works in the highway. Indeed, in a recent High Court case (Norfolk County Council vs. Calor Gas), it was determined that an authority may refuse to adopt a road if the infrastructure is owned by an organisation that doesn't have statutory powers (a status that's confirmed or not by having been issued an SWA code in the first place).
Changes in the streetworks management industry are frequent, with organisations changing names, being subsumed into another, or even ceasing to exist. Until recently, this meant there was room for incorrect information to be supplied with these codes. The SWA code list hadn't been reviewed, which meant it was, technically, possible for unauthorised, unregulated contractors to be working on or under the highways. In addition, while the regulators are consulted to ensure a business is licensed appropriately, many organisations have either gone on to gain extra powers – under a different regulator – or may have lost their powers. Plus, some information on the list was over 30 years old. It had never been reviewed, and in fact some information considered essential to the industry was never collected and presented.
"Having confidence in this register is more important than ever. The SWA code list is one of those essential things that let utilities access the highway and undertake works both efficiently and legally – this review helpfully brings the list up to date and weeds out the irrelevant entries."

- Clive Bairstow – CEO Street Works UK
With this in mind, GeoPlace undertook a comprehensive review, to research where necessary and confirm the details that should be included on the SWA code list, and to ensure the list itself would be fit for purpose for many years to come.
As well as bringing the SWA code list up to date, GeoPlace introduced fixed protocols to ensure the list can remain up to date – reviewing and recording over 6,500 pieces of information in the process. With a larger number of Statutory Undertakers applying for codes now, the code structure itself also needed reviewing. with the alpha-numeric convention continuing to apply to any new SWA code being created. All new SWA_ORG_PREFIX allocations now have a single character prefix and then a numeric value between 1 – 9. This ensures codes are future proofed with no risk of duplication.
GeoPlace's review now guarantees the integrity of SWA codes
Every good database needs to have its content verified, regularly. Within the scope of GeoPlace's review, an exercise was undertaken to ensure the right data about each organisation was being held on file – sitting alongside the company's core details, details of any previous incarnations (many organisations had been subsumed over the years), and the prerequisite regulatory information.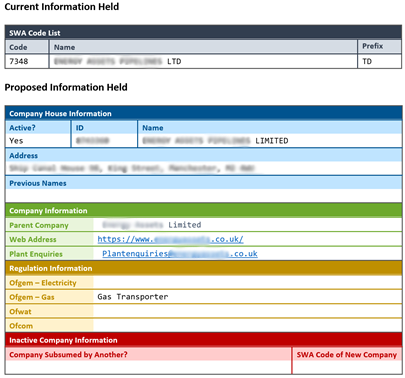 With a Companies House alert to follow every organisation that has been reviewed, GeoPlace can now ensure the SWA code list's integrity for the long term. Plus, the team will be talking to the regulators – getting a feed of notifications when organisations join and leave the published list – which should in itself will encourage organisations to make contact when changes happen.
What does this review mean for streetworks overall?
In short, this review of the SWA codes delivers much greater clarity as to who should have access to Street Manager – who may or may not carry out works on the highway.
"The SWA code review is of real value to the streetworks community. Organisations must stand up to scrutiny and be accountable for their actions. Competition is crucial but not at any cost – this review should give authorities the confidence to know organisations on the SWA code list are of substance. The SWA code list and the work done by GeoPlace should help build confidence and provide a sound platform for managing the networks."
- David Capon – CEO JAG UK
The review means that stakeholders can now explore the history of an asset easily, too, and see who was responsible or liable for it previously. The new SWA code list report will make it easier to understand the complex levels of information held for each organisation and has helpful filtering option: it is much easier to understand than the previous .CSV format (although active organisations (as per Companies House) are also still published in the original format file).

However, perhaps the most important output from this review is the inclusion of each organisation's regulatory status – ensuring total confidence for the DfT and local authorities when coordinating street works.