Luke Studden, Data Integration and Development Manager, GeoPlace. Luke is responsible for project managing the FindMyAddress service and bringing it to life.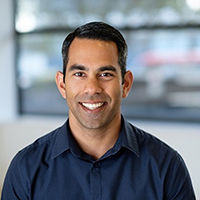 As a GIS Professional working in the address data sector for the past 11 years, I see the 1st July 2020 as an extremely significant date.

It marks the day on which the UK Government published the open Unique Property Reference Number (UPRN) dataset and when the Government Digital Service (GDS) mandated the UPRN to be the public sector standard for referencing and sharing property information. The UPRN being a unique identifier proven to enhance services for citizens, reduce costs, and improve the efficiency and effectiveness of data sharing in many ways. I could talk volumes about the benefits of UPRNs but I'll let the GeoPlace website do the talking here.
Never before has this data been "unlocked" for all to use, this is massive step forward; UPRNs are now available and tangible to all, people can view them, use them and most importantly link them to other datasets or link datasets to it. UPRNs can now permeate unrestricted throughout all spheres of sectors, industries and use cases imparting its value as a "golden thread", unifying and tying together property level location data.
But there are considerations for those using this open dataset…
With open, unique identifiers comes great responsibility
Whilst the open data publication contains just the UPRN and its associated grid co-ordinate, how will a user of the data know what the UPRN actually relates to i.e. its official address? Or alternatively, how can an open data user guarantee the information they have linked through their own processes to UPRN 200000072372 is for certain St Paul's Cathedral, London?
In my opinion, there is a degree of responsibility that needs to be exercised by those linking to the UPRN otherwise there could be unwarranted implications of making a "bad link" to the wrong property. There then exists a need to decode what the UPRN is.
Enter FindMyAddress; a new website for members of the public enabling them (for personal use only) to:
Search for a UPRN, view its official address and see its location on a map
Search for an official address, view its UPRN and see its location on a map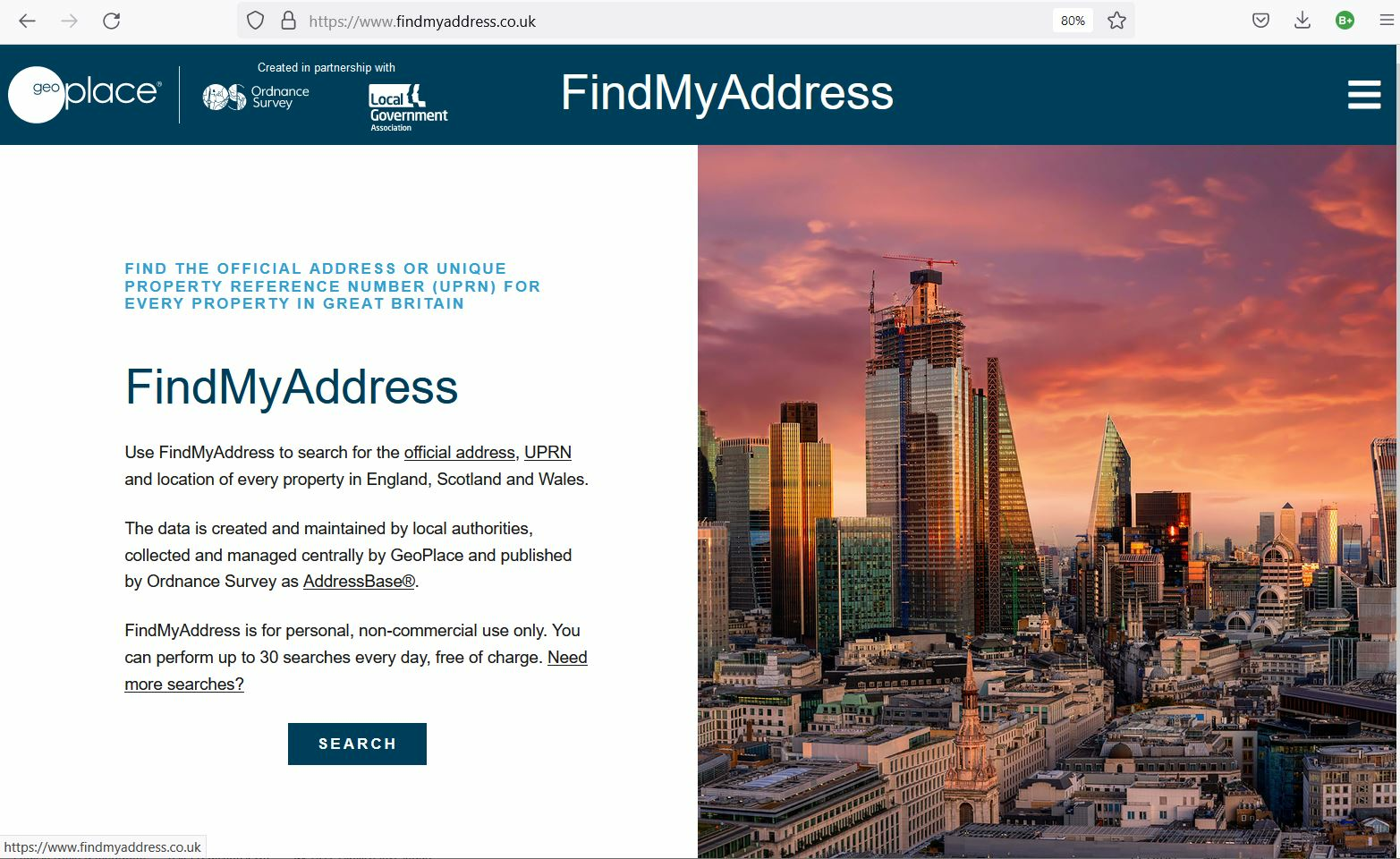 Working on behalf of local authorities, GeoPlace has created FindMyAddress in partnership with Ordnance Survey (OS) and the Local Government Association (LGA) to provide a central point for queries on open UPRNs.
FindMyAddress answers key questions arising from usage of the open UPRN data; "what is the UPRN for an address" and "what is the address for a UPRN?". Its aim is to act as a hub answering these queries and prevent them from being asked elsewhere, for example to local authorities. Local authorities can therefore direct any related UPRN and address queries they may receive straight to FindMyAddress.
It goes hand in hand with the open UPRN publication and enables users to search (up to 30 times each day) the entirety of Great Britain against official, definitive address data created by local authorities along with official Royal Mail attributes (post town and postcode where possible).
But that's not all, with every property comes a street and similar to the UPRN, the Unique Street Reference Number (USRN) has been opened up in the same way. FindMyAddress has a partner site - FindMyStreet, created by GeoPlace in collaboration with the LGA. FindMyStreet shows every street in England and Wales that's held in the National Street Gazetteer. It will tell you where a street is, what its official name is, and the maintenance responsibility of that street.
How much trust do you place in address data?
Now I'm fully aware there are a multitude of other address search sites out there and that's great – there's always specific use cases for these. But to be honest, in practically all cases searching for an address and seeing this on a map is what we all come to expect as standard. So why is FindMyAddress any different?
Let's focus on the data here and let me ask you this:How much trust do you place in the underlying address data?
Before you answer, I want to illustrate this question of "trust" with the below example. I've used a publicly available mapping website and decided to create a swimming pool in a car park. This of course does not exist, but here we are – my request to add a swimming pool was accepted and is now in the public domain, viewable to all. It is an address I (and anyone else) can now search for, navigate to and view on a map. But it doesn't exist at all.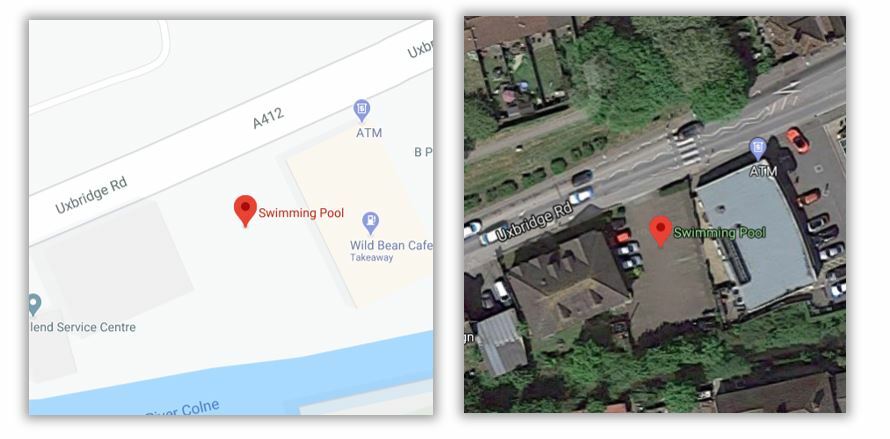 So, lets loop back to my original question and rephrase it as this: "Can you guarantee a property you have searched for on any website, system or app is:
"Real" and currently exists, i.e. not the figment of someone's imagination and also known to others?
In the correct location? – ever used a mapping site and the location it gave you was slightly off or totally wrong?
Held and captured in the exact same way by another organisation, for example a utilities provider or online shopping website, or crucially the emergency services? Ever been in the situation where an address lookup on a website didn't list your address or it appeared differently?
The above is a simple example (don't worry, I've removed this now!), but it highlights some key implications should the usage of unverified, "unofficial" addresses / properties be relied upon in the public domain.
The impact of an inaccurate address can disrupt everyday life on varying ends of the spectrum – it can range from a delivery not being received (address is inaccurate), prevent the application for a new credit card (address is not known or known differently) or vitally, the emergency services not being able to locate you in a time of need due to the location being wrong. For example, how will any of these service providers know about my swimming pool?
Let's focus on the words "authoritative", "definitive" and "official"
This is where FindMyAddress is different. It is underpinned by Ordnance Survey's AddressBase® Premium product which holds the official local authority address along with the Royal Mail postcode (PAF®). These are the authoritative creators of an "address" and postcodes respectively.
The property data has been vetted at the local authority level and is either in or has been through the planning process and is officially named and numbered. It is these addresses (along with their UPRNs) which the UK Government via the Government Digital Service (GDS) has mandated the use of as the standard way of referencing and sharing information about properties across Government.
The impact of this for us as citizens using local and central government services, plus services from the private / commercial sector is vast;
it can identify better waste collection routes
ensure more accurate quotes for insurance
help speed up the conveyancing process
deliver social care more proactively
make fraud detection easier
help us receive deliveries of all kinds
enable us to obtain / switch utilities more rapidly.
Above all, it is this data and the UPRN which is used by the emergency services where accurate location-based information can really be a matter of life or death. In a nutshell it is all of the following; authoritative, definitive and official – but crucially it is this data that can be trusted…unlike my swimming pool!
Finding 1 address out of 40.4 million – How do you find the metaphorical needle in the haystack?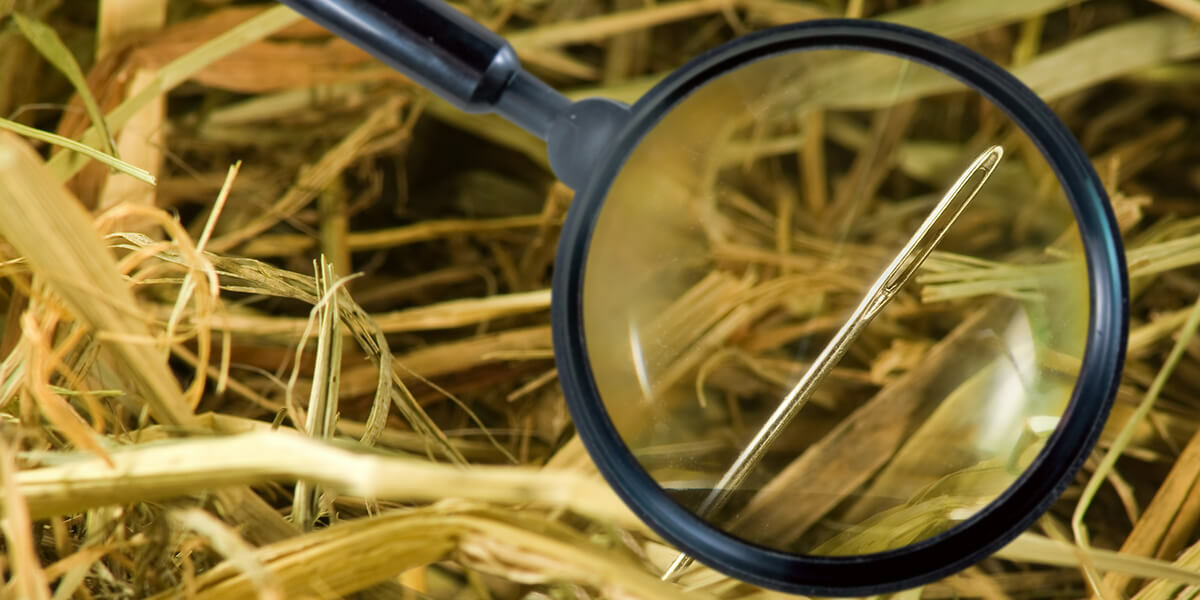 We worked with Aligned Assets, our development partner to create FindMyAddress and it was a really great collaboration. We decided to make the interface as simple as possible which is why you see a single search bar allowing you to choose between conducting either an "Address search" (to find a UPRN of an address) or a "UPRN search" (to find an address of a UPRN).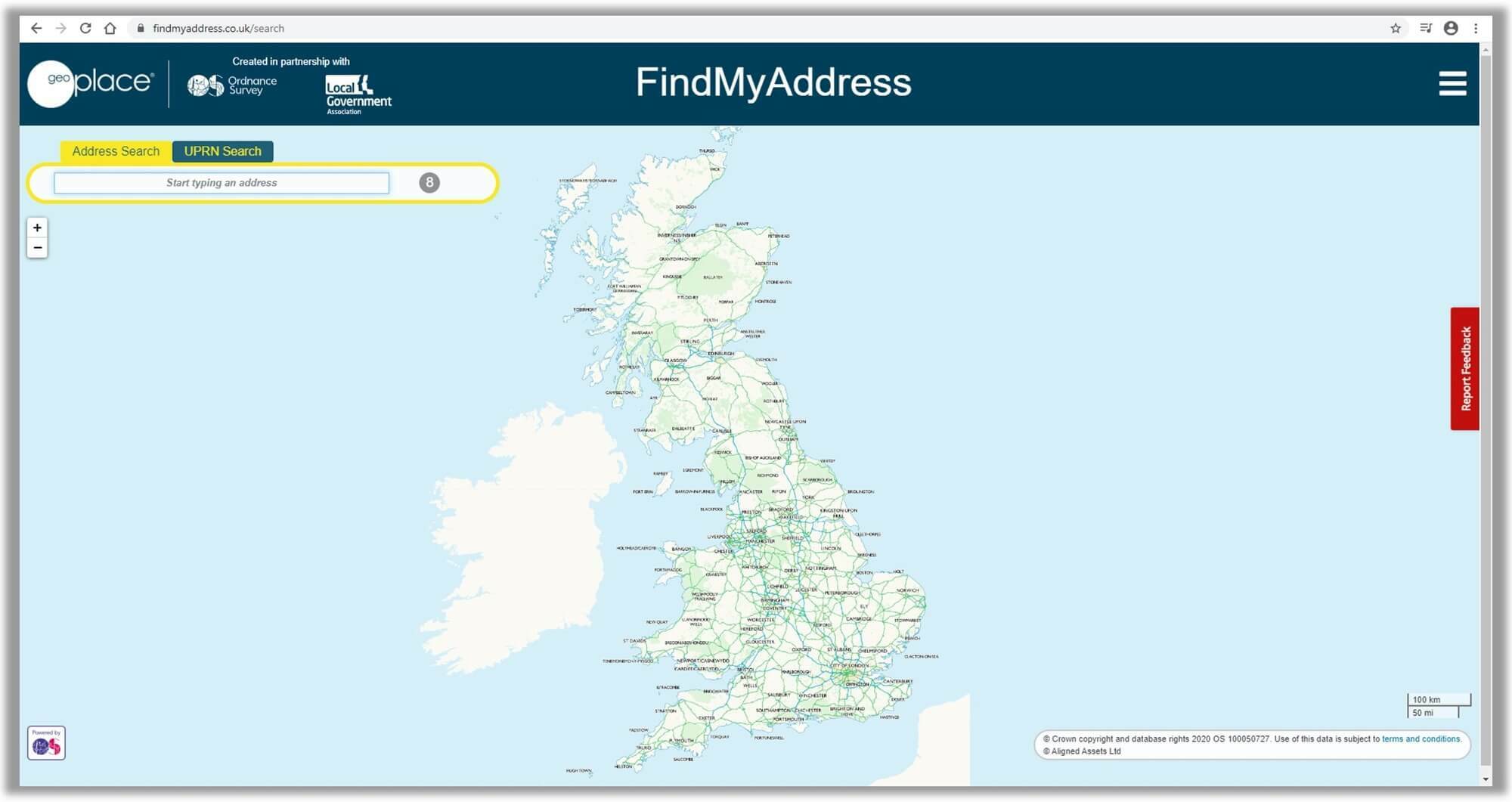 Returned results are simply displayed in a blue call out showing its UPRN and official address attached to a maker pin denoting its location: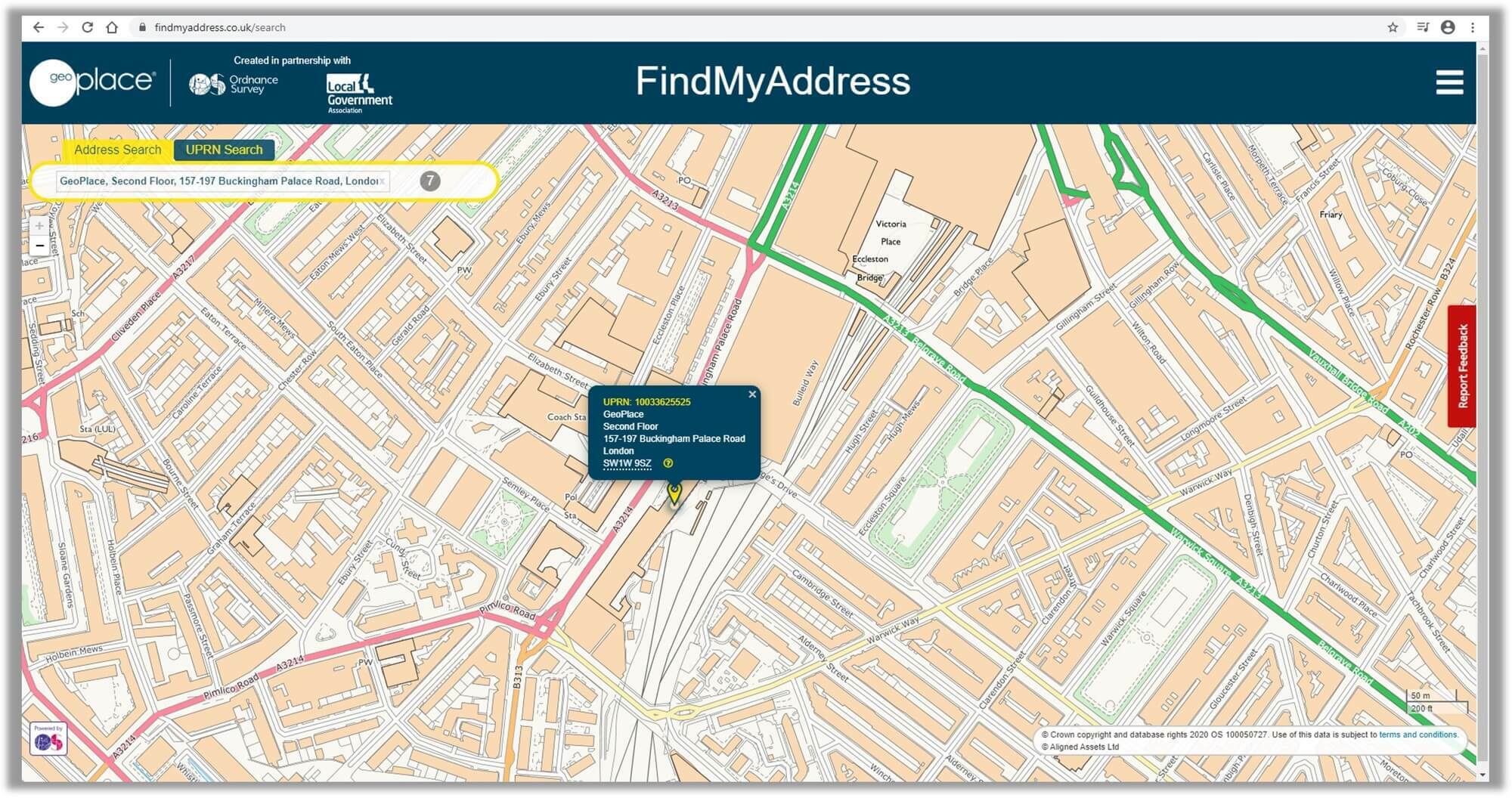 The "Address search" functionality is something we decided to really hone in on, making it as user friendly as possible and moving away from a structured input search (my pet peeve) i.e. searches that typically have 2x boxes, one asking for a building number and the other a postcode. What if the address is not known to have a building number, or the postcode has slipped your mind? How do you then proceed?
We used some of the fantastic functionality in Elasticsearch to deliver an unrestricted, free-form search. This means a user can type any part of the address that they know in the single line search box and suggested results will begin to generate with the search terms highlighted. As the user types in more information, the search results are whittled down to ultimately leave you with the property you are looking for, or a selection containing your result.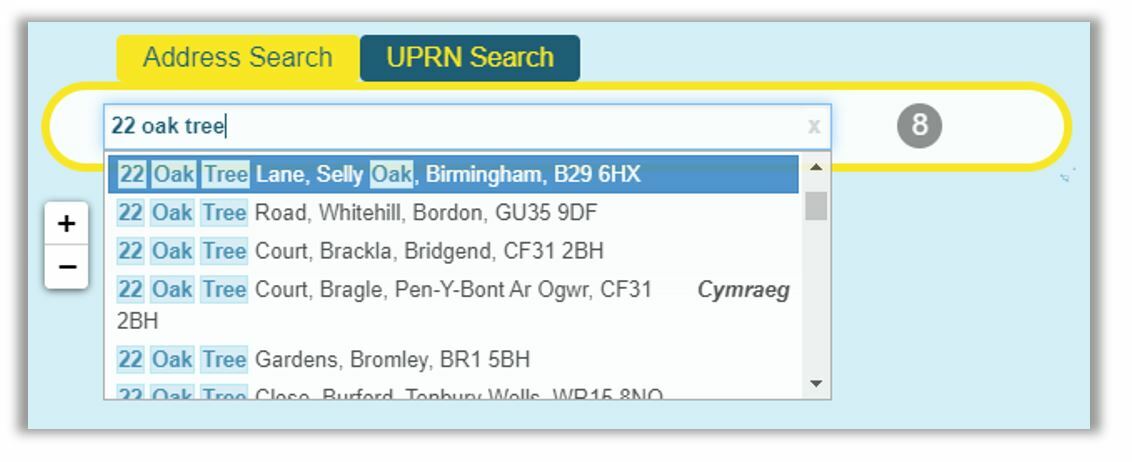 Whilst the underlying address data is structured against BS7666, it's obvious that structure has no real place in how people search for an address, finding the result is all that matters. Below is an example of the same address but demonstrating that order doesn't really matter – as long as the information is entered it will be found.

We have worked hard to make the search as accurate and "relevant" as possible through tuning the logic behind the scenes using a whole multitude of search scenarios and permutations covering how users could potentially use the search.
Think of it as a balancing act between the level of detail in the entered search term against relevancy (accuracy and precision) of the generated search results.
On one hand you can enter in a search term that 100% matches the entry held in the Elasticsearch index returning the single, correct result. But on the other you could enter a very sparse search term and be presented with a long list of results, some relevant, some not, with your desired record appearing a very, very, long way down or not at all.
The goal here is to try and cater for all eventualities and make sure relevant results are returned in all, if not most cases; finding the optimum balance, an equilibrium if you must.
We are really pleased with how the FindMyAddress address search works but fully understand there's a lot of search tuning and tweaking needed along the way to further refine it, but that's all part of the process – to constantly learn, improve and iterate onto the next version.
As mentioned previously, the data behind the scenes is OS AddressBase® Premium data compiled and updated on a weekly basis, spanning the entire of GB. We have also catered for bilingual addresses denoting these with their respective language flag for example "Cymraeg" for Welsh addresses:

We are keen to hear your comments on the search which is why we have built in a feedback mechanism launched by clicking on the red "Report Feedback" tab displayed on the right-hand side of all pages on FindMyAddress.
Shining a spotlight on the hard work carried out by local authorities
Speaking as a former local authority address custodian, I know that many face challenges in gaining visibility of the integral role they play in the creation and maintenance of authoritative address data.
An example of one of these; there is a typical misconception that address data is considered exactly that – a simple list of addresses rather than one of its many facets; a true enabler of digital transformation, a mechanism to link (either spatially or through unique identifiers) data and provide insights, a means to proactively target services.
However, combining the open UPRN publication, the UK Government mandate to use UPRNs and the launch of FindMyAddress - providing a mechanism to search this data, I see the usage of the UPRN (and its definitive address) only increasing and embedding itself further into the fabric of service delivery.
Ultimately, I believe this will shine a spotlight on the great job local authorities do on a daily basis to continuously create, maintain and integrate address data within local government, highlighting them as the cornerstone in the creation of our national, definitive address dataset.
Check it out www.FindMyAddress.co.uk.