When risk-focused safety initiatives roll out in a community, the number of emergency incidents usually goes down. In North Yorkshire, the police and fire services collaborate with local authority Custodians and GeoPlace for several reasons, many of which contribute to mitigating those risks. Emergency services cooperate with Custodians to provide and maintain an effective response to incidents, and to improve what they know about communities and their needs.
Coming together

Police and fire services need to be in the best possible position to identify significant risk to the public. Working with local Custodians creates a wider network for the North Yorkshire emergency services. It helps them to gather the right information, with the right amount of detail, about where incidents may happen that need a response both now and in the future.
For example, during the construction of new developments, emergency services need to know where planning and building work is taking place. Building sites pose a far greater fire risk in construction than when they are completed and approved by building control. Emergency services want to know exactly where construction is taking place. As local authorities are responsible for planning and street naming and numbering, they have this information by default. By working closely with local address Custodians, the emergency services get early access to the location data, including Unique Property Reference Numbers (UPRNs), that they need to keep the community safe.
UPRN ranges are centrally allocated and managed by GeoPlace. GeoPlace provides each local authority with a range of UPRNs for them to allocate as needed. Local authorities have statutory responsibilities that make them the single source of information within a property's lifecycle; they're responsible for assigning UPRNs for each address record. Guidance to those local authorities states that UPRNs should be entered against a record as soon as construction begins or street naming and numbering has been carried out, whichever comes first.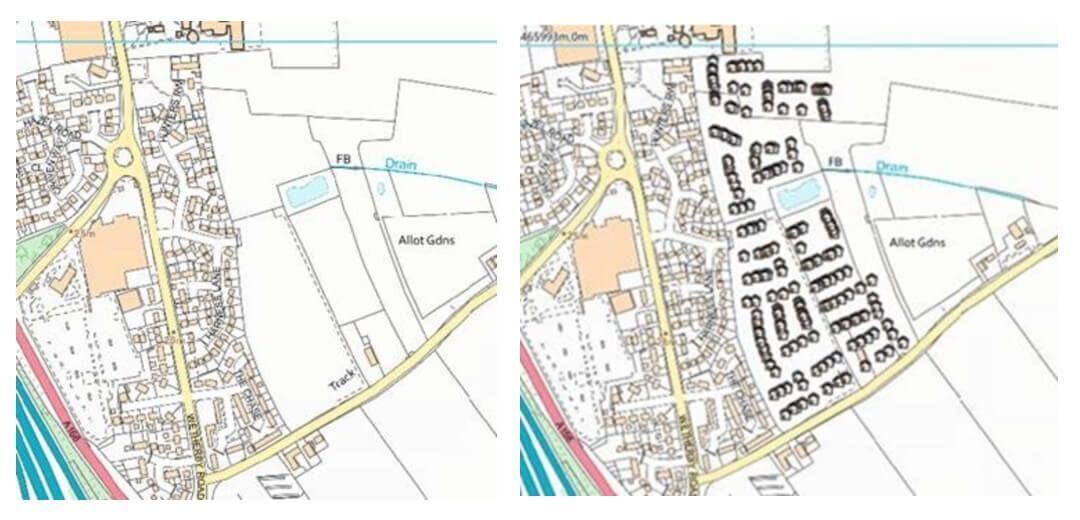 The images above show where building development work is taking place, giving early insight into the emergency services or areas of fire risk or police patrols.
Activities like street naming and numbering, planning applications, building and environmental control, licensing, electoral registration, council tax and non-domestic ratings repeatedly depend on local authorities using land and property data, throughout their lifecycle.
This data is sent to GeoPlace so that it can be added to AddressBase. As a result, information on where community growth is happening remains available to emergency services under the Data Co-operation Agreement (DCA) - a legally binding agreement that underpins the creation and maintenance of GeoPlace's databases. The DCA facilitates access to authoritative address and street spatial information for the public sector, as well as highlighting the role of councils in the creation and source of this particular spatial information.
The results
When local Custodians and emergency services in North Yorkshire joined efforts to drive down risk – the impact was wide-reaching. While the approach followed by emergency services mitigates the risk to communities, the collaborative efforts ensure that properties and land are also included in their planning.
An example of how North Yorkshire Custodians and police and fire services have united efforts to better serve the local area can be found in a playground that wasn't uniquely referenced. After liaising with the relevant Custodian, the playground in question was given a UPRN so that if a crime or accident happened, the emergency services could be sent to the area. Providing a UPRN also made it easier for the council to maintain the playground and respond to reports of graffiti and dog fouling. Patrol pattern planning can also lead to more effective policing for communities.
With the UPRN appended to properties and land, the emergency services know exactly where to go when responding to an incident. A precise and comprehensive geospatial reference is crucial to law enforcement. The ability to standardise records and correlate locations precisely means that law enforcement agencies can use the UPRN to effectively link disparate aspects of their work together.
In another example, a North Yorkshire resident wanted to rename a property through the Street Naming and Numbering process. But the Custodian involved felt the new name was too similar to an existing property name. After consultation with the emergency services, the Custodian worked with the resident to agree on a unique name for the property that would avoid confusion for the emergency services. This flexible approach allows local Custodians and emergency services in North Yorkshire to identify all locations where incidents could take place and mobilise effectively.
Prevention, protection and response activities go hand in hand to improve safety in wider communities. This approach continues to be an effective model for North Yorkshire in assessing life risk. By working closely together, local Custodians and emergency services can ensure that land and property, even at the very earliest stage of the property lifecycle, are recorded and shared to better protect the community.