Day 2, session 3 of the conference featured speakers from GeoPlace and Ordnance Survey, talking about the latest products, services and innovations to help local government.
SPEAKERS:
Rob Langford, Senior Technical Relationship Consultant, Ordnance Survey
Luke Studden, Acquisition and Integration Manager, GeoPlace
Richard Groombridge, Senior Strategic Product & Data Development Manager, GeoPlace
Hazel Kamuriwo, Associate Product Manager, GeoPlace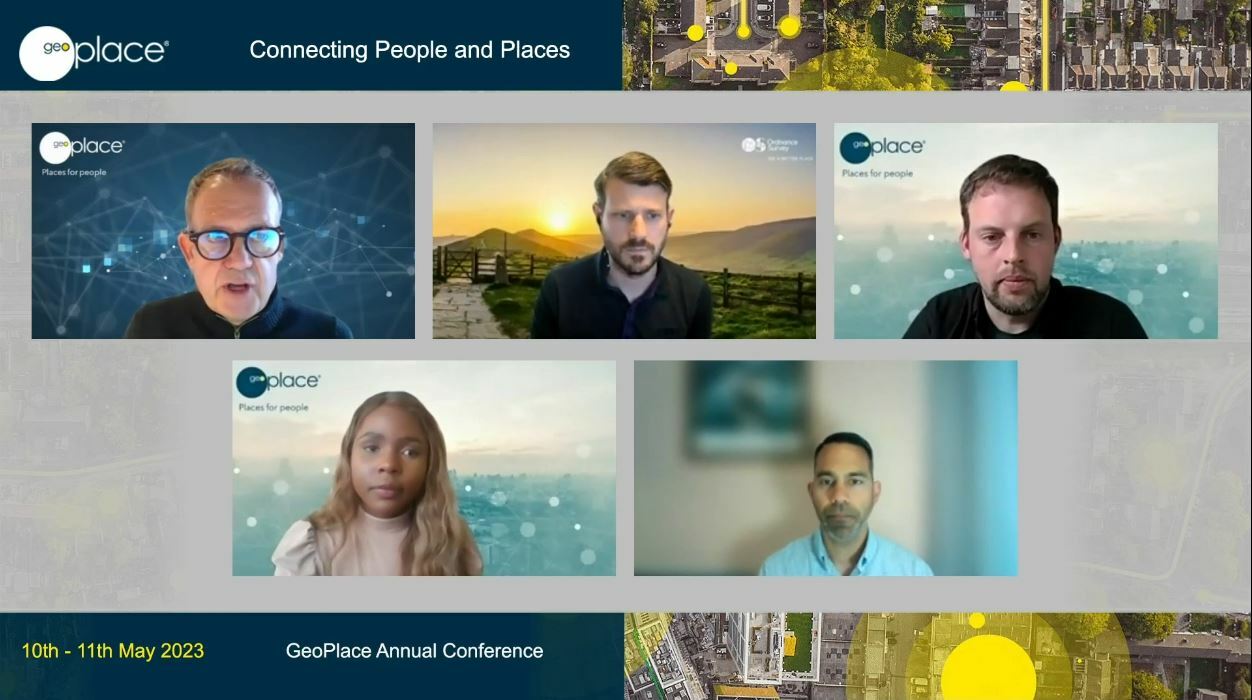 Watch the recordings of this session's talks on the 11th May tab on the conference agenda
Vital data for local government: an update from Ordnance Survey
Rob Langford presented an update on Ordnance Survey's products, services and support, which are all available to public sector organisations through the Public Sector Geospatial Agreement (PSGA). As Rob explained, when we think about the PSGA, that sets out how OS provides data and expertise to the public sector. However, from getting started with OS, through to providing scientific advice to government, it's important to remember that technical support is available alongside those products.
Rob introduced the NGD – the National Geographic Database. Access to the NGD is through a select-and-build tool, which makes it possible to choose information needed and create a unique data package, or via OS NGD APIs. It contains the authoritative data that described the geography of Great Britain – and is analytical, ready to use data. The NGD includes data around land use, administrative and statistical units, transport, land, addresses, buildings, structures, water, geographical names and more.
Users will recognise that it has an improved data structure, increased update frequency (up to daily updates, which is critical for addressing and buildings intelligence), metadata enhancements (key for analysis, and source attribution), and a new documentation platform. As an example, Rob also presented 'land use sites' – a visualisation of OS NGD that surfaces areas identified as having a specific purpose, such as residential, health, education, leisure etc. Not legal boundaries, but inferred boundaries of sites with UPRNs.
Other examples of improvements include changes to Floor Level. Floor Level is now represented as a number in OS NGD which means the information can be interrogated or queried with confidence. In addition, two significant changes have been made to the OS Places API – it now has increased update frequency, and data is filterable by local custodian codes. Looking back, Rob noted that this is all local data FOR government, as well as from government. Local addressing underpins better decisions and enables key services to help save lives.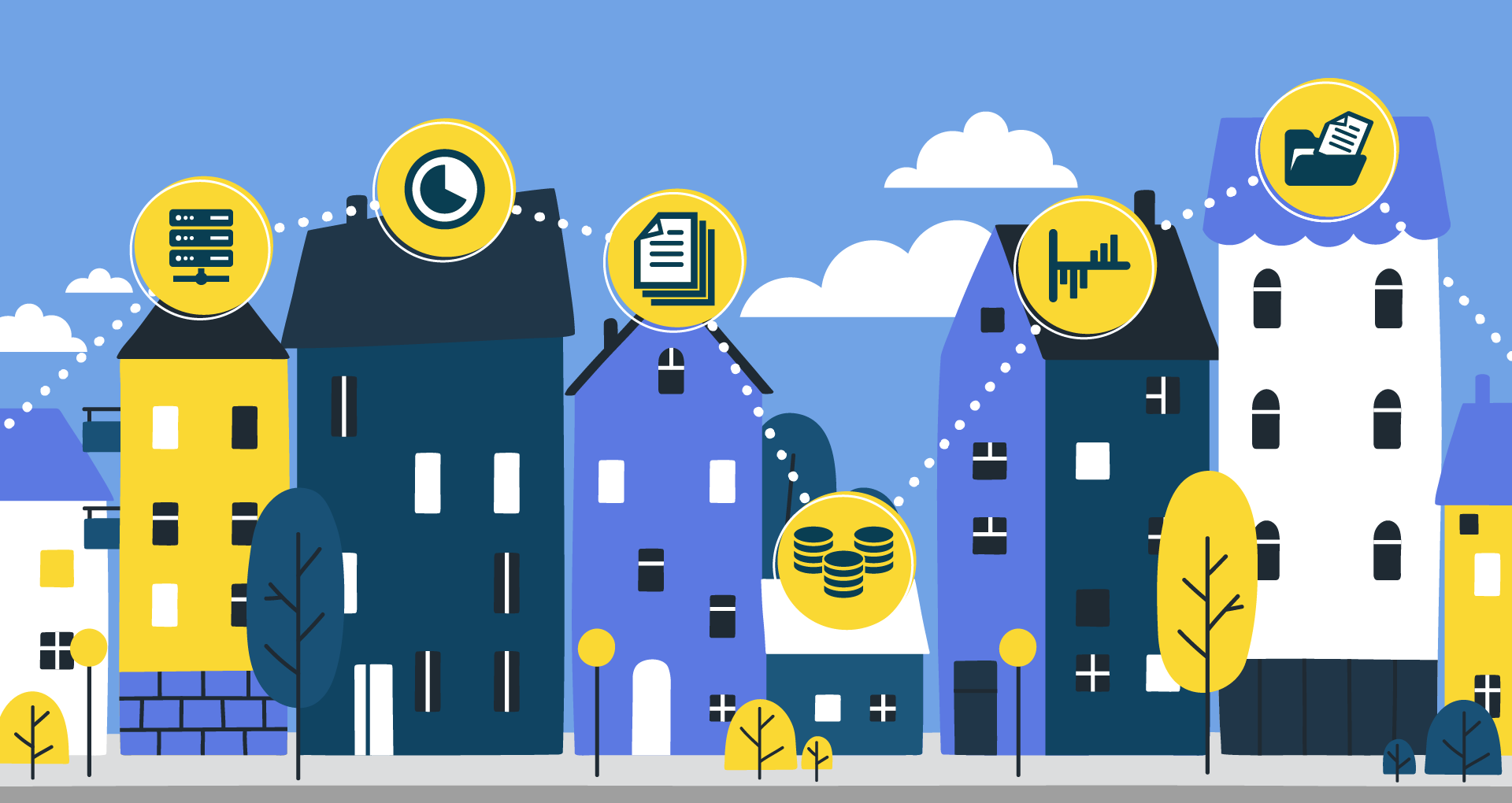 Sustainable integration, making it work for you
Luke Studden talked through the concepts of sustainable integration, keeping systems up to date and adopting a two-way approach to integration that can lead to improved intelligence. With regards to sustainable integration: on the address side, >75% of all authorities' systems are integrated using file-based integrations with > 90% of those utilising the Local Land and Property Gazetteer (LLPG).
Concerns arise, however, around multiple steps being needed to facilitate file-based integrations as they inherently contain multiple points of potential failure. A custodian extracts data, for example, placing a file in a shared location. Then a 'black box' process happens, as a department acquires that data, loads it, stores it, and integrates it for use. In addition, as 56% of systems permit manual address entry, which creates further room for error to creep in if the integration process isn't monitored for quality or automated. To mitigate against that risk, APIs are one solution. But the concept of sustainable integration provides an alternative – moving to a cyclical process of routine maintenance, monitoring and auditing, which keeps the designated data in close synchronisation with the source information. This involves identification (mapping out the whole process, with the support of stakeholders and suppliers), provision (ensuring data provided is automated as much as possible and appropriate), intervention (oversight that the process is working, and data is correctly loaded), and rationalising (investigating, matching, and updating manually entered records).
The benefits of sustainable integration are clear: departments always have a robust and accurate source of addressing and street data, and synchronicity is maintained with the UPRN and USRN. This means departments are far more likely to be in a state of high readiness for data-linking and more capable in terms of offering proactive delivery, fraud detection and joined up services. In addition, manually entered records can be rationalised and matched. This in itself is a valuable source of change intelligence as it surfaces missing properties and streets, inaccurate properties and streets, and may indeed offer the opportunity to identify potential missing revenue.
Adopting a two-way integration philosophy also presents benefits. This is all about leveraging established system integrations to pull back information which can be used to enrich the LLPG or LSG. For example, information to help inform property classifications, organisation names, level information or the capture of specific feature types. The first key step is to enure there is a good level of integration with the system that the required information resides in. Then ascertain what type of information is relevant in helping enrich your LLPG / LSG. The next step is to determine if the system integrated with is capable of generating a data extract containing this information. What's critical, is the inclusion of the UPRN or USRN, the full address or street name, the required service-based information, and a date of currency. Then, after the extract has been obtained and a feasibility assessment has been conducted, all that remains is to set up a regular feed of that information in order to maintain ongoing currency.
Right up your street
Richard Groombridge, opened this session with an overview of the many services that GeoPlace has developed to support local highway authorities in their statutory obligations, including:
Traffic sensitivity reviews
SWA codes
FindMyStreet
DataVia
Lane Rental Schemes
Permit Scheme implementation.
FindMyStreet and DataVia, were created to meet the changing needs of the industry. Richard outlined how local authorities such as Leicestershire County Council were using FindMyStreet to aid with the classification of their own streets. In Leicestershire Using FindMyStreet classifications has reduced the number of enquiries seeking classification information from the council, from around 10 per day, to now only a few per month. This has been achieved by linking the council's own website along with those of the relevant local planning authorities to FindMyStreet. It has also saved resources within the council's Digital Services Team, as there is no longer a need for Leicestershire County Council to publish this information on its own website. The council has also discovered that by using FindMyStreet it is much easier to see the records of neighbouring authorities at a glance, without needing to download each authority's data into the council's own system. And for the public, the process is much more efficient for submitting planning applications, with less time required to gather information.
Findmystreet is facilitated by national consistent data based on standards, being able to hang various information off USRNs means that it can expand and fulfil more services such as the inclusion of road classification saving time and effort when it comes to drop kerb requests and the like.
Richard introduced DataVia and its use cases which was built to increase access and use of the local authority streets data via an API, following the market demand for its development. Hazel Kamuriwo did a live demo of the API highlighting the data and its possible applications.
Turning to future products and services, Richard highlighted that improved data currency, improved search functionality and boundaries (Ward and LHA) are all on the current product roadmap.