The GeoPlace conference is a focal point for hundreds of geographic information experts – all of whom use or need location data to effect change and overcome key challenges.
We'll update these pages over the next few weeks with more information about the event, including the agenda and how to register to attend.

Our speakers use the data you produce to make a tangible difference in their work. They'll demonstrate how your local authority address and street data is used to:
Bring down the cost of running local government
Improve quality of life for millions of people
Make our cities, villages, and towns 'smarter'

Understand health and social issues at a household level

Enable blue light services to work more effectively

Map and monitor land use, ownership, and transactions

Identify vulnerable people and provide the support they need

Attendees at our 2019 conference said:
"The speakers were all very informative, an excellent day – as a Custodian, I feel proud knowing that our work is so important!"
"It is extremely helpful to see our work in a national context, explained by someone who clearly understands the importance of LSG/LLPG data"
"Local authority case studies were really helpful in supporting the promotion of business transformation and development"
"It made me feel valued as a result of the day to day work I do – we can see the benefits of the process after the work had been done."
Additionally, attendees will hear:
An insight to our plans for the coming year

More details about the Geospatial Commission's strategy and data improvement projects

The collaboration we're undertaking with Royal Mail to achieve consistent working practices and shared standards

How we're using AI to monitor road conditions and increase public safety.
Bringing location to life!
All day, we'll be making great use of the media wall at the venue, bursting into life with data visualisations from GeoPlace and exhibitors. We hope you'll take part!
Football Crazy
We're making the most of our location at Old Trafford. Last month we crowdsourced names to create the 'Premier League of Street Names', mapping footballers past and present. Here are a few of the submissions we received.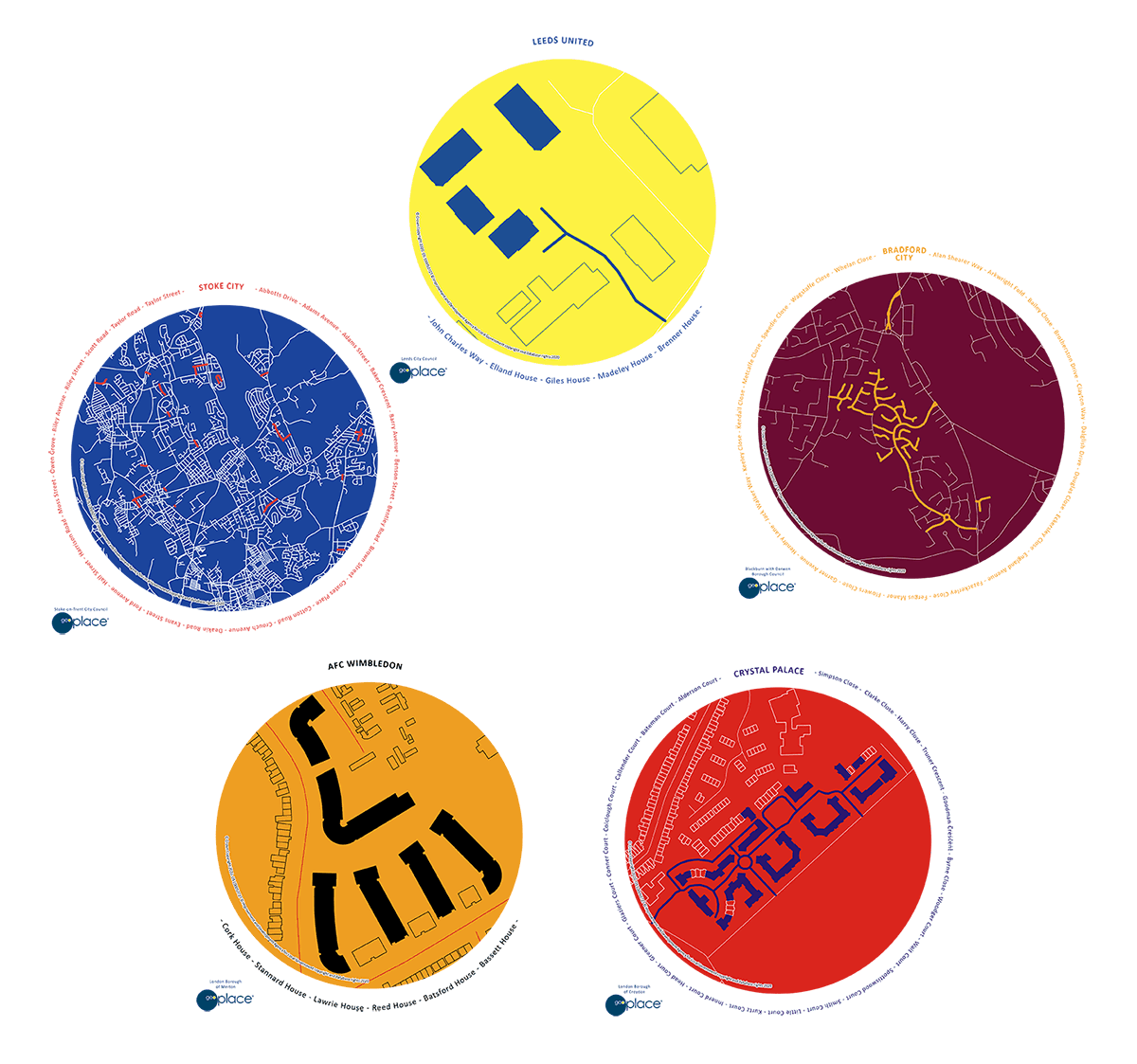 Sign up for a tour of the stadium when you register!


Why you should come along
This is your conference. We're discussing the issues that matter to you.
We want to give you the tools to help you make the case for resourcing your role, and to highlight why addressing and street information is key to an authority's business. If you're making the case internally, to join us in Manchester, then these key points may help you:
we feature speakers who use your data to serve the public – it's an event that builds on your work, and helps you to deliver more value to your organisation

it's about promoting and introducing you to best practice, via knowledge transfer, with practical sessions providing support and training

you'll hear new ideas and have the opportunity to explore new ways of working – already tried and tested – which you can take back to your authority

it's a national forum, giving you access to colleagues from across the whole of the UK, as well as other authorities working on the gazetteers and JAG (UK)

we reveal developments in local street and address datasets and how they are being used nationally

you'll see if you've won an Exemplar Award for 2021 for Data Quality and Improvement

our suppliers will be on hand to help you pick up information about software and services that could deliver value to your organisation

you'll get to meet our Regional Chairs from across England and Wales, as well as hear from the Principal Chairs (Chairs of the Regional Groups)

and the GeoPlace team is on hand, ready to talk through any specific data issues you may have through the GeoPlace Helpdesk

you'll collect CPD points – the AGI and Royal Geographical Society have both accredited the conference with 4 and 5 CPD points respectively.
Can we help you make the business case to attend?
Our annual conference is free of charge for delegates (and travel costs can be kept down by booking advance), but it can still be hard to make the case for attending the event. We're here to help. We're more than happy to contact your line manager directly, explaining the importance of the event for your role. If you'd like us to do this, please email [email protected].
Download the 'Letter of justification to attend the conference' from here.