GeoPlace has published the agenda for its 10th annual conference, exhibition and presentation of the Exemplar Awards. Th
is year's event takes place at Edgbaston cricket ground in Birmingham on Tuesday 19th May 2015.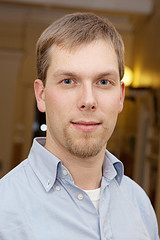 Coming at a time of exciting change for address and street data, the conference will build upon recent announcements around the release of UPRNs on a royalty free and open basis to highlight how geographic locaters can enable data sharing as well as local government's central role in delivering the next generation of road mapping for England and Wales.

A key theme at the conference is how local government address and street information supports digital transformation. The power of digital technologies to both improve and innovate services whilst reducing the cost of delivery is compelling and local authority address and street Custodians have an enabling roll in this.

Cllr Jason Kitcat, Leader
Brighton and Hove City Council
Keynote speakers include Cllr Jason Kitcat, leader of Brighton and Hove City Council who will give his thoughts around âLocal authority data-sharing & digital transformation' and Paul Baden from the Department of Transport who will discuss âDelivering the next generation of road mapping for England and Wales'.
Cllr Kitcat is a passionate advocate of effective data sharing in local government to improve public services. He is clear that more work needs to be done to facilitate and improve the way data moves between government organisations to make services better and prevent duplication.
Paul Baden will look at how the new highways data product recently announced by Transport Minister Robert Goodwill MP will enable better planning, management and more informative routing options across the road network, driving cost efficiencies in government and improved service delivery to businesses and the citizen.
A series of Knowledge Exchange roundtable sessions will enable delegates to explore their day-to-day challenges as well as discuss national issues such as local government transparency, open data, technology and data improvements, land charges, street naming and numbering and the Royal Mail.
With JAG(UK) sponsoring one of the afternoon streams, the wider street community will come together to explore issues affecting highways, works, assets, network management and initiatives bringing street data together.
Cllr Kitcat will also present the 2015 Exemplar Awards. The Awards recognise the vital role address and street information professionals play in local service delivery. Whether this be directly to the citizen who uses local government services, or local authorities that are trying to find ways of delivering better services more efficiently, or within a specific function within a local authority that has used address and/or street data to innovate and make positive changes.
Running alongside the conference will be an exhibition showcasing suppliers with products and services available to local street and address authorities. For more information on the event, see the conference pages on the GeoPlace website.