Our spatial analysis team here at GeoPlace has undertaken a review of new data and changes to existing data within AddressBase between April 2021 and March 2022.

GeoPlace manages the National Address Gazetteer which brings together address data from local authorities, the Valuation Office Agency (VAO), Royal Mail and a number of other third party datasets. This data is provided to Ordnance Survey who makes it widely available as the AddressBase range of products.
We work contractually with all 339 councils in England and Wales which have statutory responsibilities for approving and creating addresses and 174 local highways authorities. Working through a governance structure, we agree, monitor and support an annual data improvement process with councils that set levels of data quality, completeness and accuracy. Find out more about our work here.
Our spatial analysis team here at GeoPlace has undertaken a review of new data and changes to existing data within AddressBase between April 2021 and March 2022.
The report is available here and is an in-depth review of change in land and property across England and Wales, including; new Basic Land and Property Units) (BLPUs) and their logical status, their primary and secondary classification, location and change of use. It provides a compelling picture of how England and Wales is changing and is an essential tool for analysts and policymakers where properties are being built, the change of use of properties and their lifecycle.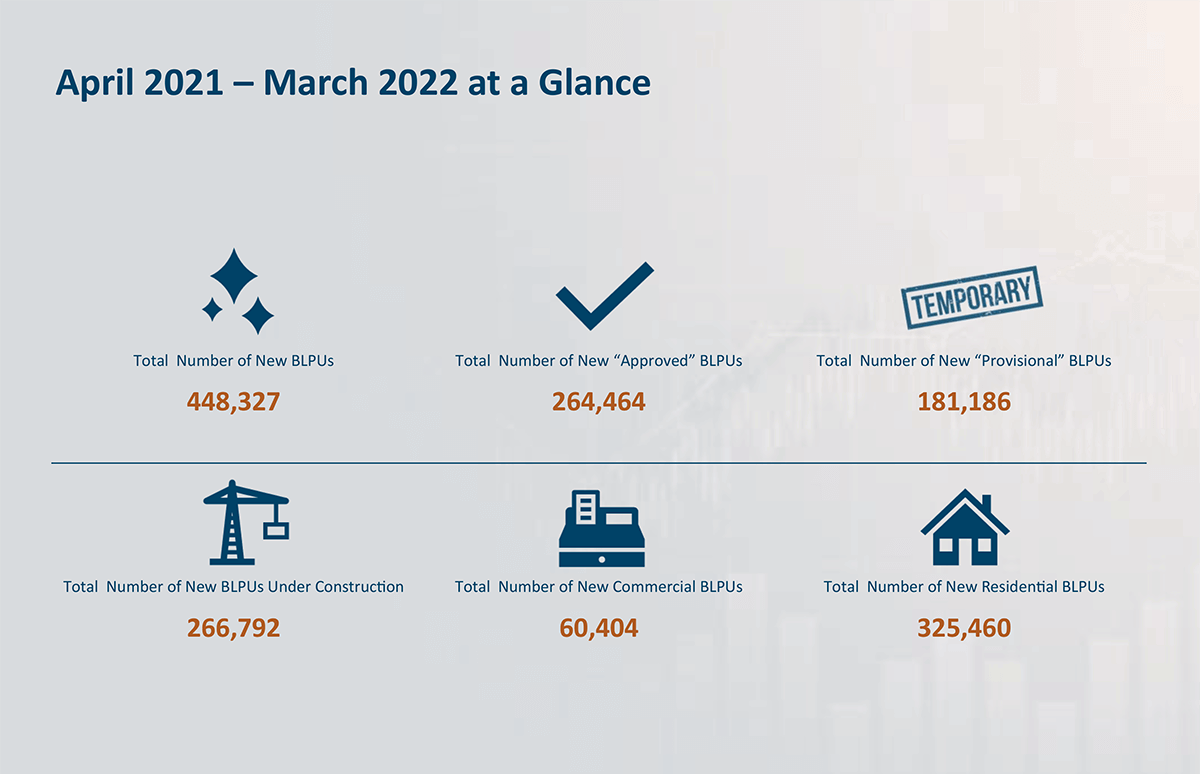 Each of these properties contains a UPRN which can be used to bring different property related datasets together to understand wider change.
UPRNs, planning and housing
The Geospatial Commission's 'Planning and Housing Landscape Review' emphasises the critical role property data linked by UPRNs plays in addressing the national challenge of providing housing where people want them. The report outlines the important role that UPRNs have at every stage of the land and property lifecycle. This begins with the identification of land for development by a local authority or private sector developer, then the judgements by the former on the volume and type of housing needed.
The property lifecycle is a complex process that takes account of factors such as population, social, economic and environmental trends, and is more effective if all of this is supported by reliable data. If the relevant datasets all include UPRNs where appropriate it makes it possible to link them and provide a better understanding of how a planning decision will affect the other factors for a community.
GeoPlace's Change Intelligence report reviews change nationally that can support and guide policymakers in improving policy and citizen outcomes and understanding market efficiency across housing and planning. The data is also available at local authority level, which is essential for local authorities reviewing and updating local plans.
UPRNs, a transformational tool
More widely, we need to consider whether it is possible to deliver a 'better business plan for Great Britain' if organisations consistently started using UPRNs. Can their use help us level up faster, stronger, and better than ever before, right across the nation? For the insights needed to really start changing lives, government, industry, and businesses must start using UPRNs as standard.
UPRNs are more than a label, reference, or a unique identifier. They're a 'magic ingredient' that lets us see what needs to happen where, exactly. Analysts, scientists, engineers, climate specialists, politicians, local authorities and the blue light services. In industry, business, commerce, the private or public need to know exactly where to deploy resources first, to make sure they're being used effectively.
We're all trying to answer important questions. Things like, how do we find billions of pounds in the economy that could be redirected to help the areas and people most in need? How could we better mitigate the impact of climate change, faster? How might we rethink housing provision, reduce fraud, and improve profits for good?
In particular, how can we develop better resilience to health problems, pandemics included? And how can we build a greener, more efficient, civil infrastructure that will promote equality in society?
Once we understand where change is happening, we can start to plan:
Where should roads be repaired first, to keep our nation's traffic systems moving?
Where should money be spent on housing reform, transforming the property chain?
Where can we find savings in local authorities, to benefit the most vulnerable people?
Where must we act, fastest, to combat the effects of climate change?
AddressBase holds 2.5 billion data fields for address and street records, including over 80 million links to other datasets and a history of the changes that have occurred on each record and a UPRN for every record. The following video demonstrates the change intelligence that GeoPlace receives year-on-year from local authorities.

UPRNs are like post codes, but they are more precise and reliable, even if a property is demolished the UPRN retains this historical information and the UPRN is never reused.
| | | |
| --- | --- | --- |
| REGION | Number of Post Codes | Number of UPRNs |
| England | 1,369,007 | 29,676,883 |
| Scotland | 151,192 | 3,164,520 |
| Wales | 88,982 | 1,727,559 |
Postcodes differ in size. The largest postcode in England covers 79.12 km2 whilst the smallest covers 1.4km2. Find out more here and heck out some of the key differences between UPRNs and Postcodes in England, Scotland and Wales.
Crucially, UPRNs are machine-readable and sector-agnostic – it's the same format in every database, so it doesn't matter whether you're working in property, government, finance, retail, health or utilities. Every business can use the UPRN. It's embedded in OS AddressBase products, and it's available as Open Data in the form of OS Open UPRN.
By understanding change, we can start addressing the future, today.