Day 1, Session 2 of the GeoPlace 2023 annual conference was on the theme of climate change.
SPEAKERS:
Laura Alexander-Webber, Lane Rental Manager, Transport for London
Adam Bain, Whole System Development Manager (DSO), Scottish & Southern Electricity Networks
Jo Wall, Senior Strategy Director - Climate, Local Partnerships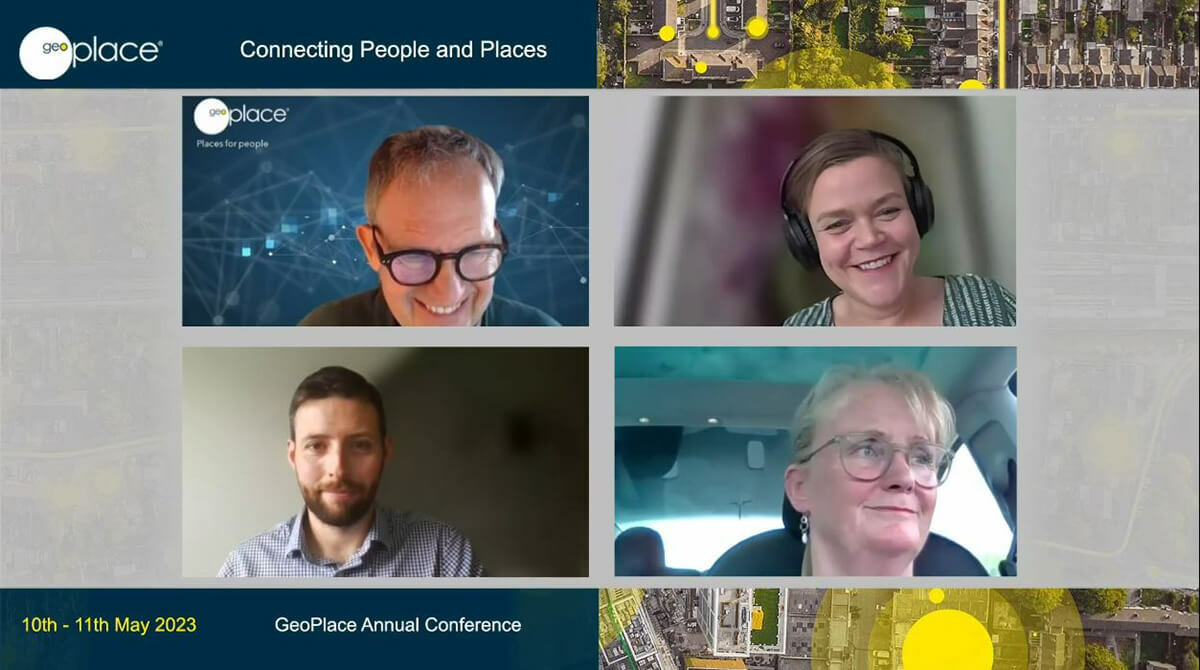 Watch the recordings of this session's talks on the 10th May tab on the conference agenda
Connected, we're better
Laura Alexander-Webber opened the session on climate change, with an impactful reminder about the importance of data. Each month, Google Maps attracts 154 millions users. Globally, there are more than 5 billion internet searches every day. Those result in 2.5 quintillion bytes of data being collected every day and, Laura stated, 90% of data in existence has been created in the last two years. The digital world is evolving at incredible pace. We need to take advantage of this, and connect the dots to make decisions more effectively.
Roads and data both create connections. The ability to connect places, is vital. By connecting the dots, we improve our capabilities. For example: we can use data to change behaviour. The Transport for London Lane Rental Scheme applies to the most traffic-sensitive locations and times of day across 69% of the Transport for London Road Network. It encourages behaviour change and reduces highway occupation by applying a daily charge, not to the users, but to the works promoters for the time that street and road works occupy the highway. Charges are focused on the very busiest streets at the busiest times. Charges apply to works promoted by both utility companies and local highway authorities on the local road network. Setting up the scheme involved large amounts of data analysis, working out sensitive times and locations. Of a similar nature, is the Network Operating Strategy, which interlinks transports networks using data and innovation to keep cities moving.
Utilising data more effectively allows for greater collaboration, support network management duties and even help our transition to net zero. In part this is about linking datasets and setting the right context for making choices. With hectic modern lifestyles, geospatial data is vital to show us quickly what is happening, where something is located and the possible impact it might have. The more we know upfront, the more we can do and the better decisions we can make in managing and modernising our networks. This extends to our future actions around working towards Net Zero. The sector's 'Road to Net Zero' initiative extends this aspiration, with a Discovery Phase that is already complete, and an intention to now explore an emissions carbon calculator.
Monumental changed is needed if we want mobility to be a sustainable positive part of our social infrastructure. This can only be achieved through effective use of data, but we also need future generations to be inspired by what we do now.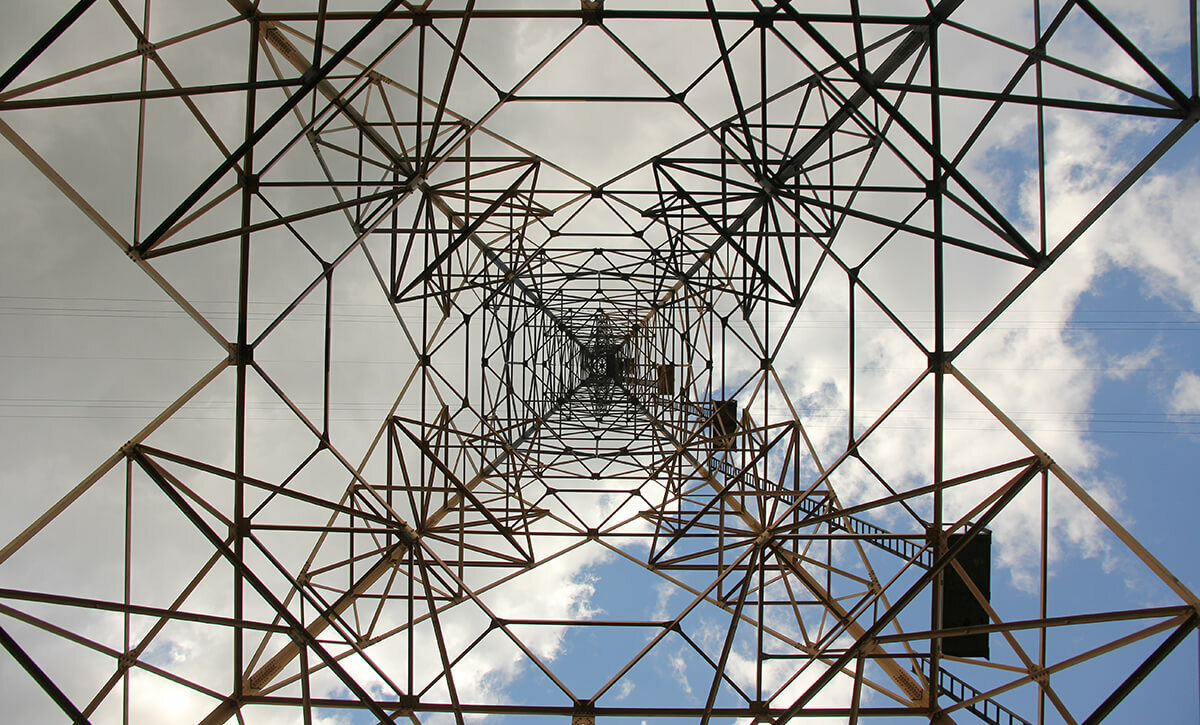 Data Sharing for More Dynamic Energy Networks
Adam Bain presented the case for data's importance in unlocking the potential to revitalise our energy network. As the Strategic Development Manager for Scottish & Southern Electricity Networks (SSE), he presented the business's overarching digital strategy.
Data is critical to success: SSE services more than 3.9 million homes and businesses, with more than 822,000 customers being recorded and supported via a Priority Services Register. The network comprises more than 127,000 km of overhead lines and underground cables, as well as 115,000 substations, and 460 kilometres of subsea cables powering the island communities – not only in Scotland, but also as far south as the Isle of Wight.
SSE is using data to meet stakeholder needs in new ways. The strategy comprises five clear principles:
being clear about services
engaging with stakeholders
providing information for stakeholders' needs
embedding the digital strategy throughout the business
driving collaboration to deliver efficiencies wherever possible.
This depends on stakeholders and customers being willing and able to provide all kinds of data, naturally, but the business is also cognisant of the fact there is stringent governance in place, such as GDPR.
Ultimately, the business's objective is to achieve much greater efficiency and effectiveness for customers. This involves being more flexible, depending on underlying authoritative data to influence robust decision-making and make change that improves the customer experience. Platforms and data infrastructure are being constructed on a continuous improvement basis, but this is being backed by constant engagement with staff – enabling a culture that makes use of 'digital first'. The business also uses visualisation tools, such as real-time trackers and outage trackers, which use location data to help customers and contractors understand how the network is performing.
All of these components align in Local Area Energy Plans. SSEN is developing a user interface for local authorities to make informed investment decisions through better data sharing. The inputs comprise SEN Network Data, external heat maps, local council buildings' data, and SVN Network data. The tool enables users to understand constraints on the network, and allows for fit-for-purpose development of the network with Net Zero ambitions in mind. By working closely and data-sharing to deliver a richer, more insightful Local Area Energy Plan, strategic investment can be identified – encouraging the uptake of low carbon technologies. Standards, basic principles, and frameworks for exchanging common data sets will help solve any problems encountered along the way.
The importance of data in managing and mitigating climate change
Jo Wall started by explaining the role of Local Partnerships, which is owned by HM Treasury, the Local Government Association, and the Welsh Government. Its purpose, on a not-for-profit basis, is to help local authorities and other bodies to face the ever increasing challenges of shrinking budgets and rising demands for services. Principally, the team focuses on climate, commercials, and 'place'.
Climate work involved everything from emissions accounting to climate adaptation services, including refits and anything to do with climate change business cases. Data is key. In terms of the Route to Net Zero, two strands of activity are in force. The first strand involves working towards net zero ambitions: using less energy, electrifying 'everything' or finding an alternative to fossil fuels, and generating renewables through energy networks. Transformation is taking place, but networks also need to be smarter: this is data-heavy work. The second strand involves adapting to a changing climate, which takes place through all kinds of activity – including buildings mitigation and transport mitigation. Using Land Registry information, EPC information, GeoPlace's UPRNs and USRNs, and many other data sources, there is a better understanding emerging around the technical and financial solutions that might be needed to make effective change, as soon as possible. Transport mitigation strategies, again, involve inordinate amounts of data – but greater routing efficiency and transitions to more environmentally friendly forms of transport will have an impact.
Climate adaptation means that we are likely to have warmer summers, but also wetter winters. New flood maps are on the horizon, as are localised forecasts, but the data behind these tools must be appreciated for its value in supporting and improving the quality of life for society. Infrastructure needs to be protected, and accurate and interoperable data is key. These challenges are huge – so breaking them down into manageable and understandable chunks is important. It is critical that we act at scale and pace and data is key to doing that, whether it is vehicle routing, or providing better EV charging infrastructure or mapping climate vulnerabilities to design solutions which work for local communities.