Day 2, Session 1 - Provided a strategic overview of the ways in which data is being used as we emerge from the COVID-19 pandemic, with thought leadership on the data landscape and practical examples on how local authorities can 'make the case' for using address and street data.
Speakers included:
Nadira Hussain, Director of Leadership Development and Research, Socitm
Juliet Whitworth, Research & Information Manager, Local Government Association (LGA)
Andy Coote, Director, ConsultingWhere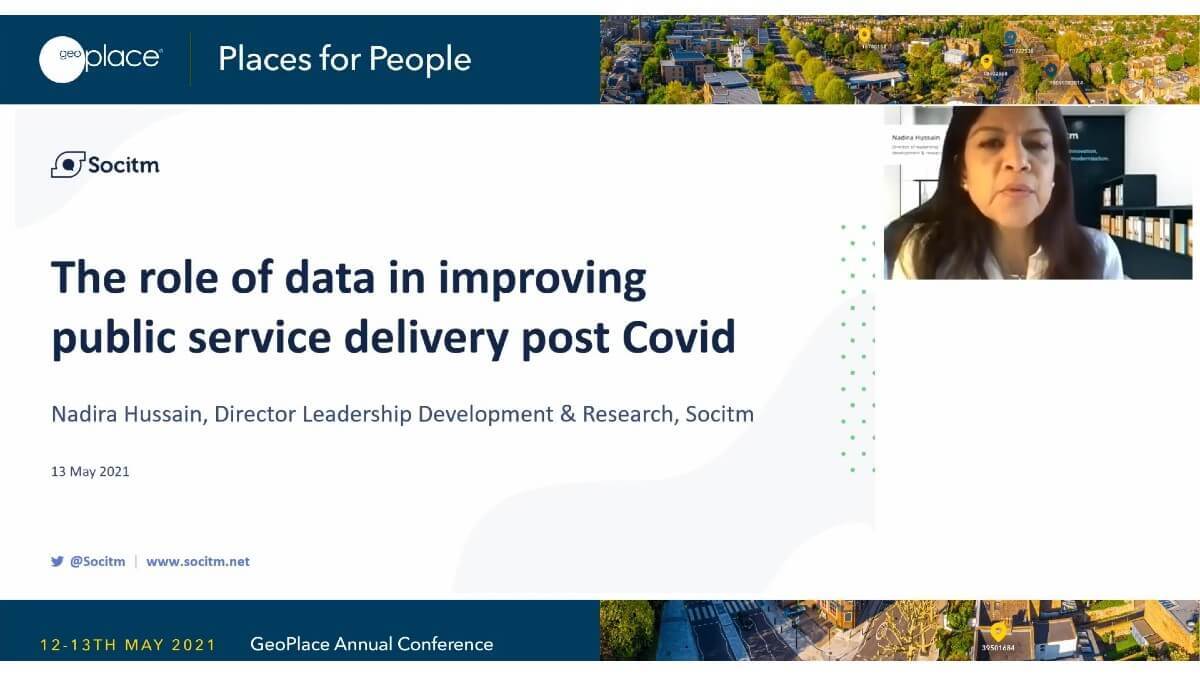 Listen to the presentations here.
Nadira Hussain opened the session. In her role as the Director of Leadership Development and Research, Nadira represents Socitm – the Society for Innovation, Technology, and Modernisation – which is the professional network for leaders engaged in the innovation and modernisation of public services. Intrinsically, this organisation depends on having access to data to achieve its aims, and Nadira iterated the importance of data in improving public services. She went on to share Socitm's learnings over the last year or so: the society is very much the preferred network for professionals delivering public services across the UK – a broad church of around 2,500 members, representing customer services; data management; transformation and many other specialist sectors.

Socitm is profiling what it calls the 'four Rs' of recovery in a post-Covid society. Resetting – emphasising the need for ethical principles that respect social, economic and ecological foundations; Reforming – embracing innovation and modernisation in public services; Renewing – collaborating across place and encouraging self-sufficiency in communities; and the pursuit of Resilience – resilience to disruptive change, to thrive and achieve better, more sustainable outcomes for everyone.
This inclusive and ambitious framework is an excellent basis from which to assess progress in any data-oriented activity. From a research perspective, the Society is also using broad policy themes to help structure its activities, events and publications' programmes. These include healthy and well communities; leadership, diversity and skills; service design and transformation, modernising ICT service delivery, and the ethical and secure use of emerging technology and data.
Working alongside local authorities and government organisations, both domestic and international, Nadira introduced some of the research that had been conducted by Socitm over the last year. Place-making, and achieving better outcomes for communities, takes a leading role in this work, as does work around the fundamental shift in localism. Much of what has been predicted by Socitm, has come to fruition. For example, the Society has learned that many of its themes benefit by focusing on place, and on place-based outcomes. There is a demand for data and technologies to address socio-economic and environmental challenges raised and magnified by the pandemic, and new working styles will have an impact on many sectors.
In addition, industries are now pro-actively using granular data – enriched with location information – to deliver better results, and this is a trend that is set to deliver escalating, positive outcomes for society. In Glasgow, for example, location data is being used to control disease-outbreak management; in Wandsworth, Richmond and Southwark, local authority data teams are now using information in new ways to ensure multiple departments are benefiting from the same insights – with a single source of truth, the 'once gained, multiple outcomes' philosophy can be applied with confidence.
In terms of inclusion and equality, unfortunately the pandemic highlighted that 'digital by default' government services may still be excluding those who need them most. This is a situation that does need to change. Socitm has been working with partners such as Bradford University, to understand how this situation might be improved. Digital accessibility – being accessible only to online customers – is a sustainable model in the private sector, but the public sector needs to administer statutory obligations, entitlements and duties in care in several sectors of society, including healthcare; welfare; and justice. Digitizing government under the auspices of 'efficiency', can still compromise quality. Ultimately, if a public service is not reaching everyone, then it is failing in its duty. Digital 'by choice' would allow people to make decisions in a far more inclusive approach.
From a data perspective, Socitm's research shows that four pillars of data exploitation and information value will foster this important shift in approach. Integration of data (how and when systems should be linked for new intelligence and insight, which depends on organisations being competent in data curation and taking a non-siloed approach to standards); Sharing data (whether across teams within an organisation or more broadly, across an entire supply chain); Using artificial intelligence (fostering an approach that pursues new sources of data to enrich business intelligence); and Analysis (using tools that lead to increased information value for decision making purposes). Data standards are essential, and business intelligence is benefiting greatly by having better access to accessible datasets. However, the public is changing its views on data sharing and access to personal data, and there is some uncertainty about the evolution of GDPR equivalents in the UK.
For Socitm, the emphasis is now on collaborative action that uses data to bring out the best in society for all – a thriving, healthy society; connected with a strong sense of community and access to culture; enabled through high quality education, with access to affordable energy and sufficient income; and empowered with political voice, social equity, equality in diversity, and peace and justice.
Ethical, purposeful, meaningful places require all of those components to be taken into consideration, to help support our recovery from the pandemic. Focusing on people and place; working with partners; ensuring that data is used to increase resilience and empower communities to thrive – it is imperative that we use data for the greater good, and deploy its potential for the benefit of all.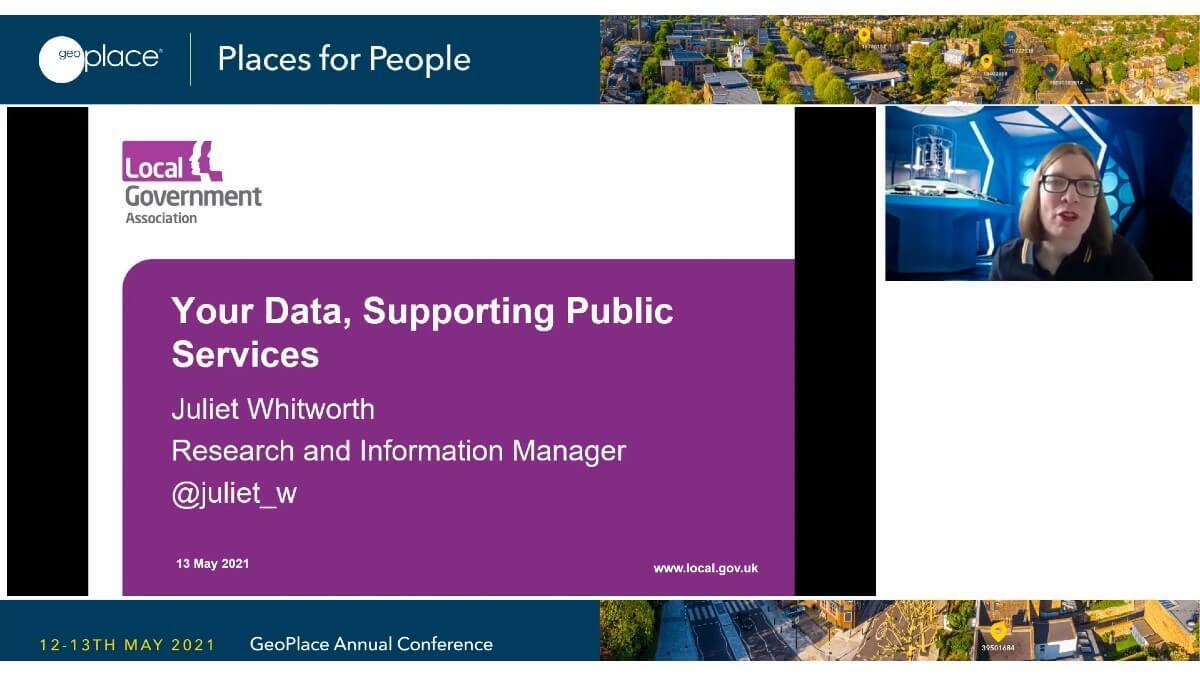 Juliet Whitworth, Research & Information Manager, Local Government Association, picked up this same theme – data being used for the greater good – as she explained that one of her team's priorities is to help local authorities to make better use of data, in general. Councils are working hard, using data of all kinds to help them improve their services for citizens – and Unique Property Reference Numbers (UPRNs) and Unique Street Reference Numbers (USRNs) are key to this work. In fact, during the pandemic, the authorities who had the most efficiently managed data were the ones who were able to reach out to their vulnerable residents fastest, even before central government made information available.
There are many examples of councils who've used location data to streamline their services, deploying the 'single point of truth' to reduce the number of systems needed, in-house. More importantly, they have actually improved the quality of services being provided, in the process. At the same time, authorities are using a wide variety of sources to get to know their own area better; collating external data-sources, cross-checking them to understand how services and systems might be better targeted.
Altogether, this work helps councils to plan and manage their services more effectively, pulling data together around a single person (perhaps anonymised) or a single property at a granular level.
Juliet iterated the importance of having UPRN and/or USRN-enriched datasets to make this possible, and illustrated this with a couple of key examples.
Many local authorities used UPRNs during the pandemic, to work in advance of central government and help the most vulnerable residents in their areas. Use of UPRNs made their services far more efficient, and enabled the authority to identify people who might otherwise not have received the health care advice and support they needed
Conwy Council is another authority that has embedded not only UPRNs in its care systems, but also used USRNs to link multiple systems across their organisation, including for customer requests; street repairs; gulley cleaning; asset management and street lighting – reporting has become more efficient, and greater accuracy in first-time responses has delivered savings across the board
Brighton and Hove Council undertook a review and discovered they had 34 separate departments that were using independent systems, which meant that residents might have duplicate records in siloed systems. The customer journey was fragmented which increased the risk of duplication; and this approach was prohibitive in terms of understanding residents' issues and how to approach them. With that in mind, the council added UPRNs to its systems – enabling the creation of a customer index that delivered savings in excess of over £300,000. More importantly, shared data across departments has subsequently improved communication and enabled better decision-making, authority-wide.
Councils need data to be shareable, interoperable, findable, authoritative, and current to make the best possible decisions for their residents. Juliet iterated the LGA's support for wider adoption of UPRNs and USRNs, lobbying for their use in health and safety initiatives (such as the response to the recent pandemic); and in creating a building safety register (a listing that would help provide insights about remedial work that is necessary to taller buildings, for example). The LGA is also keen to promote the benefits of UPRNs and USRNs to colleagues in all departments, in local authorities, and to help make Custodians' work more visible – via the 'Find My Custodian' app. It will also continue to emphasise the importance of these references being included as much as possible, in datasets everywhere.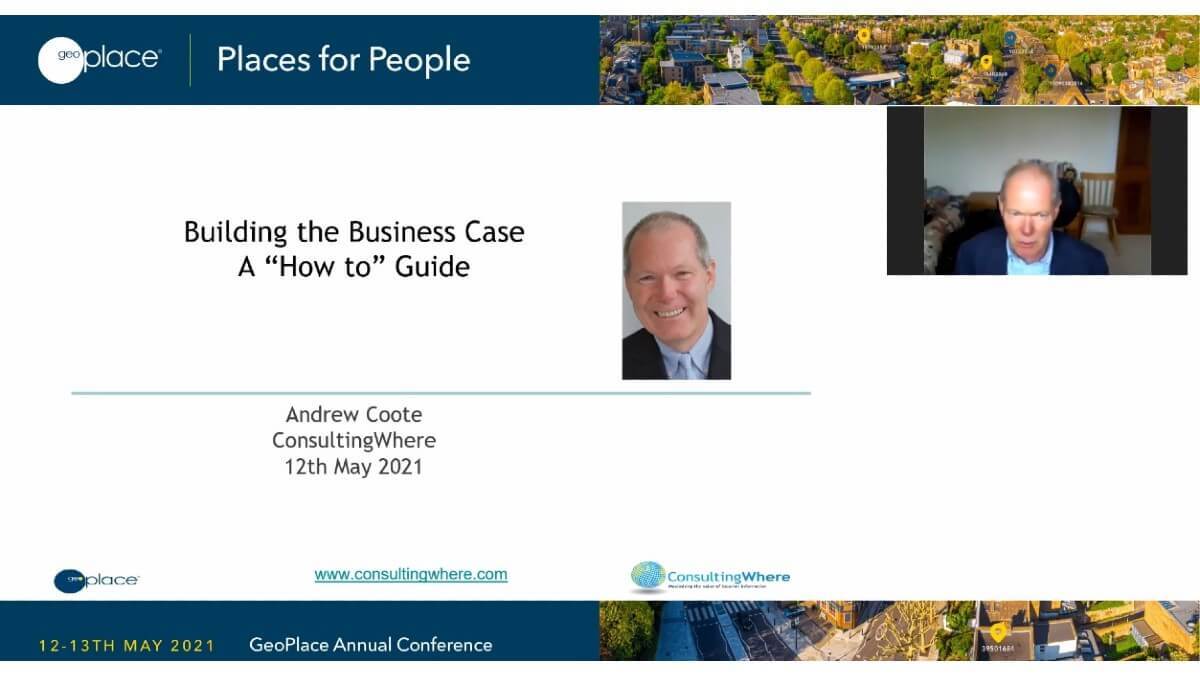 Andy Coote, Director of Consulting, introduced one of the highlight sessions on Day 2 of the conference, with his presentation on 'Making the Business Case" – a key skill for anyone working with location data in a local authority.
A business case is a structured proposal that assembles the right information to help people who aren't working in your field, to make decisions that help you move forward. That may be for an immediate acquisition or on a longer-term project, something that uses location data to solve a particular challenge. Business cases, in short, allow change to be measured and valued.
It's about linking what you're doing, with the policy and decision-making that's going on elsewhere in the organisation. The important thing to remember, is that those decision-makers usually aren't specialists in location or data management. What they need most, is a clearly articulated case that explains what you're asking for, why, and what benefit it will deliver for the organisation and its customers or wider audience.
Andrew reminded delegates: "The first question to answer is, 'are you aligning what you're trying to do with the policy drivers?' perhaps around place making, innovation, or community. The second, is 'which use case will add the most value to our organisation, what are the benefits we can articulate in a succinct way – benefits that will clearly show we should invest in this?'" He stressed the importance of remembering that business cases need to focus on outcomes and facts or figures that are easily understood by people who don't use location data on a regular basis.
Return on investment studies can be helpful here, as can many authoritative case studies. These are well worth referencing in slides or footnotes. GeoPlace publishes case studies that can be formative in making a good case for myriad data scenarios – everything from embedding UPRNs that can help save lives and change the quality of life, to address matching that increases efficient and mitigates risk. In addition to the overall business rationale however, a good business case also needs a robust financial model that demonstrates the tangible value of the project.
"Keep it short, keep it sharp," was Andrew's advice. Emphasise a focus on outcomes that show the progress possible through this business case. Graphics and images can make a huge difference, as can a succinct overview that avoids too much business jargon.