Day 2, Session 2 - Many of the attendees at GeoPlace's 2021 conference on the theme, 'People and Places', are familiar with the Ordnance Survey (OS) / GeoPlace relationship. However, David Henderson – Chief Geospatial Officer, OS – provided an insightful overview as to the value of these location data organisations' work, in England Wales and Scotland, and Matthew Ricketts echoed those sentiments with more details about the organisations and businesses now using OS's location data, every day.
Speakers included:

David Henderson, Chief Geospatial Officer - OS
Matthew Ricketts, Senior Technical Consultant – OS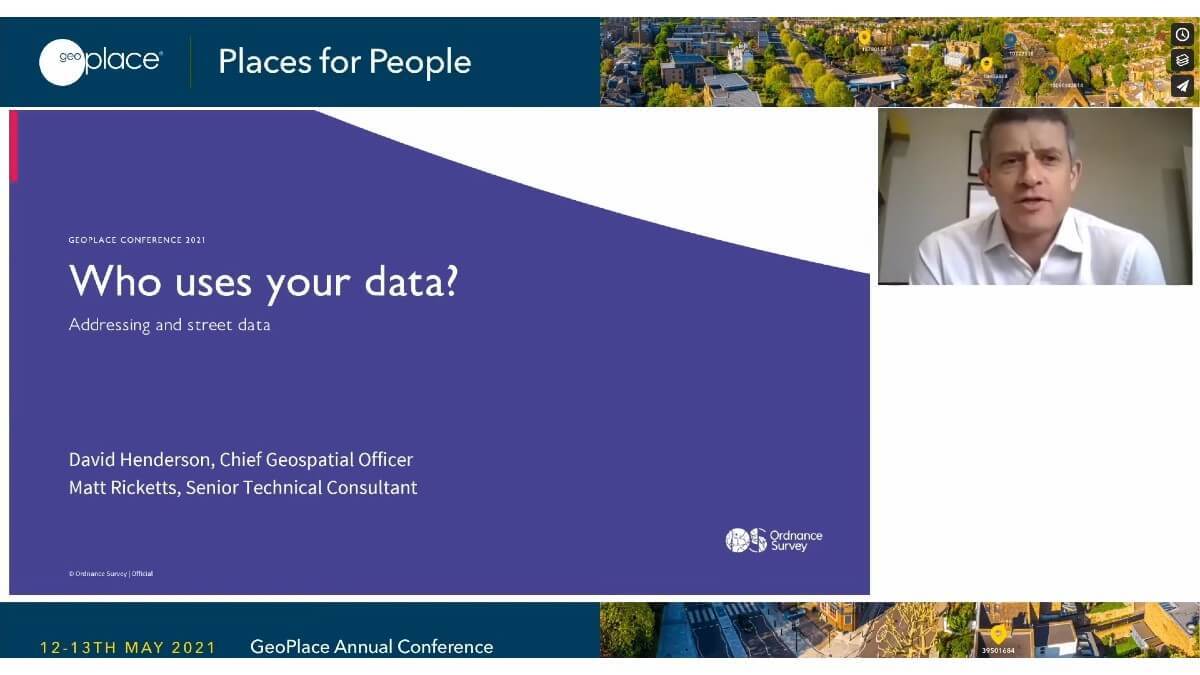 Listen to the presentations here.
"The value of the UPRN and the work of Custodians has never had more importance" was David's opening remark, reflecting the importance of not only having the right access to information but also the right skillsets, inside and outside the sector. "Authoritative, current, accurate data has been embraced at a local level, and throughout the public sector – but in some ways, the bigger challenge lies in helping people who don't have experience with location data, to understand the dramatic impact it can have across a business or local or central government department. We now need to make sure its potential is fully understood."

Ordnance Survey knows its data underpins use cases that are fundamental to the economy, the environment and wider society. Be that environmental monitoring and regulation, effective planning and transport, asset management, evidence based policy making, land registration, citizen services, understanding risk – or working through the land and property lifecycle efficiency and effectively. As David pointed out, there are significant trends are worth highlighting.
One is an increasing ability to use location data more effectively in interactions between people and place – an outcome to which OS contributes on a daily basis, continuously improving the National Geographic Database, reaching the strategic value of addressing infrastructure that is more than just the expression of location and place. The other is a changing relationship between dynamic and static data – not just technical insights about location, but contextual data that's visualised and deployed in so many different ways. Today, OS takes its addressing to market in a discreet number of products; in a world where location is ubiquitous and pervasive in society, there are ever greater numbers of ways to communicate our location – in number or even in words – but that doesn't replace the ability or the need to resolve that referencing, accurately, currently, and authoritatively.
Ordnance Survey is holding increasing quantities and levels of data now, and its addressing data enables the delivery of advanced public services; next generation e-commerce; lightning-fast emergency services; much better risk analysis, breakthrough connectivity, intelligent housing and land use, and state-of-the-art logistics – something that's become tangibly evident over the last year or so, with increased number of home deliveries. Together with GeoPlace, OS is having a direct impact on organisations' efficiency, and the quality of people's lives, and there's a direct link between efficiency and profit margins, and a positive impact on the economy.
David: "The uses for location data are countless. However, we do need a robust infrastructure for that data – one that has agreed standards, authority and governance. It has to be trusted, findable, and not only usable and accessible, but also reusable. We know these values are shared by GeoPlace, the Scottish Improvement Service, and at local level. At the heart of this work of course, is the UPRN. We must remember the importance if not the value of this unique identifier. It's the less visible processes – those that will contain the UPRN – that can make such a difference to public services."
Fundamentally, Ordnance Survey is making all of its data more accessible. The OS Data Hub is unlocking the economic potential of location data in the UK. OS is also ensuring that it is meeting the ongoing needs of the public sector under the PGSA. That involves delivering new data, richer data, new levels of accessibility, new freedoms to share that data, and technical support so that the value of this data can be realised. To achieve this, David Henderson acknowledged none of this is possible without the huge amount of work that goes on at a local level.
Matthew Ricketts echoed this sentiment, noting that, via the OS Data Hub, an increased range of services are available to help public sector customers to optimise the value of location data. The OS Places API, for example, allows address data quality to be improved on the fly, which increases the speed of delivering accurate information. Retrospective matching is taking place too, again, putting local data at the heart of OS's work. "We're working towards reduced lengths of time between data epochs, in tandem with further enriching the current datasets" – meaning that authoritative datasets will be made available more frequently, and will have even more detail in them over time.
When it comes to who uses this data, many customers 'have' address data, but still aren't aware of the potential to improve its quality at a granular level and therefore associated outcomes. There are multiple geographies available, and each one has a role to play, whether it's a geography that depends on words, numbers, or even images. The granular view of an address at UPRN makes a huge difference to householders, businesses, the environment and the economy – there over 5,000 postcodes that cross LA boundaries, and the UPRN simply reduces errors and increases efficiency and effectiveness exponentially.
We're living in a data-driven society now. Data maintenance has been embedded firmly in Local Authorities, which has engendered greater levels of trust in the core information that will make this possible. Ordnance Survey has been encouraging the capture and alignment of addresses to AddressBase Premium, to help deliver the single version of the truth that will optimise location's value in the best possible way. This extends from location data's use in Test and Trace applications, to the Census, to the roll-out of fast broadband and more. The inclusion of the UPRN in enhanced property-level data is supporting the Universal Service Obligation (USO) for decent, affordable internet connection across the nation. It's also enabling improvements to last-mile logistics, enabling kerbside location data to reduce the time that delivery drivers spend locating properties.
Previously, for example, a detached house on the corner of two streets with a long front garden might resulted in a routing algorithm routing a driver 'around the corner', instead of stopping at the front gate. But last-mile data is reducing errors, time, and the cost of deliveries.
Local Authorities are the prime source of change information for addressing, and it is becoming increasingly well known – myriad efficiencies and improvements are possible by deploying location data as much as possible in the public sector. The time has come, however, to encourage integration with partners who can also have a positive, wider impact on the land and property sector. In short, nothing should happen without either the LA's input, approval, knowledge or involvement.
Ordnance Survey has helped to develop documents that support the process, and, thanks to the work of Custodians and IT teams across the local government ecosystem, a wealth of intelligence is now reflected in the quality of the Local Land and Property Gazetteers, the National Address Gazetteer, and OS's suite of AddressBase products. That property lifecycle data, however, is still complex for users. It comprises the BLPU logical status, LPI logical status and the BLPU state to describe the current position of a property in its lifecycle. Depending on how information is managed within an authority, records are added into LLPGs at different points in a construction cycle. There's also a growing amount of pressure on Local Authorities to review some street names. OS is committed to constantly improving the data that will help to support this work, and the way it's managed. It has been working on the key triggers for Street Naming and Numbering as part of a 5-year plan that will focus on Good Addressing, and talking about how it might standardise this aspect of addressing too. Street Naming and Numbering Officers are providing vital input here, and will be invited to consult on this issue more widely later in the year.
OS is also keen to involve other stakeholders more as it looks at the property lifecycle process, knowing there are invaluable improvements to be made through better alignment and adoption of standard referencing. The UPRN is key. The benefits of this work are clear. Key organisations in this work will be not only HMLR, but also the Royal Mail, and the Valuation Office Agency. There is a huge opportunity to join-up and de-silo the current property and land management infrastructure in the UK, and to create a unified land and property lifecycle model that will deliver speed, and cost-benefits, to consumers and stakeholders right across the sector.