Using UPRNs to target local services
Like many local authorities, the team at Flintshire County Council has been working on multiple projects that aim to deliver better levels of service, both to residents and staff, using the Unique Property Reference Number (UPRN) to facilitate process improvement and better operations.
Recent projects include: a dashboard that highlighted the availability of local services during the recent health crisis to provide up to date information to residents; process improvements and resilience through a new system to replace the manual 'pinning' of information about home care allocations; and the provision of an accessible map that would provide information about Dementia Friendly organisations.
These projects all required cross-team collaboration, an understanding of internal and external systems' requirements and limitations, and pragmatic use of the UPRN to ensure correlating data could be linked accurately.
The issue
Providing residents with local service information
Members of the public needed access to important information about local services during the recent health crisis, but it was hard to find that data without having to perform multiple searches or to contact Flintshire Local Voluntary Council (FLVC) directly. In particular, the short notice associated with shielding letters meant that vulnerable people were asking the team in our internal contact centre for details they didn't have to hand.
These calls were passed to the relevant internal teams where officers could use a practical solution, a simple, authoritative mapping platform to provide residents with details of services available to them. This delivered confidence, as it showed that services would be available to the individual based on their address.
Tracking home care allocations accurately
The Brokerage team at Flintshire County Council is responsible for recording home care allocations. Using a methodology that will be familiar to many local authority departments, it did this with a manual process known as 'pinning' – literally using coloured drawing pins on a map, attached to the office wall. Each time a new referral was made, a new pin was added to the map, as estimated by team members based on their knowledge of the area.
This process created a number of challenges for the Brokerage team, such as re-pinning, security, remote working and location accuracy. With 649 homecare customers in Flintshire, this has led to the map becoming cluttered and difficult to decipher or analyse.
Providing a Dementia Friendly mapping service
The team wanted to help people living with dementia, and their families, to access important information about local services that are Dementia Friendly. The raw data about those services held by North East Wales Carers Information Service (NEWCIS) and Social Services, but it wasn't always easy to access or find, or to search without contacting NEWCIS and Flintshire Social Services separately.
When discussions were had about starting to create the map the team found that there wasn't one single, visual source for off of the information relating to dementia friendly locations that could displays information clearly on a map so that people could identify what was in their local areas, this is especially the case for those living in rural communities and struggle to locate suitable services
Solution
Providing residents with local service information
Shielding letters were sent out at the start of the Covid-19 health crisis, advising residents to stay at home. The letters advised individuals to contact their local council for information about local services – but with short notice, it was hard for the contact centre team to provide the level of support needed. The team knew that Flintshire's interactive mapping system could provide a solution.
They created two separate maps, one for internal use and one for display on the external website. The maps provided residents with a postcode search that returned listings of local services, displayed visually.
The maps included contact details, hours of operation and a description of the service available – in Welsh and English – and information was broken down based on different communities' needs. User guides were also created to help anyone who'd not used the authority's online portal before, and the maps were updated several times a week as new business came online or ceased trading.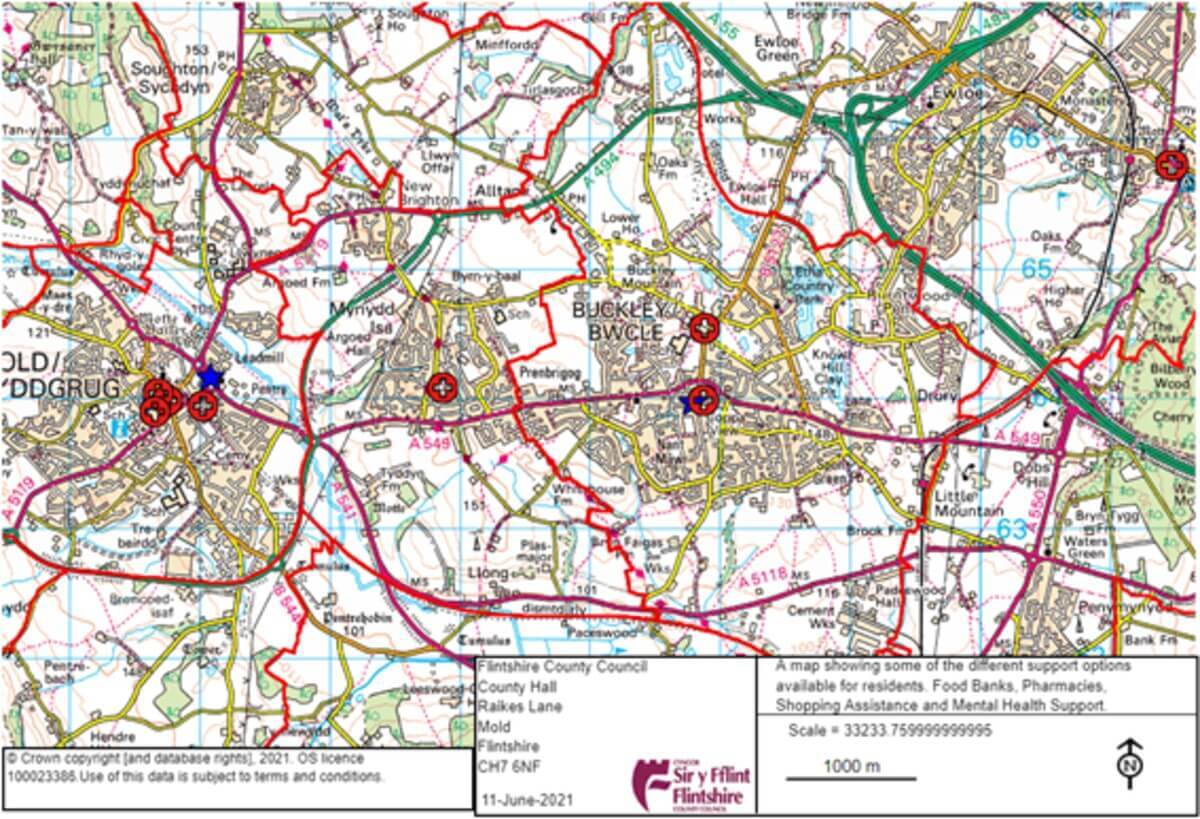 Tracking home care allocations accurately
Using Flintshire's corporate mapping product (SSA), the team replicated the Brokerage team's data on a web based map. Data was collected from home care providers and the addresses provided were validated and matched against the Gazetteer – using the UPRN to ensure accuracy. These addresses were then visualised, and thematically coloured to reflect the system the Brokerage team were familiar with.
This solution enabled the Brokerage team to add, delete and update the data in real-time and with greater accuracy. All changes took immediate effect, leading to up-to-date real time data, and the team can now extract information via a query on a regular basis – sending it out to providers for an extra level of confirmation on accuracy.
Providing a Dementia Friendly mapping service
After attending Dementia Awareness session in the workplace, the team at Flintshire County Council realised that interactive mapping could provide a useful tool for Dementia Friendly events, services, organisations, businesses and schools and memory cafes.
Representatives from NEWCIS and Social Services provided insights as to which datasets would be most useful, and the team also met up with a group of people living with dementia and their families. This user experience research revealed some colours can be difficult to differentiate, and as a result, the team ensured the base map was black with the option to add colour later. Two separate maps were created, one English and one Welsh.
Personalised points were added to the map to indicate where certain locations were – authentication of those locations was made possible by using the Unique Property Reference Number (UPRN). The Dementia Friendly logo shows the location of memory cafes, and blue pins indicate Dementia Friendly businesses, organisations and schools.
Street views were also added to aid users, and user guides were published in consultation with people living with dementia. Two versions of the user guide were delivered which could be printed off, and one as a click-through web based version. A staff member from Social Services was trained to update the information regularly to ensure the map provides reliable and accurate information.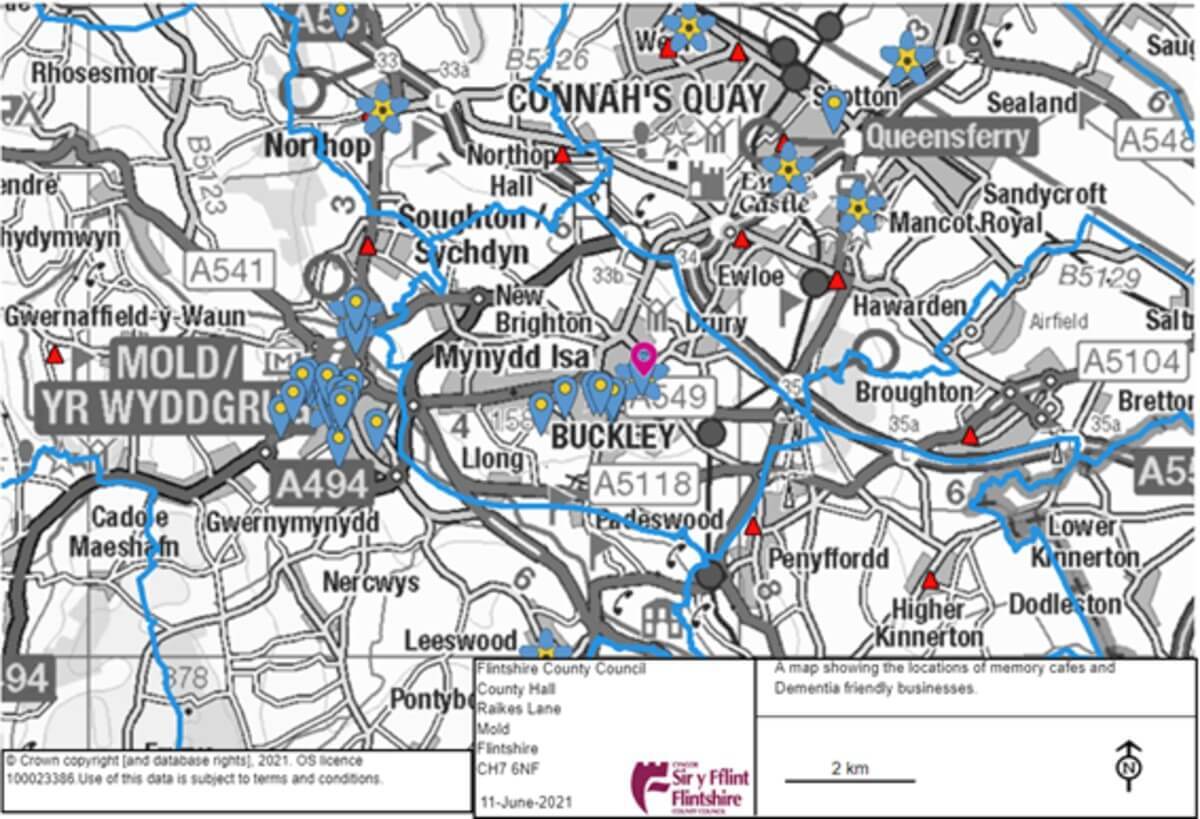 Outcomes and benefits
Accessibility to verified data – internally and externally, the UPRN enables the team to deliver authoritative insights about services, needs, deliveries, opportunities, and risks.
Accurate addressing – this allows residents to be provided with specific information that relates to their area, as opposed to being given information for the whole of Flintshire when certain services only provided deliveries etc. to one particular town
Smarter working – across the board, the provision of information online in one place makes it easier for members of the public to save time.
Quicker response times – responses with shielding residents improved in quality and time, as queries were supported by on-hand information.
Protecting residents – residents could use the tools to see what services were available if they were shielding, and how to find Dementia Friendly services.
Helping local businesses – the accurate mapping of services raised awareness of and enabled promotion of services.
Information from trusted source – as the information on these maps and in these tools has been verified using the UPRN, staff and residents alike have increased levels of confidence, knowing data is accurate and up to date.
Supporting independence – when residents can use online tools to find answers quickly, they are encouraged to take up services. In particular, the Dementia Friendly services help users to plan routes, and create familiarity with visual reminders of where they're going.
Increased data integrity – the team at Flintshire has reduced the risk of errors, particularly in the case of removing manual tracking (from the Brokerage team's processes). In addition, the Brokerage team can now maintain a live data set with accurate information able to access that data remotely – enabling them to work regardless of where they are situated.