GeoPlace hosted a session at DataConnect, alongside Barnsley Council called 'Unleashing local authority Data – Helping the Most Vulnerable' on Monday 26th September 2022.
Barnsley Council has been on a mission since 2019 to unlock the massive potential of its data. Local authorities collect significant amounts of valuable data about their citizens, communities and places. The age-old challenge is how do you get that data to a place where you can start making connections that will turn it into usable intelligence?
Listen to how Barnsley has built a data warehouse of over 500 tables of fully managed data, from dozens of legacy key line of business systems. How it adds value to that data by linking it together, at postcode, household and person level. How it is creating innovative solutions not just reports. And ultimately, how it identifies and helps the most vulnerable citizens.
The session looked at how Barnsley works, the low-cost, low-code tools it uses, how to connect data, and how it responds quickly to customer demands. There were plenty of real-world examples, and the session wrapped-up by sharing what the council will be working on next.
This 60-minute session provided an understanding on how local authorities utilise the UPRNs contained in AddressBase to connect data and reveal insights to better target service provision. It is aimed at people in the public sector who would like to attend a practical session focussing on data linking.
GeoPlace is wholly owned by the Local Government Association and Ordnance Survey. They work under contract with every local authority in England and Wales to support the management of their Local Land & Property Gazetteers (LLPGs) and Local Street Gazetteers (LSGs). AddressBase and the NSG are freely available to every public sector organisation under the Public Sector Geospatial Agreement. They are also mandated for use by central government as open standards to identify geographic locations.
Speakers
Mark Wood, Business Intelligence Technical Advisor at Barnsley Metropolitan Borough Council, and Luke Studden, Data Acquisition and Integration Manager at GeoPlace.
Additional useful links
External Link
Watch webinar
Data Connect: Unleashing local authority data – helping the most vulnerable
Go to webinar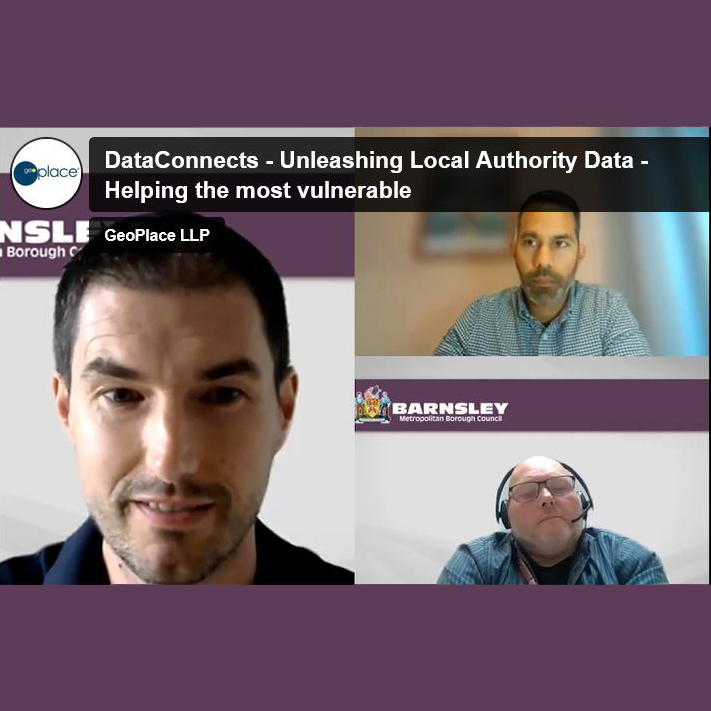 Case study
Barnsley Council - using the UPRN to build a Vulnerability index
Barnsley has a relatively high number of older residents, and by 2040, it expects to have one third more residents aged 65 years or over. Read this case study about finding efficient ways to serve the needs of an increasingly vulnerable population, with the use of location data.
Read more
View more