GeoPlace announces the winners of its 2021 Exemplar Awards at the 15th Annual GeoPlace conference. The conference was run online and watched by 876 attendees with the keynote presentation delivered by the Rt. Hon Christopher Pincher MP, Minister for Housing.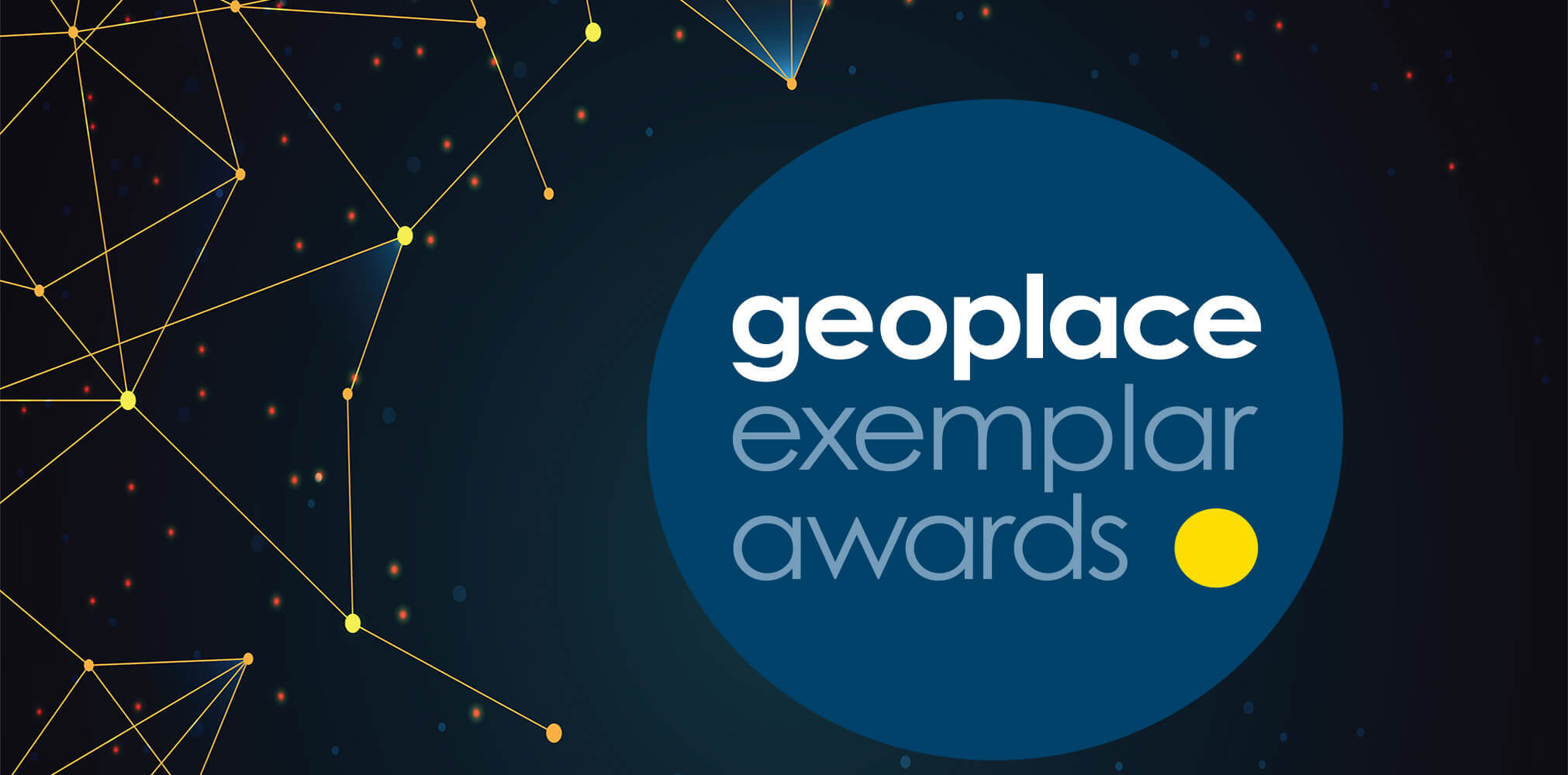 The GeoPlace Exemplar Award for 2021 was jointly awarded to Barnsley Metropolitan District Council and Northumberland County Council for two separate initiatives that the judging panel found impossible to choose between.
At the onset of the COVID-19 pandemic. Barnsley Council wanted to take a proactive approach to support members of its community and built a Vulnerability Index. The Unique Property Reference Number (UPRN) played a key role in the development of the Index, which was a composite of 26 different data sources – all combined through their common location. Data from NHS England was also linked with the UPRN to support Clinically Extremely Vulnerable (CEV) and shielding members of the population. 330 additional households were identified as in need from this work, and over 17,000 support calls made across the borough. Going forward, the council plans to work with local health services to develop the project further and ensure vulnerability is better understood across local services.
Northumberland Council was given the Award for its initiative to ensure efficiency through utilising the most up to date change intelligence possible. This winning project focussed on improving the health of the council's electoral canvass records. The creation of clean and accessible dashboard, supported by an integrated backend that supported instant 'click of a button' updates, has resulted in the details of 20,000 properties that do not need servicing with canvassing activities – saving thousands of pounds in administration and resources. This has been made possible via the inclusion of the UPRN in the software build, which has resulted in not only a more intelligent platform but also a better-quality gazetteer.
Nick Chapallaz, Managing Director of GeoPlace said: "Every year, it gives us immense pleasure to highlight the outstanding work that's being done by Street and Address Custodians. The 2021 Exemplar Awards reflect not only the time and effort that goes into delivering great service, using street and addressing information, but also the commitment that's being made to improving the accuracy and quality of the data itself. We are incredibly fortunate to be working with individuals who care deeply about the potential benefits we can deliver as a team. Everyone can benefit from the power of location data, and this year's Exemplar Awards are show how our authorities are using it to really bring location to life."
Manchester City Council and Milton Keyes Councils were named as runners-up for their projects on accuracy of data or the Census and management of new building developments using drone technology respectively.
Dorset Council was Highly Commended for its work consolidating the systems of the six councils which combined to form a single unitary council in May 2018. Flintshire County Council was also Highly Commended for a range of cross-team projects using the UPRN to facilitate process improvement and better operations. These included: a dashboard that highlighted the availability of local services during the recent health crisis to provide up to date information to residents; process improvements and resilience through a new system to replace the manual 'pinning' of information about home care allocations; and the provision of an accessible map that would provide information about Dementia Friendly organisations.
The Awards highlight Custodians' roles within their authorities and enable their work to be more widely promoted to all parts of the authority. They allow the many services which currently use address and street data to see that the high standard of the data is externally recognised. From radical transformation initiatives saving millions of pounds for local authorities, to smaller projects improving data management by using the local address and street gazetteers in innovative ways â almost every aspect of local government business is underpinned by high quality address and street data.
GeoPlace's awards highlight the Street and Addressing Custodians' work helping to curate and maintain that data. Promoting their work helps to highlight the importance of their role, and the potential for this data to deliver ever-more efficient and effective services for their communities.
END
Notes
About GeoPlace
GeoPlace LLP is a public sector limited liability partnership between the Local Government Association (LGA) and Ordnance Survey.
GeoPlace is a world class expert in address and street information management, working internationally as well as in the UK to help our partners and customers maximise the value of their spatial information for better decision making.
GeoPlace maintains a national infrastructure that supports the address and street information needs of the public and private sectors. Its work relies heavily on close working relationships with every local authority in England and Wales. This relationship has been developed over 15 years, to build the National Address Gazetteer infrastructure and National Street Gazetteer. Ordnance Survey develops the range of AddressBase products from the National Address Gazetteer and OS MasterMap Highways Network from the NSG. Both datasets underpin efficient and effective services, bringing direct service delivery benefits to users.
The Unique Property Reference Number (UPRN) and the Unique Street Reference Number (USRN) are the unique identifiers for every addressable location and street in Great Britain. They are created by local authorities who have the statutory authority to name and number every street and property and Ordnance Survey who identify objects on the landscape which may otherwise not attract an address.
These unique reference numbers link datasets together and share information with other organisations who also use them. They provide a comprehensive, complete and consistent identifier throughout a property's life cycle â from planning permission or street naming through to demolition.
See https://www.geoplace.co.uk.