The opening session of the GeoPlace 2023 annual conference focussed on the theme of property, housing and risk.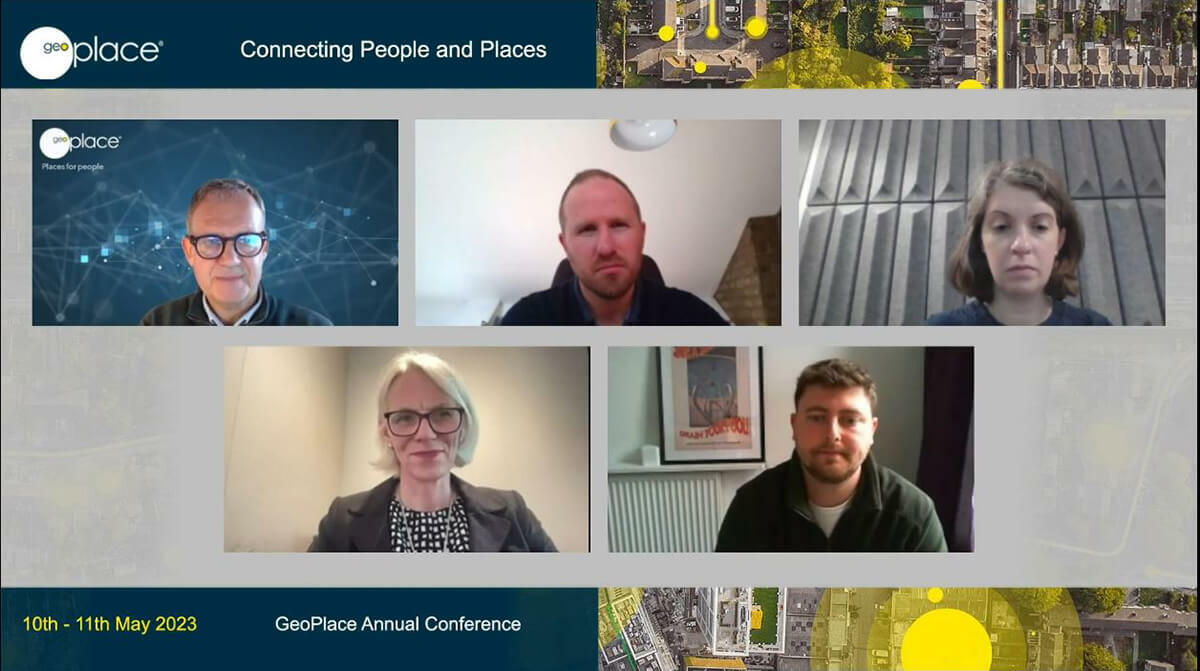 SPEAKERS:
Nick Chapallaz, CEO, GeoPlace;
Lawrence Hopper, Deputy Director for Digital Products and Delivery, Department for Levelling Up, Housing and Communities
Katie Ward, Head of GeoRisk, Royal Sun Alliance
Jenny Danson, Proptech Innovation Network Director
Michael Connell, Associate Data Analyst, Riverside Housing Group
Watch the recordings of this session's talks on the 10th May tab on the conference agenda.
Nick Chapallaz opened the GeoPlace 2023 conference by welcoming over 1,100 delegates to the online event. He started by outlining the event's objectives, exploring the theme of 'connecting people and places'. Everyone taking part in this conference has a common interest in using location data to greatest effect. The underlying theme that authoritative location data has the ability to connect society, economy, and infrastructure – it is essential to connect people and places.
This conference is a milestone for GeoPlace each year. It is core to helping the organisation to realise an enduring vision – helping people to benefit from the power of location data. We believe data sits at the heart of society and economy. It's right at the heart of government and business, and core to our work is the work of custodians on an everyday basis.
There've been some significant changes in content this year, such as lifecycle, organisation names, positional accuracy, tertiary classifications and local authority mergers. We can measure this in numbers: we've made more than 43 million street and address changes this year, which is up from 25 million in 2021-2022, and the team continues to collate, load, validate and link information that connects people and places authoritatively. To help us improve consistency in our work, we've also made a new Street Naming and Numbering Code of Practice available – a very useful tool, helping custodians to ensure their processes meet legislative requirements.
What's increasingly clear, is the reliance of agencies on this core data for primary services being delivered into society. The national fraud initiative, for example, and registering to vote are prime examples of cases for using UPRNs (Unique Property Reference Numbers) and USRNs (Unique Street Reference Numbers),supported by the mandate agreed in July 2020. There are huge opportunities on the horizon too, particularly in terms of automating process between those agencies to ensure maximum efficiency and effectiveness.
Nick Chapallaz concluded the first session of the conference by emphasising the need to raise the profile of benefits gained by connecting people and places. He stated, "National data infrastructure is going from strength to strength. Top down, we're hearing about new developments and new initiatives using UPRNs almost daily – and the same is true of USRNs and streets data as the authoritative reference base in many major initiatives. The work of Local Gazetteer Custodians is fundamental to all of this work, and high quality location data delivers confidence to myriad organisation in both the private and public sector.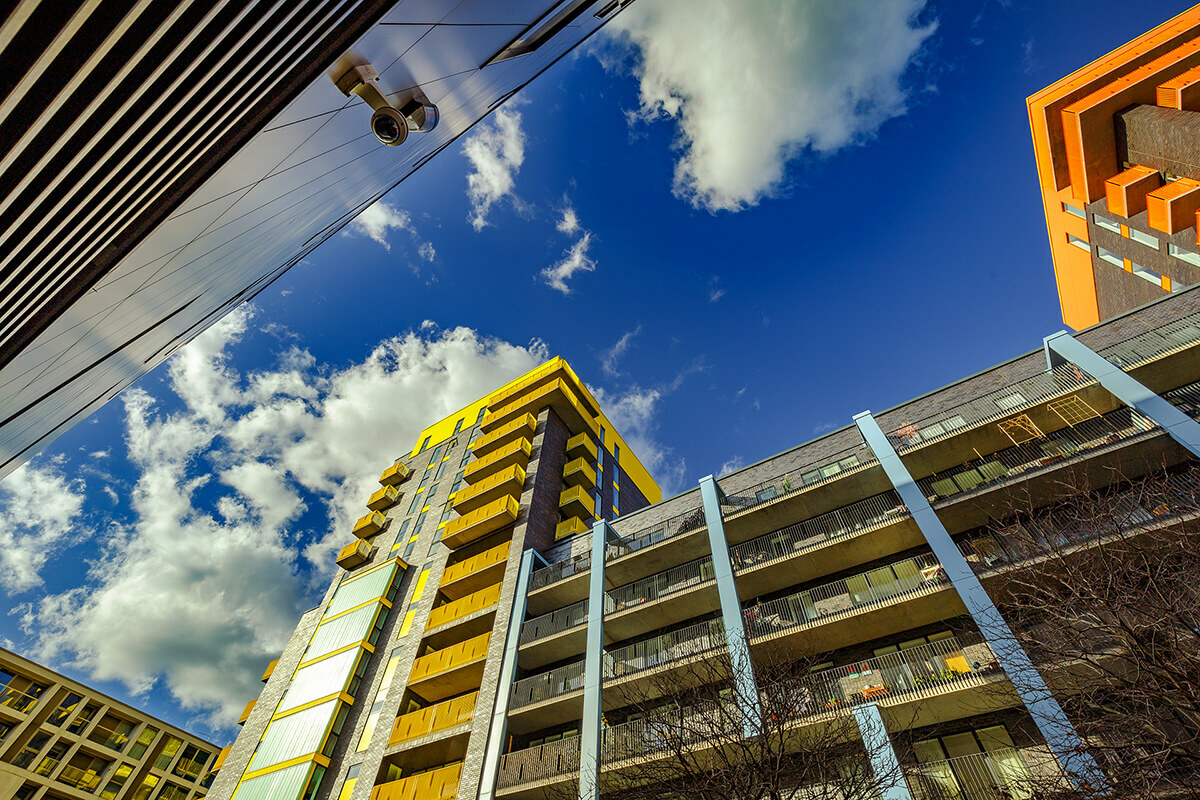 Location, location, location data: improving housing and property
Lawrence Hopper addressed the conference on behalf of the Department for Levelling Up, Housing & Communities (DLUHC) , which takes the role a steward, steering sectors towards better outcomes for citizens. Lawrence explained that, at the moment, just 7% of people expected developments to be positive, but one of the DLUHC's objectives is to change that perspective. In the UK's property sector, location data informs planning, construction, purchasing, retrofitting, and ongoing use. In the future, more intuitive use of location data should reduce risks, build in efficiencies, and enable better decision-making across the sector.
Part of Lawrence's role includes promoting better understanding of DLUHC's systems and the services being offered – to think less about bespoke policies, and more about integrated campaigns that will deliver the best possible outcomes. In DLUHC's view, location data makes it easier to build good quality homes, and create better places and communities; it makes it easier for communities to have their say on what gets built; and it makes it easier to plan and finance positive changes to our built environment. But it's important to recognise the challenges inherent in these objectives. A lot of legacy software needs updating or replacing, for example, and a lot of software simply isn't ready for use in automated systems. This isn't just about 'clunky systems', it's also about rekeying and revalidating (redrawing) a lot of data within the planning ecosystem, and doing so as soon as possible. Most planning authorities redraw the red line boundary of every planning application received as they receive it as a PDF, for example.
However, location data is reshaping public services. One of the examples that doesn't get as much attention is Local Plans data - rich and detailed documents that shape the look or feel of communities for years ahead, but which aren't enriched with machine readable data. As a result, it is not always clear which version is the latest one, where the version in it is in its lifecycle, and what the location of the plans data is on the web. UPRN linked data is starting to transform how DLUHC works with local government to plan for development and associated services.
Aggregated UPRNs now fuels a platform that helps internal stakeholders to create services that inform planning and housing decisions in England – and a new app will allow citizens to share their views on shaping the local area, making easier to understand the trade-offs and opportunities in developments. This includes 3D services, campaign data and polls – making this information available significantly improves engagement, and is only possible with UPRN-linked data.
A better national understanding is key, said Lawrence. A whole system understanding makes it easier for HM Government to make better-informed interventions, and makes it easier for the private sector to develop innovative value add products as well. However, to achieve long term goals, that innovation mindset is becoming increasingly important. From social housing to home buying and selling, there is a case for widespread reform in many areas. Proptech will help, and indeed, UK proptech investment has hit a record £1.6bn in the last year, but collaboration is key if the value is to be shared across the public sector.
Mitigating risk
Katie Ward addressed the conference, explaining that RSA is one of the world's longest-serving general insurance companies. Addresses and geography are at the core of the business, serving over 9 million customers. It needs to know where customers are located so that risk can be evaluated and priced accurately, and to provide them with support and help in their times of need.
RSA has had GIS at the heart of its systems since 2002. Katie explained how the business uses addressing: the single point of truth is fundamental to the entire insurance business model, and has to be verified as early as possible in all processes – a range of APIs and in-house are used, and RSA licences OS's AddressBase Premium product for use in multiple systems across the business as well as OS CodePoint, and Google StreetView.
Property-level geocodes are used wherever and whenever possible to underwrite business and deliver on promises to customers. These allow identification of individual risk to a property, which might vary significantly along the length of a street – postcodes would be far less effective as individual properties aren't uniquely idemtified. Accurate addressing is vital for property-level geocoding, and at RSA, the business uses internal models that have a high dependency on that accuracy.
Underwriters rely entirely on accurate data, but of course there are a number of practical challenges to overcome. It takes time for information about new builds, for example, to filter through the current system so the business uses a wide range of geographic products to verify information before offering quotes.
For all insurers, inaccuracy can have a dramatic knock on-effect across their business. At the moment, 86% of individual properties are believed to be accurately identified within RSA's systems. The greater the accuracy, the higher the confidence in analysis of risk – it's easy to how important this, when considering flood plains and flood risks in and around the UK.
Having additional information such as Energy Performance Certificate data, is of huge value to underwriters, and the integration of UPRNs removes doubt around the integrity of underlying datasets. Customer data – once accurate – is vital in delivering the support that's needed if things go wrong. The Buncefield Fire in 2005, for example, was 'the biggest incident of its kind in peacetime Europe'. With UPRN-integration, RSA was able to visualise whereabouts their customers were in relation to the event, and to contact them quickly with offers of support.
A golden thread for social housing
Jenny Danson leads the data work stream, at the Proptech Innovation Network. As a membership organisation, the Proptech Innovation Network (PIN) offers support to anyone involved in the development of social housing. It helps housing leaders to accelerate their adoption of PropTech, and to deploy it effectively within their property portfolio.
At the last count there were just over 1,600 registered providers of social housing in the UK, managing 4.4 million homes, which equate to 16% of the UK's housing stock. Jenny explained, one of the avenues being explored by the PIN is ways to share data more effectively, the UPRN in particular. It is the golden thread – a numerical identifier that is authoritative, current, and ideal for enabling internal and external data to be integrated, compliance data in particular. The unique advantage of UPRNs, is their use throughout the property lifecycle, which offers reassurance to both landlords and tenants in the social housing sector.
Michael Connell is an associate data analyst, specialising in machine learning and data analytics for the Riverside Housing Group. Riverside currently has 76,000 owned or managed properties, with 140,000 household members, and has several challenges. Historically, as the organisation has grown, data has been entered into a number of Excel spreadsheets that aren't centralised, or monitored, or kept up to date – this is an entirely common problem for all social housing providers. As an example of how to overcome this challenge, Michael explained the work that had been done recently on correlating Energy Performance Certificate (EPC) data across the portfolio.
Using the UPRN to identify properties, and to connect those properties with EPCs that were available, it took less than half a day to bring systems up to speed on missing certificates. In addition, this process identified many properties that didn't have EPCs, but Riverside was able to fix numerous issues by standardising the address format, using the UPRN.
The UPRN enables success for all providers working in or with social housing. This includes the means to derive improved compliance, moving towards net zero, and securing more benefits for tenants – everything from better health and well-being, to social services and improved deliveries.