Day 1, Session 1 - The opening session of the this year's GeoPlace conference focused on housing, planning and property.
Speakers included:
The Rt Hon Christopher Pincher MP, Minister for Housing
Thalia Baldwin, Director, Geospatial Commission
Andrew Bulmer, CEO, Institute of Residential Property Management
Sammy Pahal, Managing Director, UK PropTech Association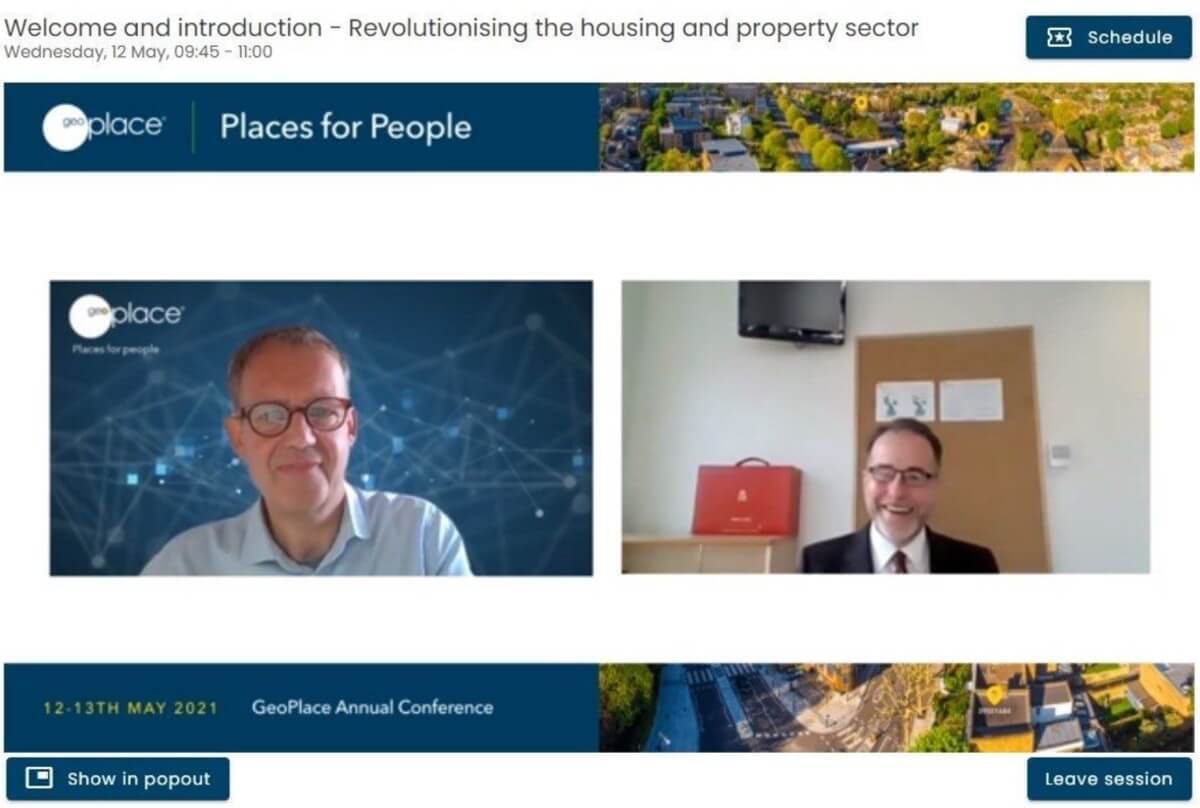 Listen to the presentations here.
The Rt. Hon Christopher Pincher MP, Minister for Housing, noted the tireless effort being undertaken by local authorities to help keep services running and provide the location information needed to protect Britain's families. As we begin to emerge from the pandemic, it is the right time to look forward – "to not just build back, but build back better". It is clear that government can help – harnessing technology, the innovation for which Britain is famed. The widespread adoption of UPRNs across services will make that happen, and housing, public sector, and community all have a role in shaping that adoption.

The current buying and selling process is besieged by long, arduous, Byzantine processes and inefficiencies. For example, estate agents and conveyancers spend huge amounts of time trying to collate essential information, and when the buyer is found, the whole process can be hindered by the need to use legacy, analogue information – dusty deeds come to mind. The system is complex, and the Minister acknowledged that it does need to be improved. "We know UPRNs can effect this change, we have the means to make it happen, and by speeding up the house-buying process we will be having a direct, positive impact on society." There is no reason at all why UPRNs cannot become as ubiquitous in processes as VIN numbers on cars. The Government is a strong champion for UPRNs and USRNs, recognising their role in making the planning process more accessible, transforming the relationships that enable planning to.
The Minister was clear that the government's aim is to help remove many of the barriers that developers and planning authorities face in getting things over the line. Sharing information, accessing information. "This transformation process will inject simplicity and agility", he said, "It is essential to continue." He went on to credit the hard work going in from local authorities, saying "technology is nothing, have faith in people. Give us the tools and we will finish the job. We want to give you the tools, to empower local authorities with the investment and resources needed to thrive. Championing local insights that will enable faster building. Creating something that is truly wonderful."
In a question and answer session, Nick Chapallaz, Managing Director of GeoPlace, voiced one of the day-to-day frustrations that local authorities feel, that UPRNs are not embedded in government departments such as the Valuation Office, Land Registry and others. Those agencies aren't connected, but could be – how could this problem be solved? The Minister noted many key agencies have their own remit, their own legislative definition, which make it hard to overcome this challenge collectively – but a more collaborative approach could help the planning agenda. He also noted that government will look at holistic resourcing of local authorities to ensure they're equipped to handle planning reform. "If we can broaden their usage through planning reform, that will drive take-up – the weight of the market should drive reform", he said.
Nick Chapallaz continued by emphasising the need to raise the profile of people and places, stating: "When we talk about value, it makes for great soundbites. Until we talk, people who aren't involved don't know what the use cases might be – but it needs government and the private sector to be talking."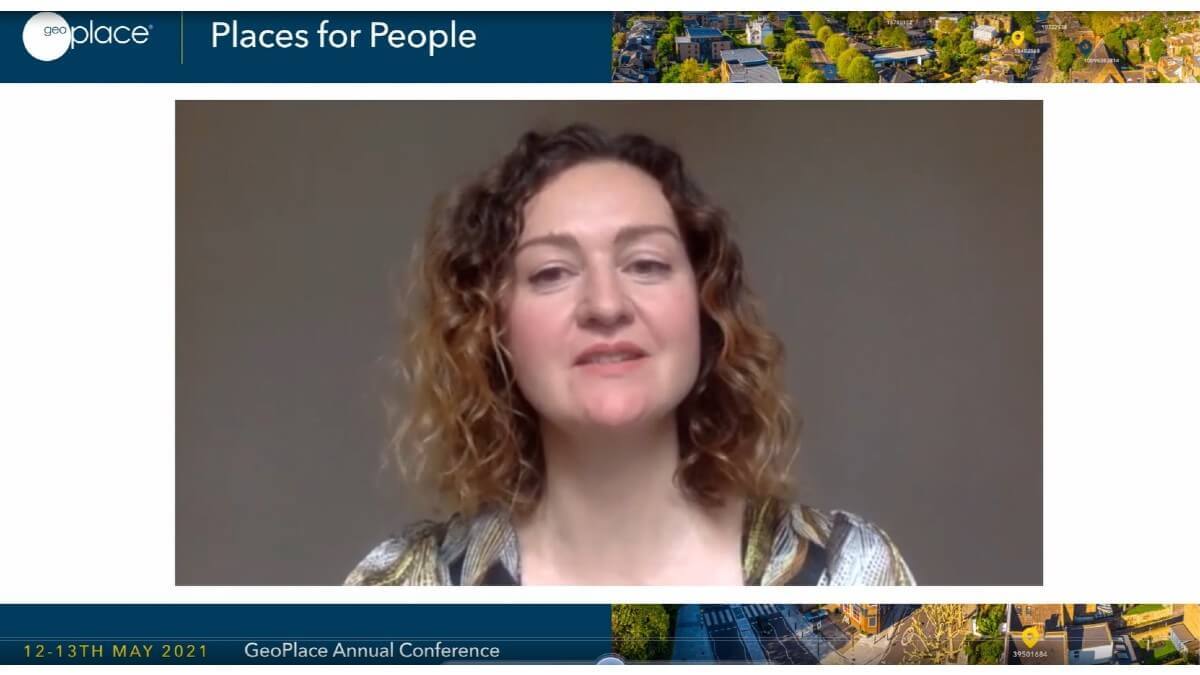 Thalia Baldwin, Director, Geospatial Commission, pursued this theme of efficiency, introducing delegates to the Commission's work, and also acknowledging the real life benefits that housing data have bring to citizens and businesses.
Thalia welcomed an open Letter from Residential Property Industry urging the use of the UPRN across the Sector, suggesting that it was one of the highlights of the year to date, to see how such a large number of organisations within the residential property sector seeing the potential of UPRNs to drive adoption of UPRNs across the sector.
In introducing the geospatial strategy, Thalia said: "We published the geospatial strategy last June – a combination of a strategic approach to why data is so important, and a blueprint to embed its use and its value. The four missions focus on promoting and safeguarding the use of geospatial data, improving access to geospatial data, enhancing skills, and enabling innovation." This is essential for economic recovery and growth, reaching net zero, and pushing towards a data driven public sector. Thalia highlighted some of the projects that the Geospatial Commission was supporting and running that are helping to fulfil these missions, including the regional pilots in the National Underground Assets Register Progamme, its work on transport data innovation with further funds of up to £4million to support innovative measures that seek to tackle some of the UK's real life transport challenges and drive better environmental outcomes, and faster journey times.
Thalia also outlined the work of the Geospatial Commission is supporting to support its housing data work, including a land use data pilot, bringing together housing datasets and the publication of an independent planning and housing landscape review, which also emphasised the need to support and incentivising a skills base.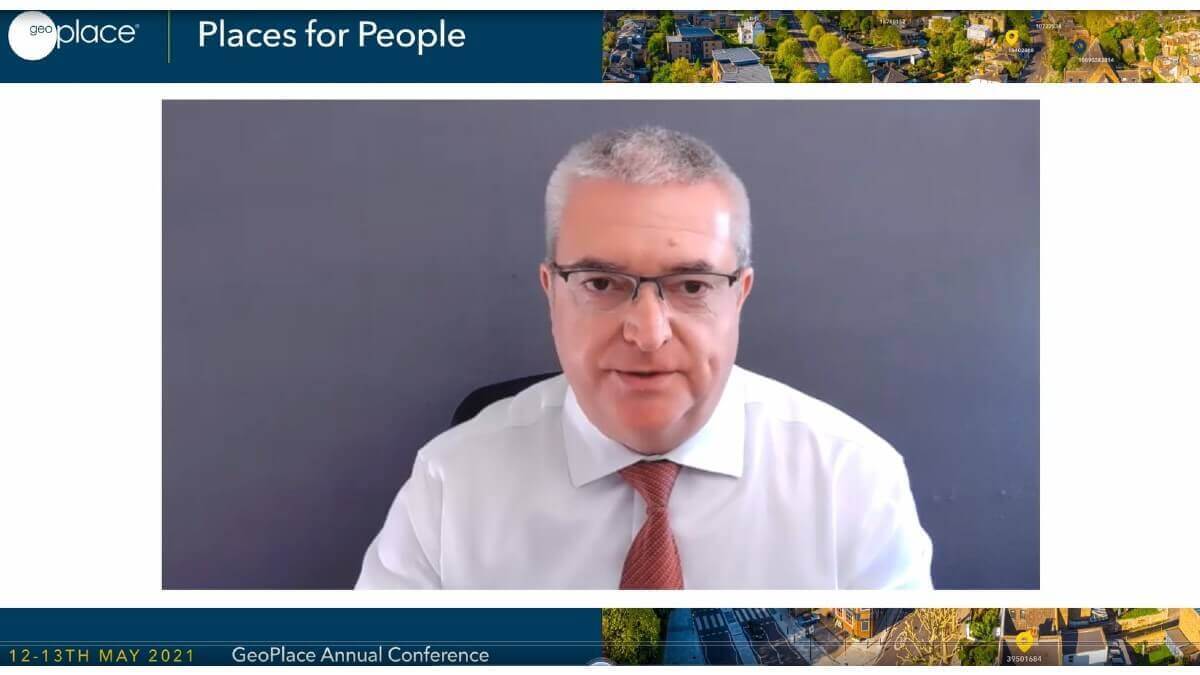 Andrew Bulmer, CEO, Institute of Residential Property Management (IRPM) explained that as a professional body, the IRPM prioritises the public interest – it has over 5,000 member firms, mostly in private sector. Alongside the Lettings Industry Council, and the Real Estate Data Foundation, members of the IRMP have been raising the importance and the potential for using the UPRN in the private sector. Through the IRMP, over 150 signatories engaged in an open letter that made the case to Government, for the case to open a dialogue around the UPRN. The aspiration is to close the government and private sector gap – to work collaboratively in breaking down silos – and ensure that the potential for using location data is optimised, therein.
The case for cross-sector and intra-sector use of the UPRN is clear for the property sector. The ability to connect properties with a simple reference makes a huge difference. As an example, Andrew referred to the work of Housing Officers who want to identify landlords who might be breaking the law – properties that demand more attention. The example he cited explained how, if a property has a UPRN, but there is no corroborating gas certificate on file – then the likelihood is that the landlord is either in need of support or breaking the law intentionally. Fraud can be mitigated and fines can be issued. Enforcement is easier, and more efficient. The same is true of tenants – the deposit services and the buy-to-let mortgage providers are increasingly using UPRNs in their systems and processes, which enables profiles to be built around tenants and their needs. In addition, profiling itself can be made more cost-effective – reducing the margin for error and the need for multiple landlord licensing schemes around the country.
Andrew went on to engage delegates with another example, citing instances where the UPRN would be useful in enriching buildings throughout the construction process. Owners must produce safety information to the Health and Safety Regulator – but by tagging that data with UPRNs, it can be provided to a granular level, which enables owners and agencies to do their jobs more efficiently and effectively. Resident engagement strategy becomes more manageable, too; data on cladding, for example, could be found faster for both the potential tenant or homeowner, the mortgage provider, the letting agent and the conveyancers.
"We're at a pivotal point in legislation evolution," said Andrew, "it takes time to change processes and systems, and we can't always use the data we want too straight away." Clearly, greater use of the UPRN would have a large impact on the residential property sector, for business owners, tenants, agencies and government departments alike.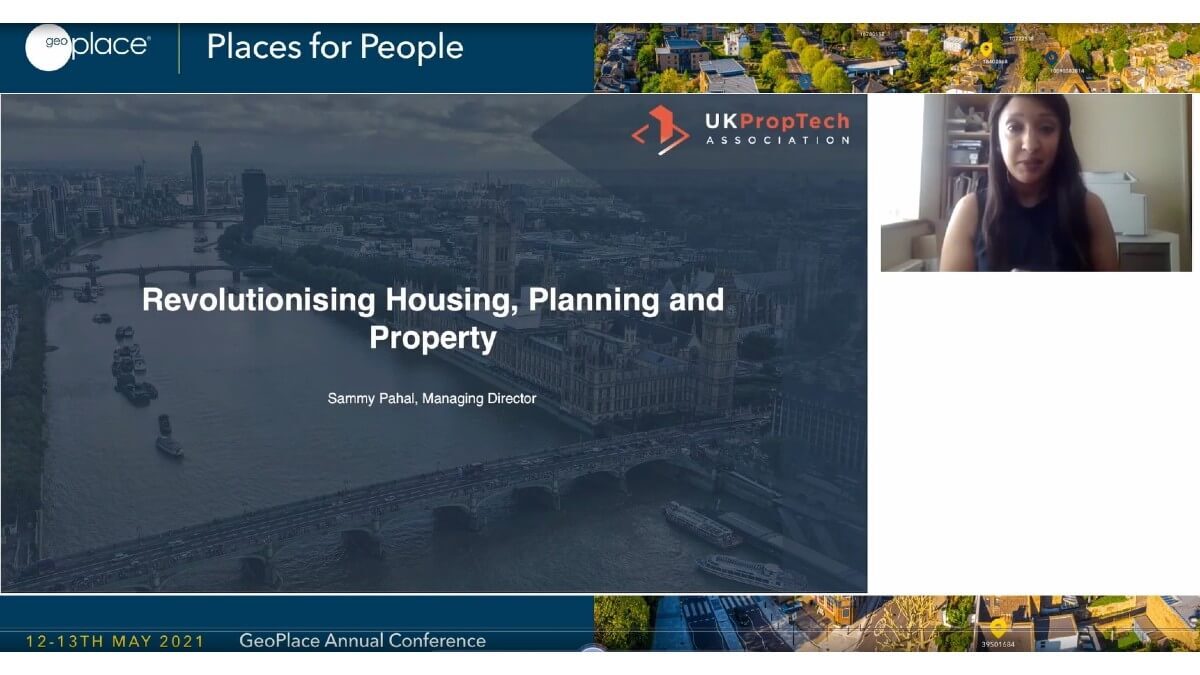 Sammy Pahal, MD, UK PropTech Association explained that PropTech is enabling digitisation of the entire property lifecycle – from planning and design, through to construction, sales, renting, and maintenance. In recent years, simple advances in the capability and availability of technology have driven innovation. The 700 or more companies in the PropTech Association's membership have needs and expectations that have changed, and major improvements are needed in various design and sales processes, not least to meet sustainability goals.
A wealth of PropTech data is being generated, day and night. This enables companies to better assess risk, identify opportunities, and optimise buildings. It also enabled construction firms to create more realistic data models to inform planning; identifying development potential that might not otherwise be possible; reducing carbon emissions by optimising se of energy, and monitoring space occupancy to optimise its use. Site identification has been made easier, las ow occupancy fuels repurpose. Due to many businesses closing, unfortunately, data and analytics must be available to make smarter decisions about buildings are used – and how spaces might be aligned to customer demands. "The pandemic has highlighted the need to streamline processes," said Sammy, "however, with persistent efforts from the PropTech community, we can achieve ambitious targets."
She introduced delegates to some of the outcomes being delivered now, by greater adoption of the UPRN throughout the PropTech community. New analytics' platforms are integrating with building managements systems – and this is key to carbon targets, and the many other outcomes that depend on having granular information about the nature of properties and the needs of their residents or users. The UPRN is key to collate data sets that are otherwise fragmented. Widespread adoption will enable smarter, more sustainable spaces, but greater collaboration is needed between the private and public sector. That said, streamlining sales will be possible soon by bringing everyone together, faster. At the moment, the conveyancing process itself is far too long – planning is full of legacy nuances, and what's needed is a reduction in the number of stakeholders, improving workflow management, mitigating errors, and sharing data between parties and online portals early on.